Based on the evaluations of the international ESO Angels and the European Stroke Organisation, the Department of Neurology was awarded the highest level classification of ESO Angels, making it one of the best centres for stroke treatment in Europe.
The goal of the Angels initiative, originating in South Africa, is to provide patients with equal opportunities to access the best stroke treatment possible, independent of where they are at the event of the brain's circulatory disorder. This was made possible by the multiplication of the number of stroke centres where intravenous thrombolytic therapy is available. In the past three years, 1,500 European hospitals have joined the initiative and become stroke centres: currently, there are 39 of such institutions in Hungary.
According to Dr. Ildikó Sipos, senior lecturer of the Department of Neurology, stroke caused by vascular occlusion can be effectively treated within 4.5 hours of the adverse event, therefore it is crucial to have an adequate number of stroke centres all around the country.
"The other main objective of the Angels initiative is to improve the quality of patient care and to harmonise and consolidate processes. To this end, a so-called stroke registry was created, which has to be updated with the data of at least 30 patients every three months. If a hospital succeeds, it might be worthy of an award.", she said.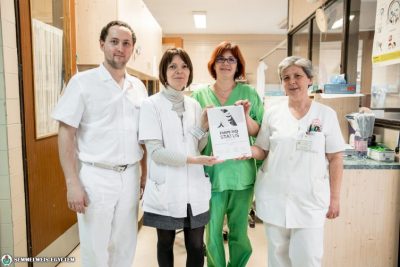 17 of the Hungarian stroke centres have joined the registry so far, the first being Semmelweis University's Department of Neurology. Based on its performance, it received a platinum classification in 2017 and 2018, while the diamond status, which is the highest recognition, was awarded in the first quarter of 2019.
To qualify for the diamond status, the institution has to fulfil several requirements, including one of the most important quality indicators, the so-called door-to-needle time, which is the time elapsed between the patient's arrival at the hospital and the start of the recanalization therapy. According to international recommendations it has to be carried out under 60 minutes, which the Department of Neurology reduced to an average of 39 minutes in 2019. In addition, outstanding performance in other quality indicators contributed to receiving the diamond award.
"These include the number of admitted patients, the ratio of mortality rates, the number of patients receiving adequate post-stroke treatment and the percentage of CT and MRI scans performed on patients suspected of stroke.", Dr. Ildikó Sipos said.
Semmelweis University's Department of Neurology is the first to receive a platinum and a diamond award in Hungary. The recognition is also an acknowledgement of the department's outstanding work, which is encouraged to be continued in the future.
Bernadett Bódi
Photo (illustration): Attila Kovács – Semmelweis University
Translation: Ágnes Raubinek