"The sceptre plays an important role among the university's regalia. Its replica is stored in a closed cabinet at the Treasury of the Directorate of Finance.", said Zoltán Szepesi, who has a great fascination towards historical objects, including the relics of the university.
He is the head of the security guards at the Directorate of Security Services, who are responsible for the protection and transportation of these valuables, thus he knows the regalia well. He shared a couple of interesting facts about his favourite, the university sceptre.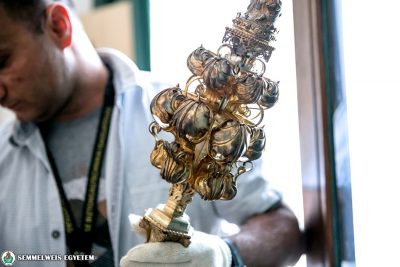 The sceptre of Semmelweis University still in use today was made in 1772 for the Faculty of Medicine at the University of Nagyszombat and its replica was made in the 1990s. The original is kept in a closed cabinet under tight security: even the smallest movement is signalled to the Central Dispatch and Patrol Service and the Reception Service by the installed security device.
"Not only security, but transportation is also subject to strict rules. The sceptre can only be touched with gloves, it is protected by up to 5-6 armed guards during transport to various university events. The original is used very rarely, only on special occasions.", he said.
Although the original and the replica look very similar at first glance, there are several differences, including the different technologies used in their production a few hundred years apart, can be detected immediately by professionals.
"Most employees of the Department of Security are able to immediately recognise these differences.", Zoltán Szepesi said. The sceptre made of gold and silver alloy weighs several pounds and is decorated at the top by Saint Luke, patron saint of doctors. Below the top, Saint Cosmas and Saint Damian are depicted on the sphere.
Another favourite of Zoltán Szepesi is an object that he himself discovered on the Internet, which later turned out to have been used in midwifery training in Hungary, which was most prominent at Semmelweis University.
"It is a five-minute hourglass that used to decorate the wall of the Hungarian Midwife Training Centre. The hourglass was bought and now adorns the office of the department head of the Directorate of Security Services. Moreover, it serves to indicate the speaking time of colleagues, if necessary.", said Zoltán Szepesi, who has been working at the Directorate for five years.  
Bernadett Bódi
Photo: Attila Kovács – Semmelweis University
Translation: Ágnes Raubinek
In our article series entitled "My University", we ask university citizens to show their favorite university location. These articles are a part of the celebration of Semmelweis University's 250th anniversary year, which can be viewed on the University's anniversary website.