"This is my first and only job, I have been working here for 52 years. I was admitted to the university in 1967 and right after earning my degree I started to work at the Department of Oral Surgery.", said Dr. István Gera, professor emeritus of the Department of Periodontology.
Since the inauguration of the Dental Clinical and Training Centre in 2007, when he was Dean of the Faculty of Dentistry, he has received his patients in the very same dental office.  That is why his favourite place at the university is the Training Centre and his office on the 4th floor next to his dental office that was left to him by Dr. Péter Windisch, his successor as head of the department.
"I am truly grateful to my young colleagues and students to have the honour of being appreciated so much.", Dr. István Gera said.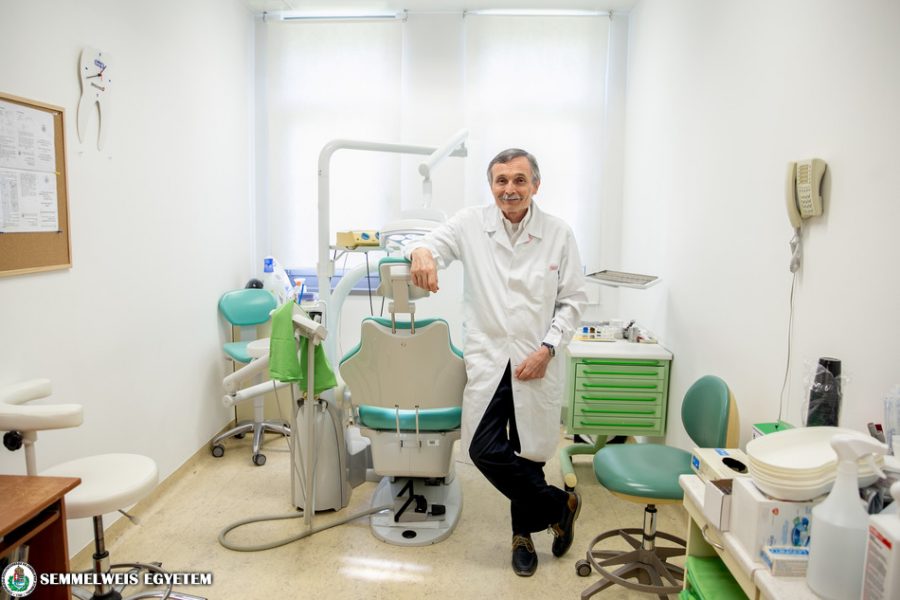 Professor emeritus and founder of the Department of Periodontology, Dr. Gera spends most of his days working here, holding lectures and receiving five patients a day on average, even at the age of 70. He delegates certain interventions to his students, however he is still able to provide his patients with professional and reliable care.
"I have always thought of the students as my colleagues and have tried to teach them the most important skills as they start treating patients when they are in year 3.", he said.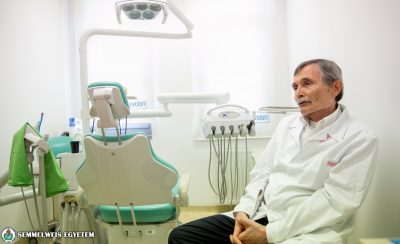 Dr. István Gera believes that his life has been driven by a series of lucky events, such as meeting his wife when he was studying at the university and being surrounded by supportive colleagues. He is very proud of the building of the Training Centre and the Department of Periodontology, because there is no larger institution of its kind in Europe. Currently, there are 30 people working at the department and many residents apply every year.
"The university is my life; since my wife and I did not have children, the university is also my second family.", he said.
He believes that the friendly atmosphere at the Faculty of Dentistry is due to the fact that the leaders have always had a clear idea of the common goals they pursued and have always acted to realise these endeavours.
Eszter Keresztes
Photo: Attila Kovács – Semmelweis University
Translation: Ágnes Raubinek
In our article series entitled "My University", we ask university citizens to show their favorite university location, and discuss its importance to them. These articles are a part of the celebration of Semmelweis University's 250th anniversary year.