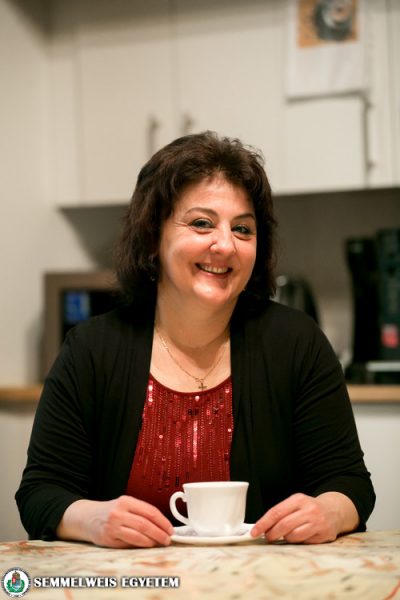 Katalin Kovács, head of the secretariat at the Dean's Office of the Faculty of Dentistry has been working at Semmelweis University since 1987. First, she was an employee at the Faculty of Pharmaceutical Sciences but has been dealing with the secretarial tasks of the Dean's Office at the Faculty of Dentistry for nearly 20 years. "I measure time by counting the number of deans. My current boss is the eighth I have worked with," she said jokingly. She likes her job with all of its challenges. She keeps projects and work in progress under control and is meticulous about keeping deadlines. "Over my career of more than 30 years the greatest difficulty so far has been to switch from paper-based documentation to electronic administration. Even though it has made work easier in many respects, it has also sped everything up and tasks have to be completed more quickly with tighter deadlines," she said.
She has learnt a lot about higher education and health care over her years at the University and has had the opportunity to meet or work with inspiring people."I have also made friends here and I am grateful to the University for meeting someone with whom I have a truly strong bond. Although I spend most of my time at my desk, the kitchen of the Dean's Office is an important place, because it is a large enough space for every colleague to sit down at the same time. We usually have coffee in the morning together, which helps team building. A good relationship between colleagues is just as important as their dedication and love for their jobs," Katalin Kovács said. 
Eszter Keresztes
Translation: Ágnes Raubinek
Photo: Semmelweis University – Attila Kovács
In our article series entitled "My University", we ask university citizens to show their favorite university location, and discuss its importance to them. These articles are a part of the celebration of Semmelweis University's  250th anniversary year.