Five questions – five answers: in our new series of interviews, we ask former scholarship students about their experiences, about the role of the scholarship in their careers, and above all what they advise to future scholarship students. Eszter Lévai spent 10 months in Germany in 2017-18.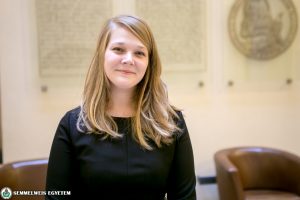 Name: Eszter Lévai
Faculty: Faculty of Medicine
Scholarship name and date: Jellinek Harry Scholarship (10 months), 2017-18
Receiving institution: Ruprecht-Karls Universität, Zentrum für Kinder- und Jugendmedizin Angelika-Lautenschläger-Klinik, Children's Medicine (Claus P. Schmitt's working group)
Why did you choose this institution? What were you working on during the programme?
The Children's Hospital in Heidelberg is one of Europe's leading centres for paediatric nephrology, my interest in the area made the choice obvious. Fortunately, my supervisor at the Students' Scientific Association had a good relationship with the colleagues in Heidelberg, so the topic selection was also related to the dialysis research I had participated in. My topic was the role of tight junction proteins in peritoneal dialysis, which meant functional tests on immunohistochemical and special cell lines.  I also had the opportunity to have an inside look and help with many other cooperation programmes, clinical studies, sample collection of the International Peritoneal Biopsy Bank, and many others.
What was the most defining experience during the scholarship?
Perhaps that it is possible to achieve anything by investing the right amount of work, so one should dream big and work conscientiously. I believe it all depends on these two things. Then, of course, there is the luck factor in the case of experiments, but in the long term it does not count significantly. I also realized that living abroad is difficult. Often it is difficult because of the novelties and the absence of family and friends, but it is definitely worth trying, because this kind of experience is very valuable. I can only recommend it to everyone.
How did the scholarship period help you in your life and career?
I have developed incredibly from a professional point of view, learning a lot every day and getting to know fantastic people. I feel the world has opened up much more for me and I am more independent in research, I have a better view of the area I deal with than ever before. At the same time, these experiences have taught me that I still have a lot to learn and keep improving – this road never ends, and I look forward to the next steps. I also had to grow up a little during the scholarship period. So the world has opened up in this sense as well.
What advice would you give to outgoing Semmelweis students?
First of all, go! A year's absence from our already relatively long six-year training may seem daunting, but it will be rewarding and you will not miss anything. You have the opportunity now to gain these experiences. It was a big surprise for me to realize that the maximum amount of time I can stand with without coming home is about three months. This is different for everyone, but especially at the beginning it is a good idea to come home for a weekend after 1-2 months, to process all the experiences. Most importantly, make good use of the time spent abroad. Travel and meet local students  ̶  they are incredibly nice. From Heidelberg you can easily reach the surrounding countries, Switzerland and France, but there is plenty to see inside Germany as well. The area itself is also worth a few excursions. At the beginning of the sixth year, it is worth spending the clinical practice abroad, extending the stay with an Erasmus or other scholarship. Even if it seems long, the clinic is a different world compared to the lab and a refreshing change after 10 months.
What do you think those who go to Heidelberg with a scholarship should not miss?
Getting a bike, beaches and baths in summer, a trip to the Thingstätte amphitheatre because the forest and the building itself are fascinating. There are festivals for practically everything in the area all year round (e.g. the Asparagus Festival), which are good programmes in company. Make sure to include the carnival parade in the city, with a costume! Have fun and make lots of memories!