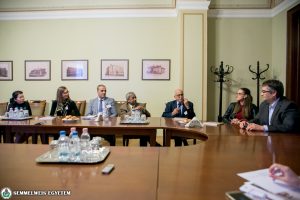 Former students of Semmelweis University participated in the programmes of the International Alumni Workshop organized by the Tempus Public Foundation, which included a professional workshop and an institution visit.
The five Semmelweis alumni, who came to Budapest from Palestine, Laos, the United States and Bangladesh, were welcomed by Dr. Attila Mócsai, Director of the Foreign Students' Secretariat, the Alumni Directorate and the Directorate of International Relations. After introductions, Dr. Attila Mócsai presented the most important features of the university's English and German language training programmes, including the fact that about half of the students in the Faculty of Medicine study in the foreign language programme. Dr. Marcel Pop, Head of the Directorate of International Relations, presented the university's major international partnerships.
The university's alumni expressed their joy that they could spend some hours in the institution again and said they would like to help develop further cooperation opportunities between the university and their own institutions and countries in their field.
By launching small professional workshops, the aim of the Tempus Public Foundation is to provide senior alumni members with the possibility of consultation and establishment of professional contacts with Hungarian and foreign guests. Along with Semmelweis University alumni, the workshops were also attended by students from other Hungarian medical and healthcare universities. As part of the programme, the institutions presented their existing international relations and research, as well as their relevant future plans. The Tempus Public Foundation plans to organize similar workshops every two years, always in a different scientific discipline.
Eszter Keresztes
Photo: Attila Kovács, Semmelweis University
Translation: Diána Módos