NEMZETKÖZI TANÁCSADÓ TESTÜLET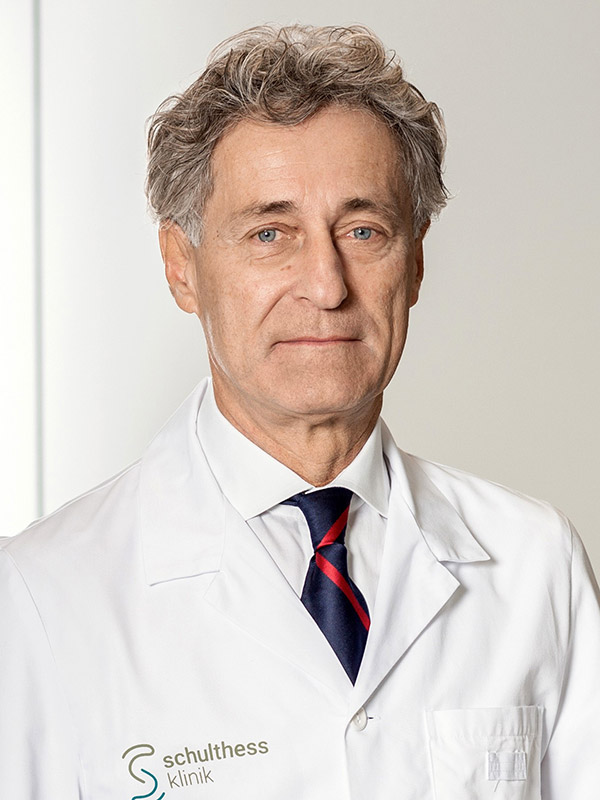 Prof. Dr. Jeszenszky Dezső
Position and faculty:
Head of Spine Surgery, Orthopaedics and Neurosurgery, Schulthess Klinik
Specialty:
Lumbar disc herniation / disc hernia lumbar spine
Cervical disc herniation / disc hernia cervical spine
Narrowed lumbar nerve channel / spinal canal (stenosis)
Cervical narrowed spinal canal (stenosis)
Instability of the spinal column / arthrosis
Vertebral fracture in osteoporosis
Spinal cord tumor / cysts / tumors of the spinal cord sheaths
Curvature of the spinal column (scoliosis)
Curriculum
since 2004 Head of Spine Surgery, Orthopaedics and Neurosurgery, Schulthess Klinik
1999–2004: Clinic for Orthopaedic Surgery and Traumatology of the Musculoskeletal System, Spine Department, Kantonsspital St. Gallen
1994–1999: Centre for Spine Surgery, Orthopaedics and Traumatology, Klinikum Karlsbad-Langensteinbach, Spine Center NCH, Universitätsklinikum Heidelberg
1993–1994: Clinic for Orthopaedics and Trauma Surgery, Zentralklinik Bad Berka
1991–1993: Centre for Spine Surgery, Orthopaedics and Traumatology, Klinikum Karlsbad-Langensteinbach, Spine Center NCH, Universitätsklinikum Heidelberg
Education and training
1990–1991: Fellowship, Centre for Spine Surgery, Orthopaedics and Traumatology, Klinikum Karlsbad-Langensteinbach
1988–1990: Fellowship, Center for Spine Surgery/German Scoliosis Center, Werner Wicker Klinik, Bad Wildungen, Germany
1987–1988: Visiting Fellow, Clinic for Orthopaedics and Trauma Surgery, Universitätsklinikum Essen
1983–1986: Junior Resident, National Center for Medical Rehabilitation Budapest, Ungarn, Semmelweis University of Medicine Budapest, Ungarn
Scientific activities: 
2013: PhD degree 
2019: Habilitation, University of Debrecen
Reviewer European Spine Journal
Memberships:
Swiss Society of Spinal Surgery
German Spine Society DWG
Hungarian Spine Society
Scoliosis Research Society
EUROSPINE, the Spine Society of Europe
European Cervical Spine Society
---
Prof. Dr. Lukas Rasulic

Prof. Dr. Lukas Rasulic, Neurosurgeon, Professor at Faculty of Medicine, University of Belgrade and Head of the Department of peripheral nerve surgery, functional neurosurgery and pain management surgery, Clinic for Neurosurgery, University Clinical Centre of Serbia. The main clinical and scientific area of interest is peripheral nerve surgery. 
The most relevant memberships and appointments: President of the Serbian Neurosurgical Society, President of the Southeast Europe Neurosurgical Society, EANS 2022 Congress President, Chairman of the WFNS Committee for Peripheral Nerve and Brachial Plexus Surgery, Chair of the EANS Global and Humanitarian Neurosurgery Committee; Individual member of the European Association of Neurological Surgeons – EANS since 2004 and Member of the EANS Executive Committee for Individual Members, since 2013, Member of the: International Society of Intraoperative Neurophysiology, European Society for Stereotaxy and Functional Neurosurgery, Euroacademia Multidisciplinaria Neurotraumatologica, Sunderland Society, World Academy of Neurological Surgeons – WANS, American Association of Neurological Surgeons – AANS, North American Spine Society, European Academy of Sciences and Arts, Class II – Medicine, Active Member, since 2016.
Professor Lukas Rasulic is a Project Lead in Serbia for the Project AENEID (Academy for European Neurosurgical Excellence through Innovation and Diversity) – Cooperation for innovation and the exchange of good practices – Knowledge Alliances, Erasmus + Programme 2020. Medical Faculty, University of Belgrade, Clinic for Neurosurgery, University Clinical Center of Serbia, is a Center of excellence for the peripheral nerve surgery within this project.
Prof. Rasulic published more than 500 scientific publications in international and national scientific papers in indexed journals and chapters in scientific books. He was Faculty at more than 100 International Courses and Trainings, Invited Speaker at more than 120 National and International Congresses, Meetings and Symposia, Organizer of more than 65 National and International Congresses, Meetings and Symposia and Active participant at more than 180 International and national scientific meetings-scientific participation.
---
Prof. Dr. Kulcsár Zsolt 
Prof. Dr. Kulcsár works as interventional neuroradiologist at the University Hospital of Zurich (USZ), Department of Neuroradiology, heading the unit of Interventional Neuroradiology. He has a PhD degree in Clinical Neurosciences and a habilitation degree in Radiology. He has major scientific interest in neurovascular diseases, specifically aneurysms and vascular malformations. He has been implicated in clinical and experimental research related to aneurysm disease understanding and therapy.
Dr. Kulcsár is scientifically active in the clinical field too, with focus on the clinical aspects of neurovascular diseases, like ischemic and hemorrhagic stroke. He has participated in several single- and multicenter clinical studies in the field.
---
Prof. Dr. Reisch Róbert 
Professor Reisch was born in 1971 in Budapest, Hungary. He finished the Semmelweis Medical School in Budapest with the highest scientific award "Pro Scientia"- Prize, founded by the President of Hungarian Republic. In 2006, he participated a one-year fellowship in the Anatomical Institute of the Semmelweis Medical School in Budapest. Under the direction of Dr. Lajos Patonay, he composed his doctoral thesis on the "Microsurgical anatomy of the cavernous sinus". Professor Reisch participated the neurosurgical residency program in Mainz, Germany as pupil of Prof. Axel Perneczky. He passed his neurosurgical board examination in 2003, from 2005 to 2008 he was Professor and Vice-Chairman of the Neurosurgical Department of the Johannes-Gutenberg-University in Mainz. Subject of his Ph.D. thesis was "Surgical Anatomy and Clinical Application of the Supraorbital Keyhole Craniotomy". In 2008, he moved to the famous University Hospital Zurich, Switzerland, gaining additional experience in skull base and vascular neurosurgery, chaired by Prof. Helmut Bertalanffy. In 2010, Professor Reisch established the Centre for Endoscopic and Minimally Invasive Neurosurgery at the Hirslanden Private Hospital in Zurich.
Professor Reisch is a frequently invited speaker in international endoscopic courses, live-surgery events and meetings. He is author and co-author of numerous scientific publications in the field of microsurgical anatomy, endoscopic and minimally invasive neurosurgery, including the comprehensive book on "Keyhole Approaches in Neurosurgery", published in 2008 by Springer Publishing Company. From 2007-2014, he was co-director of the international neuroendoscopy courses of Aesculap Academy, teaching almost 500 participants from 29 countries.