As the first participant of Semmelweis University's special advanced post-graduate program that was launched in the 2022/23 academic year, Dr. Torky Al Matrafi, having earned his medical degree in Budapest, could complete his required extra 1-year training before furthering his studies as a resident doctor in the Kingdom of Saudi Arabia. Semmelweis University is now ready to expand the program for international students who would like to expand their studies with an additional clinical rotation year.
In this specially developed program, Dr. Torky Al Matrafi from Saudi Arabia had the opportunity to gain medical practice in 6 different specializations throughout 12 months at the Semmelweis Clinics. The program is unique in the sense that it provides an opportunity for fresh international graduates of medicine to acquire the necessary training specifically required by their home country or another country where they intend to pursue a medical career. As Dr. Al Matrafi intends to further his studies in the field of Cardiology in Saudi Arabia, he finds the experiences he gained in Budapest invaluable.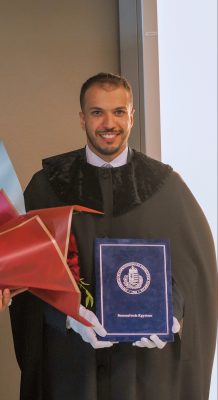 Dr. Torky Al Matrafi was the first junior doctor who could take part in this program. Due to the fact the educational system in Saudi Arabia is rather different from the Hungarian one where he earned his general medical degree (ie. the former lasts 7 while the latter lasts 6 years), Semmelweis University offered the year-long practice training with which he can start his residency in Saudi Arabia. Dr. Al Matrafi intends to specialize in Cardiology, and he has already been accepted to the prestigious King Abdullah Medical City Hospital in Mecca, where first he has to complete his specialization in Internal Medicine.
The reason why Dr. Al Matrafi decided to take this program is two-fold. "In the sixth year and after successfully defending my thesis I realized that it would be a great opportunity for me to spend one more year in Budapest as a junior medical doctor which was to be considered as part of my residency program."
Furthermore, I also wished to continue practicing under the supervision of many great physicians I met during my years as a medical student. I could have surely done this training in my home country, but the great admiration and deep appreciation I had for Semmelweis University was the main reason I wanted to stay and start this program,
he said. Speaking about the details of the program, Dr. Al Matrafi went on to say that "for this program to be accepted by the Saudi Commission for Health Specialities –
as they are the responsible authority for my residency program –, I had to practice in 6 different fields, and I was thrilled to spend the 12 months in these departments where I had the chance to be actively involved in patient care and invasive procedures and enhance my skills and knowledge by working alongside the great physicians at these clinics where I was treated with care and support". To this end, the junior doctor spent 2 months each at the Department of Obstetrics and Gynecology, the Pediatric Center, the Department of Surgery, Transplantation and Gastroenterology, the Department of Internal Medicine and Hematology, the Városmajor Heart and Vascular Center, the Department of Emergency Medicine, and the Department of Interventional Radiology.
According to Dr. Al Matrafi, during his training, he gained a better view of the different specialties, and he also learned how to work under pressure. "Most importantly, I gained experience and got ready for the coming years of my residency program", he emphasized.
This specially designed program can provide all the necessary skills and experiences for junior doctors.
I believe practicing for 12 months as a junior physician in this postgraduate advance training can help medical graduates decide what specialty to choose and get involved in different invasive procedures and patient care which is very crucial for building their confidence and teaching them how to think as a physician and not as a medical student,
 he added. The young doctor also expressed his admiration for the city of Budapest, which he finds special as he could make a lot of friends and gain a lot of memories. "It was really hard to leave the city after so many years living in it. As I once said: the Danube will always flow through my veins."
Dr. Al Matrafi said he felt honored by the fact that he was the first participant and also expressed his gratitude towards the organizers of the program. "It was an unforgettable experience, and I would like to thank everyone who made my training very successful, especially the great professors and consultants who supervised my practice. I would like also to thank Dr. Marcel Pop and the staff of the Directorate of International Relations for organizing the program", he concluded.
Owing to the success of this individually designed program, the university's Directorate of International Relations is ready to assist other international students who are graduates of Semmelweis University and would like to expand their education here in a tailor-made clinical rotation. Those interested can get more information at international@semmelweis.hu.
Mária Sánta
Photo: Dr. Torky Al Matrafi