The postgraduate training program will provide participants with knowledge that they can use throughout their clinical careers, said Rector Dr. Béla Merkely. Harvard Medical School and Semmelweis University continue to welcome applications from young clinicians, PhD students, postdoctoral fellows and residents with experience in academic activities, who are interested in health research and envision a future in clinical practice. 65 applications have already been submitted for the program.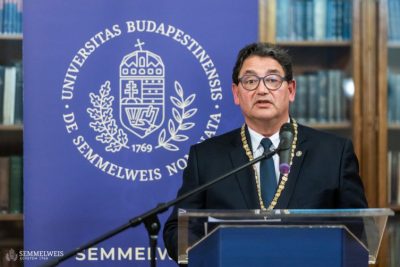 Representatives of Harvard Medical School and Semmelweis University signed a cooperation agreement last December on a postgraduate training program starting on 17 July 2023 and running until June 2026, for which registration is now open. The training, which primarily focuses on health research and methods, is open to young clinicians, PhD students, postdoctoral fellows and residents who have a background in science and are interested in developing their competencies in clinical trials.
Dr. Béla Merkely, Rector of Semmelweis University, pointed out that the program provides a unique opportunity for young people, and the knowledge acquired through the project will serve them throughout their clinical careers.
The training is primarily aimed at postdocs and those who have already gained research experience in the first two years of their PhD or in their research studentships – they are the ones who will benefit most from the knowledge that Harvard and Semmelweis University have to offer
– he pointed out, adding that it is essential that candidates imagine their future in the clinical field, as the training focuses on clinical research. "The scope of the program is very broad: from epidemiology to the design and implementation of investigator-initiated trials, it covers the most important aspects of clinical trials, from hypothesis generation to data recording and evaluation as well as biostatistics. All this is done with a practical approach, focusing on clinically relevant solutions, through seminar presentations, individual and small-group work and online classes," said the rector.
The program includes learning from experts such as Dr. David Scott Solomon, a world-renowned professor of cardiology at Harvard University, who has published extensively in the prestigious New England Journal Medicine, and Dr. Ajay K. Singh, Associate Dean for Postgraduate Medical Education at Harvard Medical School. On behalf of Semmelweis University, Dr. Béla Merkely, Rector and Director of the Heart and Vascular Centre in Városmajor, Dr. Zoltán Ungvári, Professor at the Institute of Public Health, and Dr. Péter Hegyi, Director of the Centre for Translational Medicine will participate.
Dr. Béla Merkely emphasized that the training not only allows participants to learn about clinical research from the world's best, but also provides an excellent opportunity to establish scientific contacts. "Clinical trials based on autonomous thinking, which are the focal point of the program, will be in increasingly high demand in the future, so the number of such trials is expected to keep growing," he said, adding that these are supported by grants and fellowships at national and also at European level, and that healthcare device manufacturers and pharmaceutical companies usually support trials that are looking for more effective and advanced ways to treat patients.
The number of PhD students interested in clinics at Semmelweis University is steadily increasing. However, medicine and health science is a lifelong profession, and we do not wish our students to lose their interest in science after their doctoral studies, since it is only an entry point to the scientific world. Our joint training with Harvard Medical School provides a solid set of knowledge that can help them build a future as researchers – and put Semmelweis University in a position to become one of the world's top 100 higher education institutions and one of Europe's top 5 medical schools.
– Dr. Béla Merkely pointed out. He stressed that Harvard University is one of the best universities in the world, and its reputation and clinical research are among the best worldwide, as shown by its prominent position in the rankings. Semmelweis has a long-standing relationship with the institute, with its staff having published numerous papers with Harvard researchers, and these collaborations and friendships could now be strengthened. "The fact that we have become Harvard's partner in Europe is a testament to the value of Semmelweis University and a very positive outcome both strategically and in terms of our reputation," he added.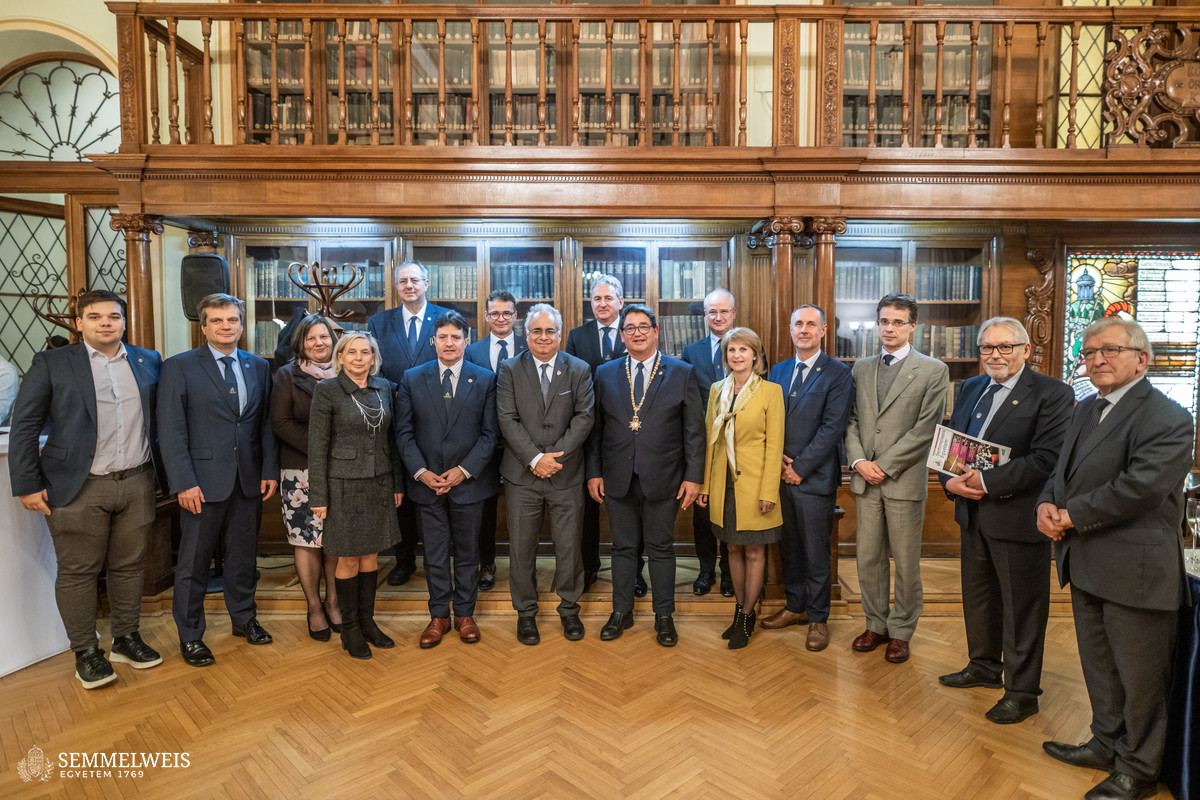 The nine-month program includes three resident workshops in Budapest, online and in Boston. The world-renowned American university is responsible for the curriculum and delivery of the training, and Semmelweis University has agreed to cover fifty percent of the participation fees of 50 carefully selected participants each year, with a budget of $250,000. The program has also been advertised in neighbouring countries and will be open to professionals from several countries in the Central European region. Commenting on the selection process, Dr. Béla Merkely said that motivation, past performance and research activity, as well as the candidates' references would be taken into account in the decision. Those who do not make it into the program in the first year can try again next year and in two years' time, as the training will run for three years. There is also the possibility for half or all of the training fee to be provided by companies, funders or sponsors.
As of last Friday, 65 applications have been submitted for the program. Application is open until 26 May.
Applications can be submitted at hms.harvard.edu/Semmelweis, under "Admissions". (Should you have any questions about the program, please contact us by email at scholarship@semmelweis.hu.)
Ádám Szabó
Translation: Viktória Kiss
Photo: Bálint Barta – Semmelweis University
Illustration: hms.harvard.edu