The registration for Harvard Medical School's Clinical Science Scholars Program at Semmelweis University is now open via the following website:
hms.harvard.edu/Semmelweis
, at the "Admissions" section. The joint program itself starts on 17 July 2023, and will run through June 2026.
The Clinical Science Scholars program at Semmelweis University (CSS) provides advanced training in healthcare research and methods for young clinicians, PhD students, post-doctoral fellows, and residents who have previous scientific activity and are interested in developing skills related to clinical trials.
As the importance of clinical research has increased in recent years, partly as a result of the pandemic, Semmelweis University is determined to strengthen this field in the region by collaborating in the delivery of educational programs offered by highly renowned institutions.
In the light of the above, the institution decided to offer 5,000 USD scholarships for 50 carefully selected participants in the program. Based on the good relation with a number of universitites, Semmelweis has also offered to support the attendance of professional from certain institutions.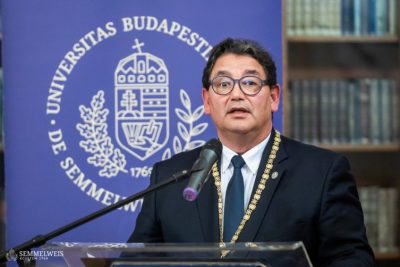 "We trust that you will take this opportunity to be part of this overarching common mission, which would contribute not only to strengthening the partnership between our institutions, but also to generating, together, a real impact on our society's well-being," Rector Béla Merkely said in his letter of invitation for partner universitites.
Should you have any questions, please do not hesitate to contact us via e-mail: scholarship@semmelweis.hu.
Directorate General of Marketing and Communication
Photo: Bálint Barta – Semmelweis University