A bronze bust of Ignác Semmelweis was unveiled on the 11th January at the Queen Mary University of London's Faculty of Medicine.
On January 11, a bronze bust of Semmelweis by Ádám Győrfi was unveiled at Queen Mary University of London, one of Britain's and Europe's leading educational institutions. At a ceremony hosted by the university and the Embassy of Hungary in London, Dr. Márta Korbonits, Professor of Endocrinology at Queen Mary, a graduate of Semmelweis and Dr. László Rosivall, Professor Emeritus of Semmelweis University in Budapest, paid tribute to the life and work of the Hungarian doctor, who was born 204 years ago and is considered as the 'the saviour of mothers'. At the event, Oscar-winning British actor Mark Rylance read excerpts from the play Dr. Semmelweis, which premiered in February and is currently on stage in Bristol, about the scientist's discoveries and struggles with the medical community of his time. The statue was unveiled by Professor Colin Bailey, President of Queen Mary University and Ferenc Kumin, Hungarian Ambassador to London.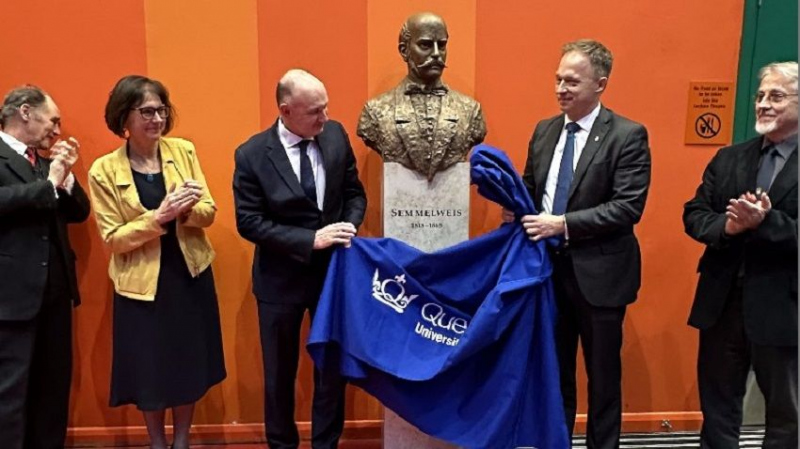 So far, Ignác Semmelweis has been honoured in 20 cities on 4 continents, from Japan to America, with London being the 24th statue altogether. Dr. László Rosivall, who set up the statues on behalf of the university, said that the sculptors include many Kossuth Prize-winning artists, and that his main aim is to pass on the legacy of Semmelweis to future generations around the world, and for that reason he inscribed the essence of the scholar's message on the pedestal in the local language.
Photo: Embassy of Hungary, London