The International Alumni Meeting, which will take place from 28-30 April 2023, will be one of the flagship events of the Semmelweis International 40 program.
In the academic year 2022/2023, Semmelweis University celebrates the 40th anniversary of the launch of its international medical education. The Semmelweis International 40 celebrations will feature former students of the University, members of the University's international alumni network. Semmelweis International Alumni Reunion, organized by the Alumni Board of Directors, will be the highlight of the next year's programme series, from 28-30 April 2023.
The outstanding professional activities of Semmelweis University's graduate students and alumni community are recognized around the world, and with their work and knowledge gained here they also support the progress of medical and health sciences. Throughout their careers, they have been important ambassadors of Semmelweis University who are proudly considered by the alma mater. They are always welcome here, as it is like coming home to us,"
– said Dr. Tamás Hegedüs, Director of the Alumni Board.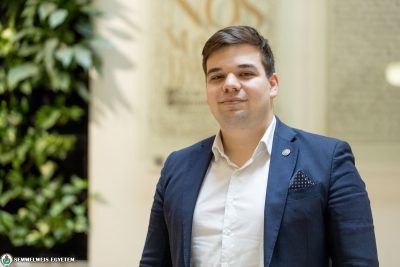 The institution welcomes back the members of the international alumni to the meeting, all those who have studied and graduated from Semmelweis University in international training in the past four decades. In addition to a few lectures on professional topics, the main focus of the event was to give alumni the opportunity to meet in person, to talk informally and to get to know each other. The event will also provide an insight into the development of the institution, the meeting of its past and present, and shows the strategic vision of the citizens of Semmelweis University. Workshops, round tables and presentations are also included in the programme.
Hundreds of visitors from all over the world are expected to attend the event and besides science the participants will have cultural programmes and other entertainment opportunities, the director added.
Registration for the International Alumni Meeting is ongoing. Registration and the detailed program are available on the Alumni Directorate website.
Directorate for International Relations – translation by Gábor Kiss
Photo: Bálint Barta, Attila Kovács – Semmelweis University (illustration)