Dr. Péter Ferdinandy, Vice-Rector for Science and Innovations at Semmelweis University, Head of the Department of Pharmacology and Pharmacotherapy, has been elected editor-in-chief of the prestigious British Journal of Pharmacology, effective from 1 January 2023. The 9.5 impact factor journal is one of the leading journals in the science of pharmacology.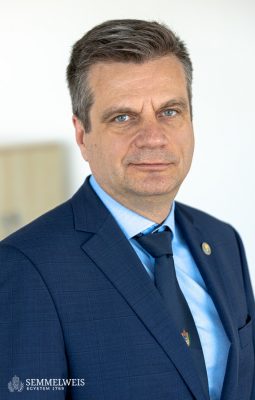 The British Journal of Pharmacology dates back more than seven decades: it was established by the British Pharmacological Society in 1946, originally as the British Journal of Pharmacology and Chemotherapy, and has borne its current title since 1968. The biweekly journal covers all areas of experimental pharmacology.
From 1 January 2023, Dr. Péter Ferdinandy, Vice-Rector for Science and Innovations at Semmelweis University, will become editor-in-chief of the 9.5 impact factor journal.
Commenting on the appointment, Dr. Ferdinandy said: this is a great honour for him personally and, as is the case for editors of all major international journals, for the institution he represents. The vice-rector explained that he had won the position after an application process involving several rounds of competition from a large number of applicants.
He added: as editor-in-chief, he will be responsible for developing a publication strategy at the head of an international editorial team, and will also be in charge of deciding on the articles to be published in the journal. He stressed that it was a particular honour to lead the editorial board of such a high-impact journal.
"This assignment will certainly increase the visibility of Semmelweis University in the international scientific world, especially in the field of pharmacology," Dr. Péter Ferdinandy emphasized.
President of the British Pharmacological Society, Professor Clive Page reminded that the British Journal of Pharmacology is critical to promote and advance all disciplines of pharmacology in the discovery, development, and use of medicines. 
"I am delighted to welcome Péter Ferdinandy to the team. His experience as a Senior Editor and demonstrable leadership within the pharmacology community will ensure the Journal goes from strength to strength, providing a place to publish for all pharmacology researchers, growing our reach and impact. This is an exciting time to join the BJP, as we aim to expand upon this success and ensure the journal continues to be a leading platform for pharmacological research," Professor Clive Page said.

Péter Pogrányi, translation: Gábor Kiss
Photo: Attila Kovács – Semmelweis University