Ten outstanding, internationally renowned professors with active links to the university have been awarded honorary doctorates at Semmelweis University this year. The Doctor Honoris Causa (DHC) ceremony was opened by Rector Dr. Béla Merkely, who recalled that since 1967, the university has awarded such titles for the 47th time, based on nominations from faculties.
This year, nine professors received honorary doctorates at the proposal of the Faculty of Medicine, and one professor at the proposal of the Faculty of Dentistry. One of the recipients, Dr. Franz Weidinger accepted the stole, pin and certificate that comes with the title a day earlier, following his lecture at the Semmelweis Symposium.
In his opening speech, the rector stressed that the inauguration of new honorary doctors is a special and joyful occasion, since the event proves that the institution, with over 250 years of tradition, continues to thrive. The number of Semmelweis Citizens keeps growing – and thus, the Hungarian scientific life continues to be revitalized and grow stronger as well. Dr. Béla Merkely remindend that international relations are of particular importance this year, as the university celebrates the 40th anniversary of the launch of its foreign language training, becoming one of the most important English and German-language training institutions in Europe.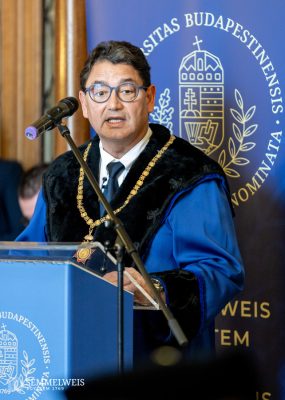 "In recent years, Semmelweis University has proven that it is more than the sum of its institutes, clinics and buildings. It is a cohesive, unbreakable community that serves the health and well-being of people in all circumstances. This was the case when the new coronavirus emerged, and it was also the case when war broke out in our neighbourhood," he said, recalling that the university's clinics treated more than a thousand patients from Ukraine, its dormitories housed hundreds of refugees, and more than a hundred and fifty students were able to continue their studies at Semmelweis.
"Our persistent work, our perseverance in difficult situations has borne fruit. In the latest Times Higher Education World Rankings, Semmelweis University has made it to the top 250, making it the best higher education institution in Hungary and Central-Eastern Europe," the rector stressed. "It is important to highlight that our development could not be as dynamic as it is, if we did not have such forward-looking international scientific relations as we have with the professors awarded this year. We appreciate their help so far, and look forward to further enhancing our cooperation in all areas," Dr. Béla Merkely concluded.
Following his speech, Dr. Miklós Kellermayer, Dean of the Faculty of Medicine and Dr. Péter Hermann, Vice-Rector for Educational Affairs presented the honorees' laudations.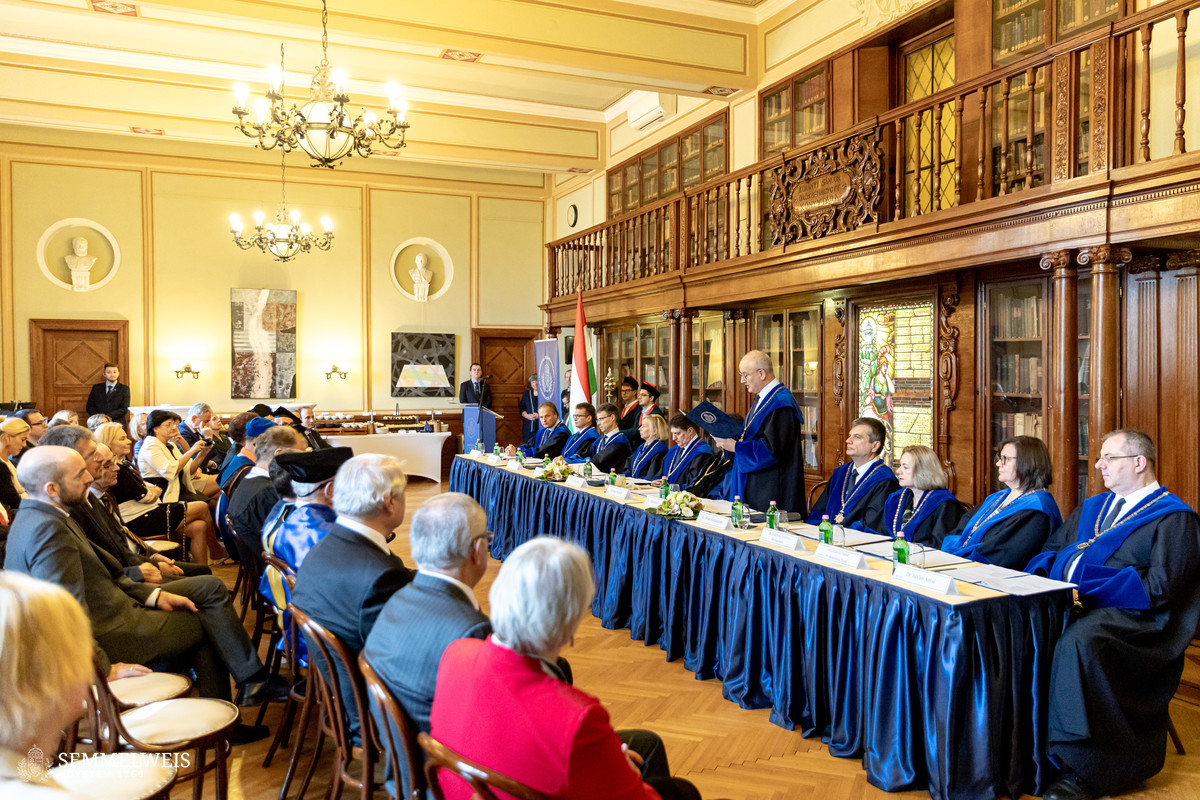 Dr. Thomas Allison is Professor of Medicine at the Mayo School of Medicine and Science, consultant at the Department of Cardiovascular Diseases and Cardiovascular Surgery, director of the Cardiopulmonary Exercise Testing Laboratory – which performs the highest volume of complex cardiopulmonary tests worldwide – and co-director of the Sports Cardiology Clinic. His current clinical responsibilities include stress testing, primary and secondary prevention of cardiovascular disease, sports cardiology, and cardiac rehabilitation. He has mentored 90 students and trainees from around the world, and has given over 250 invited presentations in more than 25 countries. He is also a successful long-distance runner with 26 marathons to his credit; in 1980, he qualified for the US Olympic Trial in marathon running. Professor Allison is intimately tied to Hungary. Not only has he helped to train Semmelweis students at the Mayo Clinic, but he has given numerous talks at meetings of the Hungarian Cardiology Society and the Hungarian Medical Association of America.
Dr. Marc Dewey is Vice Chair of the Department of Radiology at Charité Universitätsmedizin Berlin. He leads a large multidisciplinary research program that focuses on the applications of artificial intelligence and evidence-based radiology. The main goal of his team's translational and clinical research program is to improve the prevention, diagnosis, and treatment of cardiovascular diseases. Professor Dewey coordinates the Pan-European randomized DISCHARGE trial that compares invasive and noninvasive coronary angiography. The main findings of this trial were recently published with several authors from Semmelweis university, since the institution is one of the key partner sites of the consortium. Professor Dewey is the recipient of the two highest scientific awards of the German Röntgen Society. In 2009 he was awarded the Wilhelm Conrad Röntgen Award, and in 2012 the Marie Curie Ring. Professor Dewey currently serves as the European Society of Radiology's Publications Committee Chair. His team has more than 250 publications with a cumulative impact factor of nearly 2,000.
Dr. Peter Falkai is one of the best-known psychiatrists in Europe and worldwide. He is currently Professor and Chairman of the Department of Psychiatry and Psychotherapy at Ludwig-Maximilians-University München, and the president of the European Psychiatric Association. After graduation, he specialized in adult psychiatry and has been active in the field for over 30 years. He has been the director of psychiatry at the universities of Hamburg and Göttingen. His research focuses on the neurobiology of psychotic disorders, more specifically schizophrenia. He is leading multidisciplinary teams of researchers, allowing the use of techniques ranging from functional imaging to gene expression in human post-mortem-tissue. He is author of more than 700 scientific publications. Professor Falkai has done a great deal for psychiatry in Hungary and at Semmelweis University. He is a regular speaker at meetings of the Hungarian Psychiatry Association, and he was an invited speaker at the Semmelweis 250 Clinical Conference. He also hosted several young Semmelweis graduates for clinical or research practices.
Dr. Henk Granzier is Professor of Cellular and Molecular Medicine, Physiology, and Bioengineering, and Allan and Alfie Norville – endowed Chair in Women's Heart Disease at the University of Arizona in Tucson. He has made invaluable contributions to our current understanding of the contraction of skeletal and cardiac muscles. His work focuses on the giant proteins titin and nebulin, both of which are key components of the contractile machinery. Currently he is making profound gains in restoring the mechanical losses concurrent in cardiac and skeletal muscle pathologies via gene and pharmaceutical therapies. Professor Granzier is the editor of prime international journals of his field, and the recipient of numerous prestigious awards such as the Helmholtz-Humboldt Research Award, and the Transatlantic NetWork of Excellence Award of the LeDucq Foundation. His long-term collaboration with Semmelweis University have led to numerous joint papers and post-doctoral research exchange, and continue to bring international recognition through the mutual pursuit of molecular mechanisms underlying cardiovascular function.
Dr. Alan Lumsden is Professor and Medical Director of the Methodist DeBakey Heart and Vascular Center in Houston, Texas. He is an authority of vascular surgery, who gained international renown for his accomplishments in minimally invasive vascular surgery, vascular imaging, robotic and telerobotic endovascular interventions. He is the author of more than 200 publications and gave more than 100 presentations. He has maintained continuous research and training collaboration with the Városmajor Heart and Vascular Centre in the past decade. He established a research fellowship that provides support for Semmelweis University's trainees at the Houston Methodist Hospital for a period of 12 to 24 months. He is a regular invited speaker at Hungarian cardiovascular symposia and a keynote speaker of several online workshops. In 2022, he was one of the main speakers of Angiology Days organized by the Hungarian Society of Angiology and Vascular Surgery.
Dr. Marc Alan Pfeffer is a Victor J. Dzau Distinguished Professor of Medicine at Harvard Medical School, and Senior Physician in the Cardiovascular Division at the Brigham and Women's Hospital. As a researcher of international renown – along with Dr. Janice Pfeffer and Dr. Eugene Braunwald – he is credited with the concept that angiotensin-converting enzyme inhibitors (ACEIs) could mitigate adverse ventricular remodeling following myocardial infarction. Since this discovery, he has played principal roles in a long list of practice-changing clinical trials. He is a team builder who takes pride in the academic advancement of trainees and junior faculty, and is known for his open and supportive data sharing practices. He was recognized by Science Watch for having the most highly cited papers in clinical medicine, and was listed as one of the highly influential biomedical researchers between 1996 and 2011. He has been collaborating with the Városmajor Heart and Vascular Centre in the past fifteen years. He was the Principal Investigator of the PARADISE-MI and PARAGON studies, in both of which the Heart and Vascular Center participated as the top patient recruiter.
Dr. Bruno Podesser is Professor for Laboratory Animal Research, and Director of the Center for Biomedical Research and Translational Surgery at the Medical University of Vienna. He habilitated in cardiac surgery in 2001, and was appointed consultant at the Department of Cardiac Surgery at the University Hospital St. Pölten, a clinical position he holds until today. In 2006, he became the founding coordinator of the "Ludwig Boltzmann Cluster for Cardiovascular Research" at the Medical University of Vienna, where he still serves in the board of directors. In 2019 he became "Honorary Member of the Hungarian Society of Cardiology". Professor Podesser is a truly translational surgeon scientist. His clinical and research focus is ischemia-reperfusion injury and, more recently, cardiac remodelling and reverse remodeling under pressure and volume overload. He has published more than 175 peer-reviewed papers with a cumulative impact exceeding 1000. He is the recipient of numerous prestigous awards, and serves as Associate Editor of the European Journal of Cardiothoracic Surgery, the ESC Heart Failure and the Journal of Cardiovascular Pharmacology and Toxicology.
Dr. László Záborszky is Distinguished Professor at the Center for Molecular and Behavioral Neuroscience of Rutgers University. He graduated in 1969 from Semmelweis University as a medical doctor, and worked at the Department of Anatomy, Histology and Embryology for more than ten years. Following short post-doctoral periods in Germany, he has spent the last forty years as director at the Medical University of Virginia and subsequently at the Neuroscience Institute of Rutgers University. Throughout this time, Professor Záborszky has been supporting the development of Hungarian neuroscience by establishing numerous successful research collaborations. He played a key role in the founding of the Hungarian Academic Society of New York, which he was vice-president, then president of. In 2013, he was awarded the Knight's Cross of the Order of Merit of Hungary. He has gained international renown for his discoveries in neuroanatomy and neurochemistry. His work, which ranges from selective neural attention through drug addiction treatment to prevention against Alzheimer's and Parkinson's diseases, contributed to profound insights into understanding the enigmatic brain function. He is in active collaboration with Semmelweis by offering courses at the Department of Anatomy, Histology and Embryology, hosting study trips for young researchers, and giving lectures at the university.
Dr. Rade D. Paravina is a tenured professor at the Department of Restorative Dentistry and Prosthodontics, University of Texas School of Dentistry in Houston. He serves as Director of the Houston Center for Biomaterials and Biomimetics, and holds a professorship in biomaterials. Professor Paravina has authored three books, 15 book chapters, and designed several dental products. He also developed Dental Color Matcher, a free online educational and training program for esthetic dentistry, and the scientific protocol for evaluating the "chameleon effect" of dental materials. He serves as Editor-in-Chief of the Journal of Esthetic and Restorative Dentistry and editorial board member of a number of further scientific journals in the field. He has been working together with Semmelweis University for more than thirteen years concerning research projects and publications. The Department of Prosthodontics has been using his educational and training program for teaching color in dentistry on a regular basis since 2013.
Dr. Franz Weidinger – who received the award a day before the ceremony – is President of the European Society of Cardiology and Head of the 2nd Medical Department with Cardiology and Intensive Care Medicine at Rudolfstiftung Hospital, Vienna. He was instrumental in establishing a national Austrian registry of acute coronary syndromes, which opened the door to his activities within the European Society of Cardiology's working groups, committees and task forces. His research interests include Interventional Registries, STEMI networks, primary PCI and acute coronary syndromes. Within the European Society of Cardiology, he has been working together with Dr. Béla Merkely for more than a decade. He held lectures at Hungarian cardiology congresses several times, for instance he was an active participant of the Central-Eastern European Summit Meetings. His department and the Heart and Vascular Center of Semmelweis collaborated in several large randomized trials, out of which more than ten joint publications were born. Since 2017, Professor Weidinger is an Honorary Member of the Hungarian Society of Cardiology.
The ceremony ended with a performance by Medikus Orchestra pianist Johannes Ehinger. The orchestra, conducted by Gergely Dubóczky, has been a key part of the Semmelweis University's cultural life since 2008. The symphonic ensemble is a regular participant in university events, but has also performed many successful national and international concerts, also charity concerts.
Viktória Kiss
Photo: Attila Kovács – Semmelweis University