Dr. Yoichi Kumagai, Associate Professor at the Department of Gastrointestinal and General Surgery, Saitama Medical University, spent three months at the Department of Surgical Transplantation and Gastroenterology, Semmelweis University. According to him, the internship was a great opportunity, during which he gathered a wealth of professional experience.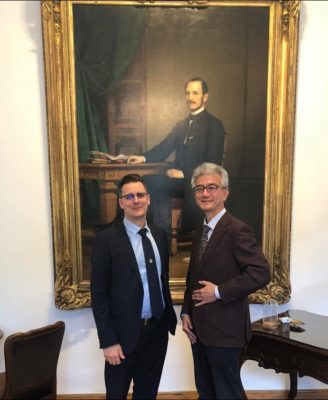 Saitama Medical University and Semmelweis University signed an agreement in 2002, under which several students and lecturers have spent their internships in Japan, and the Hungarian university also hosted students and professors from the country. The cooperation with the Japanese institution is one of Semmelweis University's most successful foreign relations. Every year, the number of candidates applying for the internship is exceptionally high, and the two students and one professor who eventually participate in the programme are selected after a complex screening process. In addition to gaining international clinical experience, the aim of the internship is to practice English as a professional language and also, to learn about a new culture.
Dr. Yoichi Kumagai, Associate Professor at the Department of Gastrointestinal and General Surgery (Digestive Tract and General Surgery) at Saitama Medical University, Japan, spent 3 months in Hungary at the beginning of the year. Dr. Yoichi Kumagai contributed to the work of the Department of Surgical Transplantation and Gastroenterology, headed by Dr. Attila Szijártó, where he was mentored by Dr. Tamás Vass, Assistant Professor at the department.
At its meeting in September 2021, the Senate of Semmelweis University decided to merge the Department of Transplantation and Surgery into the Department of Surgery and Interventional Gastroenterology. This created the Department of Surgery, Transplantation and Gastroenterology, which has become one of the largest inpatient institutions of the university.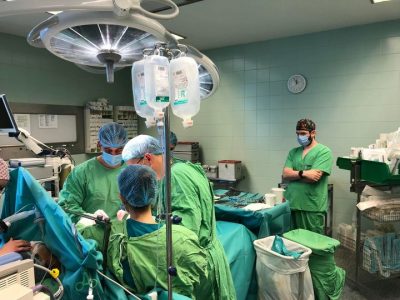 The clinic covers the entire spectrum of general surgery, with a traditional emphasis on surgery of the digestive tract and soft tissue tumours, including breast and endocrine diseases. The clinic represents the full profile of the profession in the field of gastroenterology, including interventional, i.e. instrumental procedures for inflammatory bowel disease, bleeding patients, pancreatic and liver diseases. Among other things, it is home to one of the largest national centres for home parenteral nutrition, which provides home infusion treatment for patients unable to feed themselves.
As Dr. Yoichi Kumagai said, it was a great opportunity for him to do his 3-month internship in Hungary at Semmelweis University. As he pointed out, he gained a lot of experience not only in surgical and endoscopic techniques, but also in the field of gastrointestinal diseases. He was surrounded by much love and attention by his colleagues, and developed an excellent professional relationship with his mentor, Dr. Tamás Vass in particular. The aim of his internship was to study gastrointestinal surgery and gastroenterology as such in Europe and Hungary. He was deeply impressed by the fast and precise surgical and endoscopic techniques used by the clinic's doctors.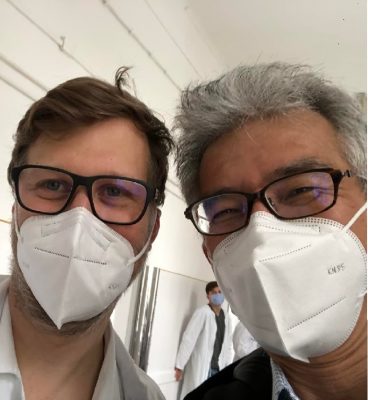 Dr. Yoichi Kumagai studied the differences between European and Japanese healthcare with great attention. According to him, perioperative chemotherapy and chemoradiotherapy have been used in Europe and Western countries for much longer than in Japan. A group of Japanese clinical oncologists recently reported on the usefulness of adjuvant (post-operative) and neoadjuvant (pre-operative) drug therapy and treatment options for oesophageal cancer, which has undergone major changes in Japan over the past two decades. He spoke about the importance of early detection and reported that Japan has a nationwide screening programme to detect gastrointestinal cancers. Thanks to this programme, a significant proportion of cancers of the stomach and oesophagus can be discovered at an early stage.
Endoscopic resection techniques enable doctors to remove early malignant lesions from the gastrointestinal tract with minimal invasiveness and sparing of the organ compared to surgical resection"
– he pointed out.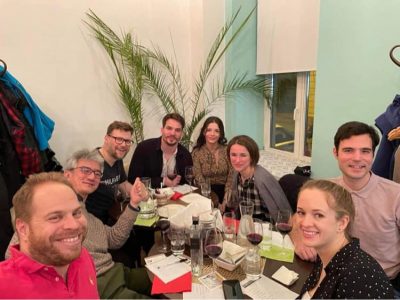 I am hopeful that this programme and early diagnosis will contribute to the successful treatment of upper tract tumours. I am pleased that we were able to have long discussions with our Hungarian colleagues on this issue," said Dr Yoichi Kumagai.
"It has been a wonderful three months for me. My wife and I visited all the natural beauties and cultural places of Hungary; we saw as much as we could. We explored Lake Balaton, went to concerts, the Opera and met our daughter who is studying in Poland. Dinners and other get-togethers with Hungarian colleagues were also an unforgettable experience. I think that this internship and the exchange programme between Saitama Medical University and Semmelweis University were higly useful for all of us. The collaboration has started and we definitely want to continue it. Next year, we are going to host Dr. Tamas Vass from the clinic in Japan, which is a great honour for me," he said.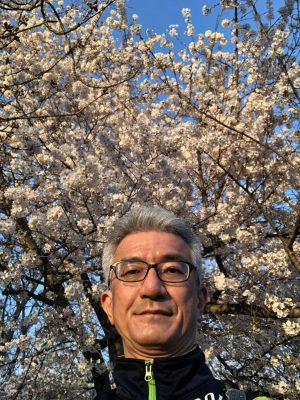 Dr. Yoichi Kumagai expressed his gratitude to Dr. Attila Szijártó, Director at the Department of Surgery, Transplantation and Gastroenterology, Dr. Tamás Vass, Assistant Professor, Judit Slovak, International Specialist at the Directorate of International Relations, and all the staff at Semmelweis University who supported the programme throughout the COVID epidemic and the conflict in Ukraine.
At Semmelweis University, bilateral exchange agreements supervised and coordinated by the Directorate of International Relations enable the most talented students and lecturers to undertake internships or further studies at partner universities abroad, also foreign students and lecturers have the opportunity to spend their internships at an institute or clinic of Semmelweis University.
Directorate of International Relations
Translation: Viktória Kiss
Photo: Dr. Yoichi Kumagai