EUniWell (European University for Well-Being) has announced the 4th EUniWell Seed Funding Call and a EUniWell Summer School for students and health professionals from partner universities.
Through top level education and research, EUniWell (European University for Well-Being) aims at creating an inclusive and diverse environment that allows citizens to be well-educated, socially responsible and healthy. In the longer term, the collaboration aims to define how a modern, civic and entrepreneurial European University can support social and individual well-being in a global setting.
EUNIWELL SEED FUNDING CALL
EUniWell Seed Funding Programme, with already 22 funded projects, constitutes one of the most prominent activity hubs of co-creation and collaboration within the alliance. Projects bringing together researchers, students, educators and administrative staff, and covering diversified fields such as health research, entrepreneurship, pedagogical innovation or intercomprehension between languages are currently being implemented.
EUniWell has decided to launch a fourth Seed Funding Call to further stimulate concrete and innovative cooperation initiatives that contribute to promote well-being in education, research, policy development and student life in our alliance.
It is also a great pleasure that the University of Murcia, which recently joined the EUniWell consortium as its eighth member, will participate in this 4th Seed Funding Call. The decision by the University of Murcia to take part in this new call underlines its strong commitment to and enthusiasm for EUniWell. Consequently, this call for proposals is an excellent opportunity to start integrating educators, researchers, administrative staff and students from the University of Murcia into EUniWell activities.
Application and partnership: Collaborative proposals must be submitted by teachers/researchers/administrative staff/students from at least three universities of the consortium. The maximum grant allocated per project is €25,000.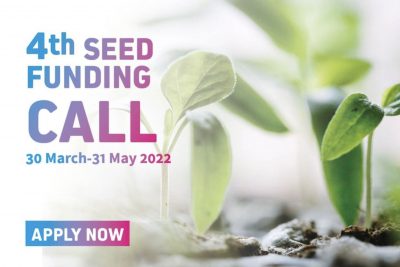 Selection criteria and further details can be found on the EUniWell website.
For more information, two online «Questions and Answers» information sessions will be organised:
13 April, 12:00-13:00 CEST: Zoom link
4 May, 12:00-13:30 CEST: Zoom link
Application deadline: 31 May, 24:00 CEST

EUNIWELL SUMMER SCHOOL
The European Universities Alliance includes the Universities of Birmingham, Florence, Cologne, Leiden, Linnaeus, Murcia, Nantes, and Semmelweis University.
EUniWell will organise several summer schools this year. Firstly, a EUniWell summer school on "COVID-19: Impact on European health & well-being" will take place on the Leiden University campus in The Hague from 10-13 July 2022.
Do you want to learn more about the impact of the pandemic on population health and contribute to the debate about post-pandemic health and healthcare provision? Are you keen to engage with international professors, students and health and social care professionals from other countries in Europe? Are you excited about acquiring an interdisciplinary perspective on the pandemic and population health? If so, apply now for this exciting and relevant EUniWell Summer School at Leiden University.
Fully funded places are now available for students, early career researchers, and health professionals from participating EUniWell universities with a background in medicine, biomedical science, health science, psychology, sociology, anthropology, data science, or similar to attend this EUniWell Summer School at Leiden University Campus The Hague from 10-13 July 2022.
Application for the summer school: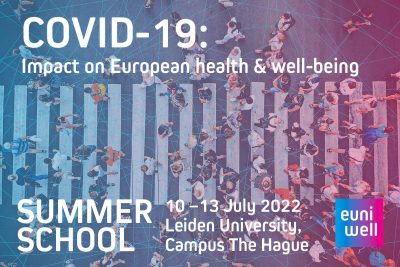 Applicants: Bachelor's, Master's and PhD students, and health care professionals from participating EUniWell universities
Background: medicine, biomedical science, health science, psychology, sociology, anthropology, data science, or similar
Application deadline: 6 May 2022, 18:00 CEST
Further details: on the EUniWell website
More information can be also asked from the EUniWell Team at Semmelweis University.
Eszter Turopoli (Directorate of International Relations)
Photo: Directorate of International Relations