On the second occasion of the Science and Business Salon that replaced the former Research Salon, the focus was on effective communication in science. This time, those interested could gain insight on how to make scientific research understandable and also, how to present it in an intriguing way. This has been illustrated by three researchers who have previously applied for the Innovation Award. Dr. Sarolta Trinh, a first-year PhD student at the 1st Department of Pediatrics, Dr. Krisztián Benedek Csomó, Assistant Professor at the Department of Conservative Dentistry and Dr. Bence Gusztáv Stubnya, a resident at the Department of Orthopedics presented their previous lectures first, then their presentation, which was supported by the Innovation Center, and mentored by Dr. László Róbert Zsiros, a science communicator and also the founder and operator of Szertár.
The event at Semmelweis Salon was the fourth in a series of programs previously called as the Research Salon – the second to be held under the name Science and Business Salon. This time, the focus of the event was on science communication: the Innovation Centre launched a mentoring program with science communicator Dr. László Róbert Zsiros, the founder and operator of the scientific podcast Szertár, who helped three researchers who had previously applied for the Innovation Prize to present their research results even more efficiently and enjoyably. Those interested could see the previous presentations of the three researchers made for Innovation Day or the University Innovation Committee first, then they showcased their presentation which was compiled with the help and advices from Dr. Róbert László Zsiros.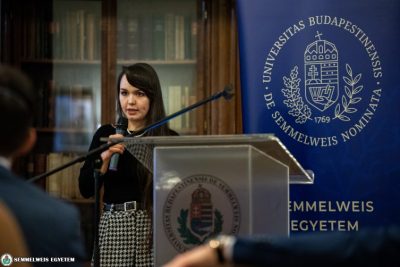 "It was fantastic to work with Dr. László Róbert Zsiros. Not only did I receive constructive criticism on my previous lecture, but I also received feedback that helped me to detect my strengths and weaknesses concerning my presentation skills," said Dr. Sarolta Trinh, a first-year PhD student at the 1st Department of Pediatrics. She explained that the primary goal was to present her research under three minutes in such a way that was understandable to anyone, while keeping her own voice. "For that, we had to look for an organizing principle, so I could build my presentation by connecting two or three subgroups to that principle," she highlighted. According to her, one of the most helpful pieces of advice was to summarize her thoughts sketchily, as if to tell a friend what she was working on briefly. All in all, Dr. Sarolta Trinh found the mentoring program very useful. Like she said, she had already been able to capitalize on what she had learned in other areas: she had put together her presentation at a recent "hackathon" along these principles. The topic of his presentation was a real-time surgical event diary, which was developed in the field of pediatric anesthesiology – it can be used as a quality control tool and it is also useful in research, as the surgical events recorded are a good start to educate artificial intelligence later on. For his research, Dr. Sarolta Trinh won the Innovation Award in the most innovative TDK work category.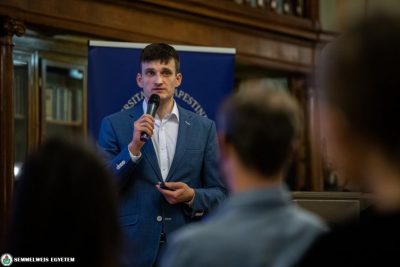 Dr. Krisztián Benedek Csomó, Assistant Professor at the Department of Conservative Dentistry revised his work presented to the University Innovation Committee with the help of Dr. László Róbert Zsiros. "It was very inspiring to work together, I received plently of good advice. The mentoring program was not like working with a supervisor on a thesis or TDK. Besides other things, Dr. László Róbert Zsiros helped me to convey the essence of my presentation in a way that it sounds inguiring and fascinating – basically, I had the opportunity to adopt the audience's point of view," he said. He explained that during the course of the program, he learned how to emphasize the main message of the presentation and then, frame it properly. "It was a real paradigm shift: I am now preparing for a presentation in a completely different way," emphasized Dr. Krisztián Benedek Csomó. In his current presentation, he elaborated on his research topic, which is about how to make the nano-striated, antimicrobial surface of dental implants hydrophilic, since it improves the wound healing of implants, making them safer for people with diabetes or radiotherapy, for example.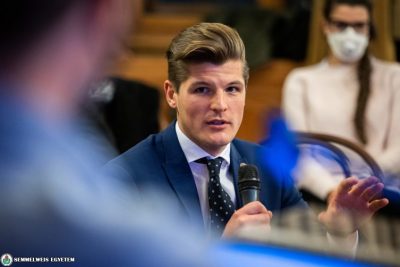 According to Dr. Gusztáv Bence Stubnya, a resident of the Department fo Orthopedics, the mentoring program focused primarily on how to make presentations more enjoyable for the general public and lay people. "Researchers usually try to lecture scientifically, with a vocabulary in accordance with their field of expertise, as they are most often give presentations to a knowledgeable audience. However, with Dr. Róbert László Zsiros, we focused more on making a presentation as spectacular as possible and more accessible to anyone interested. These methods also help us make our research more marketable in the business world," he said. As for the presentation on Dr. Gusztáv Bence Stubnya's research, he developed a software suitable for motion analysis with gyroscopic sensor-based, artificial intelligence support – for which he received an Innovation Award in the PhD category this year.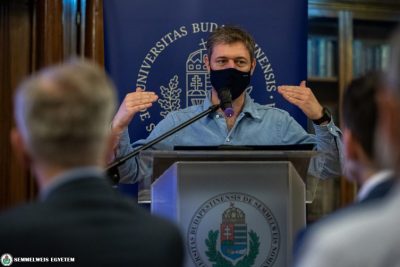 "When someone is presenting a complex scientific topic to a lay audience, it is vital to think about what it was like to encounter the field for the first time – since most probably, less knowledgeable people have the same amount of information about the given topic. Switching to this state of mind consciously helps a lot to transfer a knowledge that accumulated over the years efficiently and briefly," said Dr. László Róbert Zsiros, science communicator, founder and operator of Szertár, leader of the mentoring program. He added that he dealt with the aforementioned researchers one by one, as they were interested in different topics and had different personalities. "During the program, we did playful exercises. For example, I did a radio interview with them – as they can't rely on visual aids only, they have to be able to explain their research field in their own words," he pointed out. As he said, young researchers often fear that their topics cannot be presented briefly, in a way that is understandable to lay people. "In practice however, even a Nobel Prize research can be concise and enjoyable to everybody," he said. According to Dr. László Róbert Zsiros, the effective communication of science is becoming more and more important nowadays, as it is essential not only during the presentations, but also in the doctor-patient relationship. "There is a palpable difference in the patient's attitude in case the doctor can explain the issue to him or her, whenever there is more than just a final report full of Latin abbreviations," he pointed out.
The moderator of the event was Dr. Péter Gyula Szigeti, Director of the Innovation Center.
Ádám Szabó
Translation: Viktória Kiss
Photo: Gábor Ancsin