Dr. Szilvia Sebők has been awarded with the most prestigious award of the Society of Hospital Pharmacists (of the Hungarian Society for Pharmaceutical Sciences) in recognition of her invaluable work. The memorial medal was presented to dr. Sebők, Chief Pharmacist of the Clinical Center at the 23rd Congress of Hospital Pharmacists.
Dr. Szilvia Sebők has been working at Semmelweis University since 2010. Initially she worked as head of the department which is responsible for providing medicine, disinfectants and bandages for Semmelweis University.
Since 1st August 2020 she has been Chief Pharmacist, managing the entire drug supply of the university. Her extraordinary dedication, tireless efforts and her capacity to identify key points inspire everyone around her. She has also been assisting the professional organization of Semmelweis University.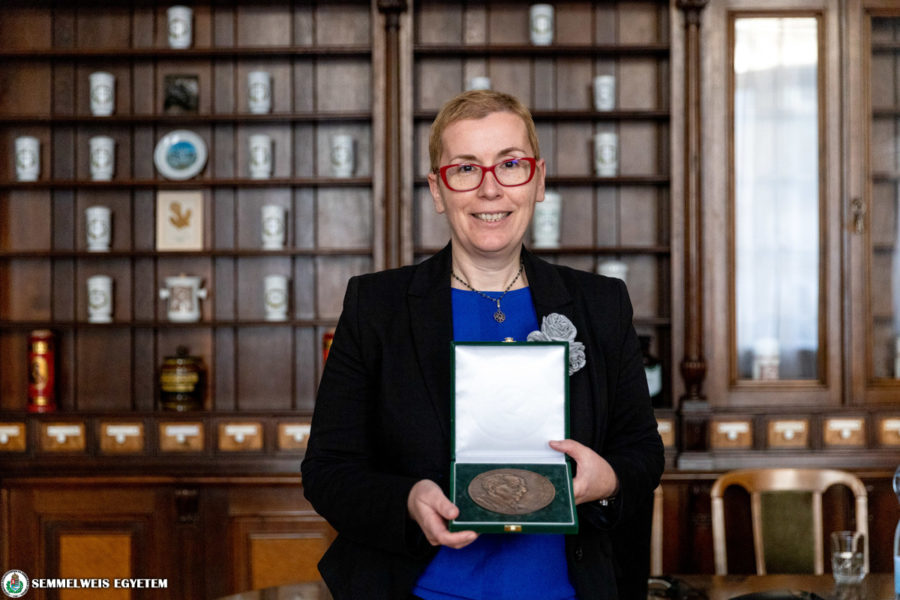 " I don't work for recognition, but it feels great that my long-time efforts and professional work in clinical and hospital pharmacy have been recognized with the prestigious Dávid Lajos medal" – said dr. Szilvia Sebők.
After her graduation in 2006 she found a job as a hospital pharmacist. Later on she took a small detour and worked in the public pharmacy sector, however she missed working in the hospital. Clinical and hospital pharmacy are somewhat similar to public pharmacy, as both aim to help patients. Clinical pharmacists work together in a team to assist physicians and healthcare professionals in order to provide the most appropriate drug therapy for patients.
"This way we can directly take part in the actual treatment of patients" – said dr. Sebők adding that she devotes a large part of her time to managing organizational issues, but at the same time she is trying to keep herself up to date in the field of clinical pharmacy. 
Bernadett Bódi
Photo: Attila Kovács – Semmelweis University
Translation: Norbert Lukács