56 employees of Semmelweis University were involved in providing medical support for the FINA Swimming World Cup in the Duna Arena. Over two thousand PCR and antigen tests were done and all of them came out negative, which is unprecedented in the past one and a half years over twenty sporting events that the university provided medical support for.
Since the outbreak of the pandemic, the Budapest leg of the FINA Swimming World Cup has been the 20th sporting event, where Semmelweis University was responsible for providing medical support and an enclosed environment, compliant with the epidemiological measures. A total of 912 athletes, coaches and accompanying staff were allowed in the enclosed and strictly monitored space in order to minimize the risk of the spread of the coronavirus.
Participants were only let in with a preliminary PCR test and were subject to further PCR and antigen tests at the venue, which were repeated halfway through the event.
International athletes were required to be tested before returning home, so Semmelweis staff were involved in performing 1346 PCR tests and 897 antigen tests during the event.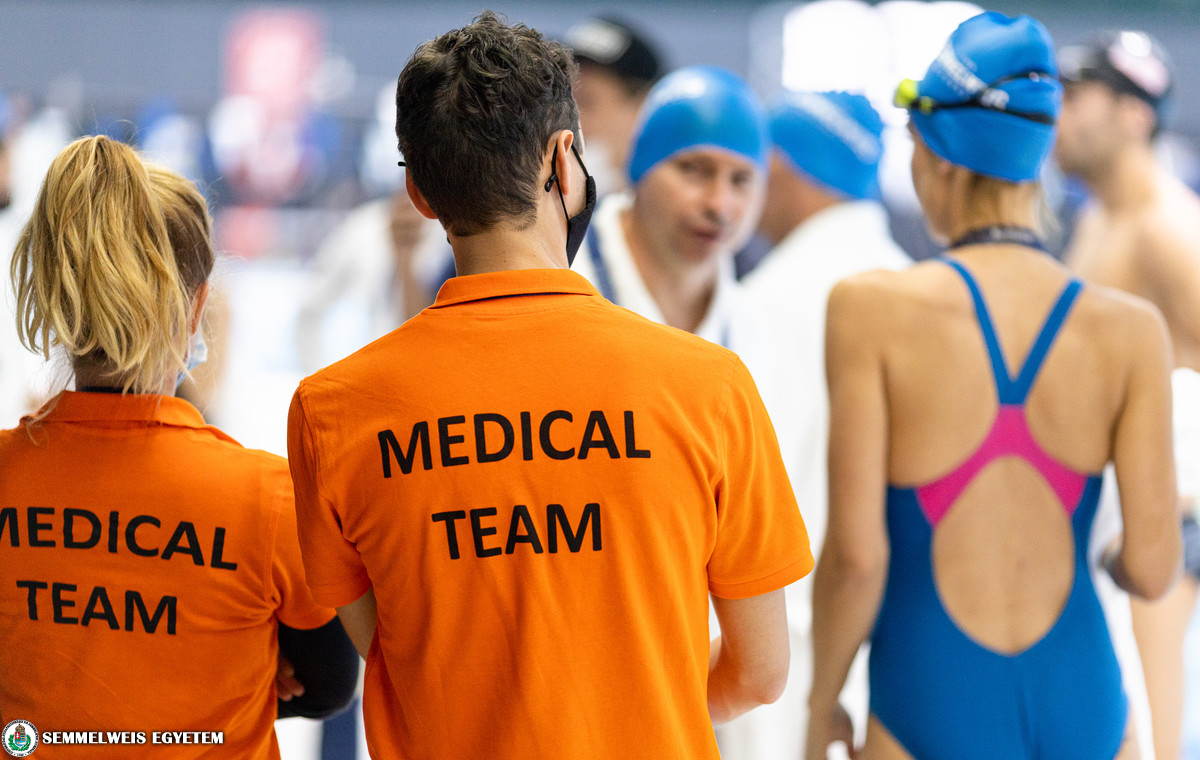 The medical team of Semmelweis University was made up of 56 people, including medical students, residents, nurses, doctors and administrative staff. Health professionals were responsible not only for performing the tests; doctors and nurses were responsible for treating injuries, however, fortunately there were no injuries during the competition.
"The World Cup was very well organized and the athletes were compliant with the regulations. It is particularly pleasing that no swimmer was injured. Not having a single positive coronavirus test at such a large scale international event, which was also open to spectators with vaccination certificates, is also unprecedented,"
– said Dr. Béla Merkely, Rector, head of the World Cup medical team.
"It was a fantastic World Cup, the athletes were extremely grateful for the professional organization and the opportunity to compete in front of spectators again," said Sándor Wladár, Olympic champion and President of the Hungarian Swimming Association.
"This is mainly due to the fact that our events have been operated by the same team, whose work is truly appreciated by FINA. One of the most important key figures of this team is the medical team led by Dr. Béla Merkely, who we are really grateful this year. To express our gratitude, they were given the opportunity to compete in the relay race of the those who have been working in the frontline of the coronavirus epidemic, which they really enjoyed. The fact that no one tested positive for coronavirus is the proof of a high quality and safe event,"  he said.
Dávid Orsolya, Hungarian Swimming Association
Photo: Attila Kovács– Semmelweis University
Translation: Ágnes Raubinek