Boglárka Füzesi, administrator of the Heart and Vascular Center received the shot on 12 October. Her second dose of Sputnik was the four hundred thousandth vaccine administered at Semmelweis University.
The total number of the coronavirus vaccine shots administered so far at Semmelweis University has reached 400 thousand on 12 October 2021. The four hundred thousandth dose was administered by rector dr. Béla Merkely at the Heart and Vascular Center.
"Although, it is a good occasion to celebrate, we would like to reach half a million doses as soon as possible", said Dr. Béla Merkely, Rector who has administered more than 20 thousand doses himself.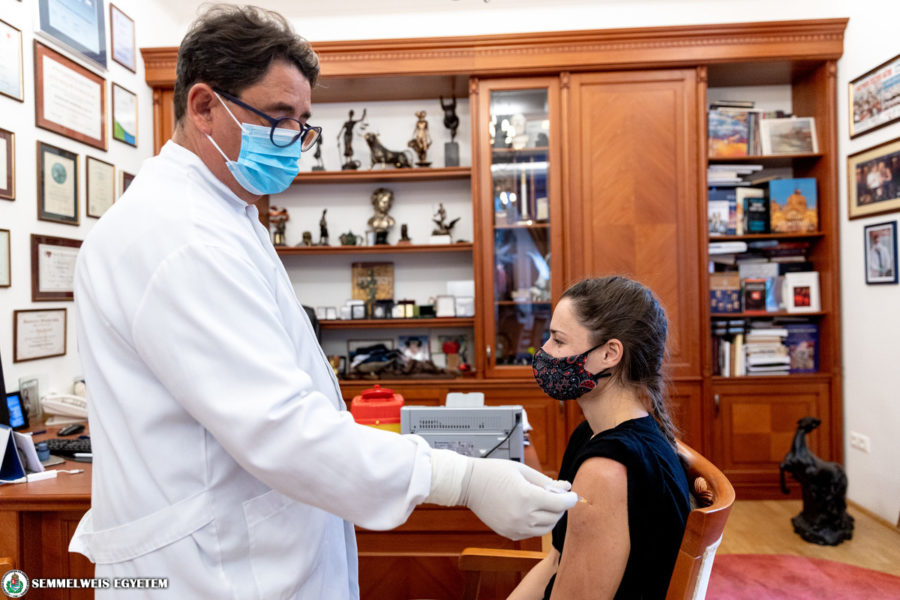 It is essential that everyone get vaccinated, and it is important for people to follow through with second dose, even in case of a previous infection. The rector also highlighted that it is a priority to boost vaccination rates, as the Delta variant is more contagious than previous variants.
It is recommended that healthcare workers, patients above 60, and people with chronic diseases who have an increased risk of Covid infection get three doses of the COVID-19 vaccine – pointed out Dr. Béla Merkely.
Dose number 400 thousand was administered to Boglárka Füzesi, administrator of the Heart and Vascular Center.
"My whole family got infected, most of my family members experienced very serious health issues. My grandfather and sister-in-law ended up in hospital, my father had to undergo an ECMO (extracorporeal membrane oxygenation) treatment. He was given only 2% chance of survival at the time, but after spending 50 days at the emergency department, he fully recovered", she said.
Boglárka also got the infection, so she had to wait some time to get her first jab. Today she was given the second dose.
"Vaccines are not painful, and they are safe, so I would recommend anyone who has not been vaccinated yet to go ahead and get vaccinated as soon as they can.", she added.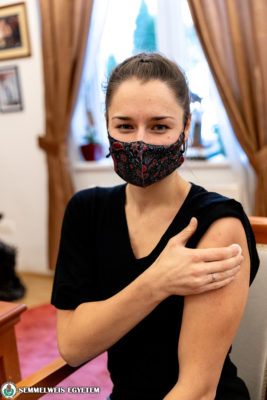 Semmelweis University was the first among Hungarian institutions to start the vaccination program against the coronavirus on 26 December 2020. Semmelweis University started vaccinating social workers and the residents of nursing homes on 7 January 2021. The vaccination campaign continued with Hungarian patients who were referred by their general practitioners. Pregnant and lactating mothers could get their first dose starting from 4 February 2021. The university announced a vaccination campaign for children aged 12-15 on 27 March.
All types of vaccines that are approved by the Hungarian Government are now available at Semmelweis University.
Ádám Szabó
Photo: Attila Kovács – Semmelweis University
Translation: Norbert Lukács