Semmelweis University's clinical trial on the effectiveness of a new oral drug developed for COVID-19 patients is expected to last one more month. Semmelweis University joined the international trial on 23rd August and became the first site in the European Union to perform patient testing within the program. Semmelweis University was second in the EU to administer the medicine that is currently being studied in the clinical trial.
Semmelweis University was the only healthcare center in Budapest to join the clinical testing of a new oral drug against COVID-19. The clinical trial is led by rector dr. Béla Merkely at the Heart and Vascular Centre and is expected to last one more month.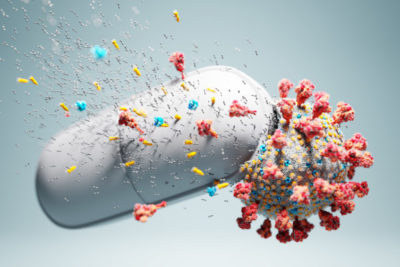 In case of clinical trials, there are strict criteria that determine whether a patient, who seems to be suitable and is willing to participate, is eligible. Semmelweis University was the first among the trial sites in the European Union to perform the detailed screening of COVID-19 patients willing to participate in the trials, and was the second EU country to enroll patients in clinical trials. Licensing and the administrative procedure required ro start the clinical trial were completed in record time.
"Those COVID-19 patients who come to Semmelweis University and meet the enrollment criteria are offered participate in the clinical trial," said dr. Béla Merkely, who expects that the number of participating patients will significantly increase due to the rising number of recent COVID-19 cases.
Semmelweis University also provides free transport for COVID-19 patients to the venue of the clinical trial.
The safety measures are strictly applied during transportation.
The trial was approved by the National Institute of Pharmacy and Nutrition based on the positive opinion of the Medical Research Council of the Ethics Committee for Clinical Pharmacology. There are approximately 400 trial sites around the world including six locations in Hungary aiming to assess the effectiveness of an oral antiviral drug in either relieving the severity or reducing the duration of the disease of COVID-19 infected patients. If the drug gets approved by authorities after the successful outcome of the studies, experts hope that it will reduce the number of severe cases requiring hospitalization if patients receive it at the right time.
Pálma Dobozi
Featured image (illustration): Envato Elements
Translation: Norbert Lukács