The first event of this year's Researchers' Salon featured presentations about diagnostics in molecular oncology and personalized therapy. The event was opened by dr. Péter Ferdinándy, vice Rector for Science and Innovations of Semmelweis University.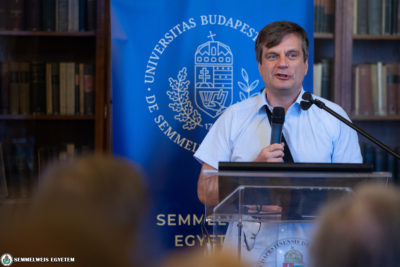 Due to the COVID-19 pandemic, the event series had to be cancelled last year. We thought that this event requires personal presence – added dr. Péter Ferdinándy in his opening speech. He also added that they had to make some additional changes to the original plan so that spectators could follow this year's presentations online as well.
Dr. József Tímár (university professor of the 2nd Department of Pathology) held a presentation entitled "The treatment options for tumors carrying mutant RAS genes: Is it impossible to effectively target RAS mutation?".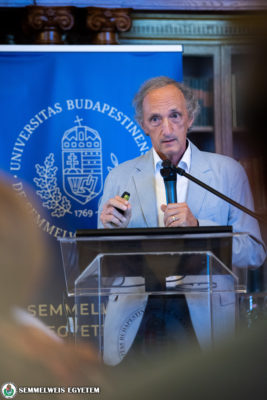 "People always say that treating RAS-mutated cancer remains the last oncological problem yet to be solved in the 21st century. RAS is a genetic disorder present in most human cancer types. RAS occur in some 20% to 30% of human tumors and was detected in 80-90% of specific cancer types, like pancreatic cancer." Dr. Tímár also added: for decades it was thought that these can't be handled, research results of the last few years seemed to advance significantly in this field providing solutions which were impossible before.  "Cancer Moonshot" is the name of a major program that has been launched in America. As a result of this project, a licensed medicine is now available which has been developed to fight mutant protein in lung cancer – this may unleash an avalanche of medical innovation. Our consortium would like to reach similar goals in Hungary: our aim is to develop a drug targeting the previously mentioned oncogenes. Furthermore, we want to develop new treatment alternatives which can be used in the treatment of these tumors and making medicines soon to be licensed more effective – summarized dr. József Tímár.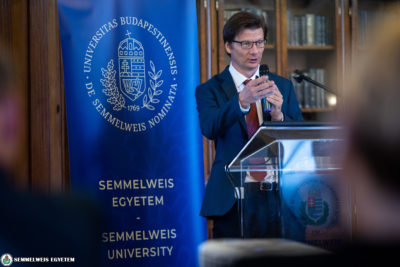 Dr. Balázs Győrffy (professor of the Department of Bioinformatics, physician of MTA) gave a speech entitled "Utilizing omics data to identify prognostic and predictive oncological biomarkers". He introduced three bioinformatics devices which have been developed at the department and can solve oncological problems. The first device is able to detect the difference between normal gene expression and that of a cancer. The second one aims to find a correlation with the therapeutic response. The last device can identify the correlation between gene mutation and gene expression within a tumor. Dr. Balázs Győrffy emphasized that different sources of data were used during the development process of these devices.  "We included the omics data of more than a hundred thousand patients in the database, containing data related to gene expression, mutation and protein expression".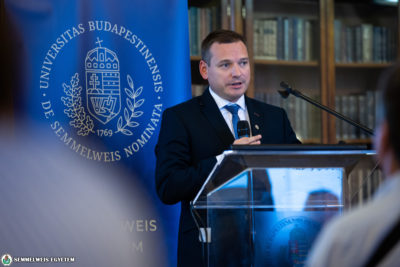 The following presentation was held by dr. Csaba Bödör (senior research fellow at the 1st Department of Pathology and Experimental Cancer Research) about "Genomic techniques enhancing personalized therapy in oncohematology". He introduced molecular genomic methods and innovations (new generation sequencing, digital PCR based techniques) which have been integrated at Semmelweis University during the last three years. Dr. Bödör stressed the importance of these techniques, as these can identify genetic differences in tumors. These differences can help in providing diagnosis and help clinicians choosing the optimal therapy. The purpose of the innovation is to enable a state-of-the-art diagnosis of cancer patients and to find a targeted treatment method. "Precision medicine has triggered high expectations. Clinicians also have a major role in this whole process and patients need to be informed in a correct way." – added dr. Bödör. He emphasized that if patients regularly consult with a clinician, they can achieve good results with this method.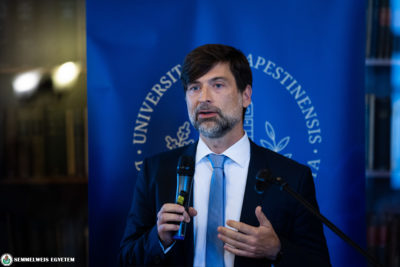 Dr. István Peták (senior research fellow of the Department of Pharmacology and Phamacotherapy, molecular pharmacologist of Oncompass) held a presentation entitled "Therapeutic decision support in the clinical use of precision oncology". "By the year 2020, humanity have accumulated knowledge about the genes that can cause cancer. In 95% of the cases healthcare professionals can identify the gene disorder responsible for causing tumor". He added: we have molecular diagnostics methods to examine how the tumor reacts to a specific drug, making it easier to choose from more than hundred types of medicine available. Artificial intelligence-powered medical technologies are rapidly evolving into applicable solutions for clinical practice, enabling us to provide the best, most effective personalized treatment for every patient." – pointed out dr. István Peták. Dr. Peták's presentation introduced the development of molecular diagnostics and artificial intelligence enabled medical devices that have been recognized several times during innovation competitions.
Dóra Horváth, Ádám Szabó
Photo: Gábor Ancsin
Translation: Norbert Lukács