Dr. Péter Gloviczki, internationally renowned vascular surgeon received the Semmelweis Budapest Award, the university's most prestigious recognition. The prize was handed over by Dr. Béla Merkely, Rector on 1 September at the opening ceremony of the academic year 2021/2022. On the following day Dr. Gloviczki held a scientific lecture "The Art and Science of Venous Surgery" in the Semmelweis Salon and a book about his career was also presented. The video recording of the professor's full lecture is also included in the article.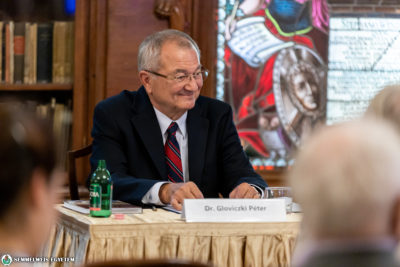 "Dr. Péter Gloviczki is the most successful surgeon of Hungarian origin, an internationally renowned specialist who completed his studies at Semmelweis University and then learned the basics of surgery and vascular surgery at the Városmajor Clinic alongside his great predecessors," said Dr. Béla Merkely in his speech in honor of the award winner.
The rector emphasized that throughout his career, Dr. Péter Gloviczki was guided by the belief that medicine is a lifelong profession, in which we must spare no time or effort to achieve a single goal: to help patients and to do everything possible to help them get well. In March 2016, the year of his retirement, Dr. Péter Gloviczki operated his 10,000th patient at Mayo Clinic in Rochester, the citadel of medicine.
"All his patients could be assured that they could expect not only the most modern, highest quality treatment, but also the very best from him as a human being. Because Professor Gloviczki is not only the number one grand master of vascular surgery and the best in this field, but he is also an empathetic doctor," said Dr. Béla Merkely.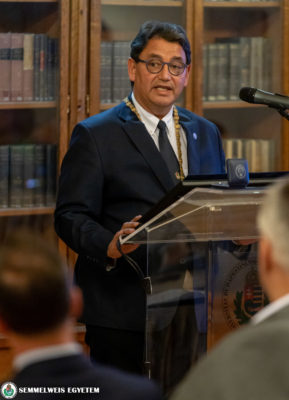 Recounting the recipient's career, the rector recalled that he arrived at Mayo Clinic as a fellow in 1981, where his career progressed rapidly. As chair of the Division of Vascular Surgery at Mayo Clinic and director of the Gonda Vascular Center between 2000 and 2010, he became one of the most prominent figures not only in American vascular surgery but also in international vascular surgery. He is an internationally recognized expert in many areas of vascular surgery, particularly in aortic, carotid artery, popliteal aneurysm, venous and lymphatic diseases, and vascular malformations. He has not bid farewell to medicine after his retirement as he is the editor-in-chief of the prestigious Journal of Vascular Surgery.
Dr. Péter Gloviczki is in constant contact with Hungary, Hungarian vascular surgeons and his alma mater, Semmelweis University, where he holds an honorary doctorate. He has also made an invaluable contribution to the development of Hungarian specialist medical education and training.
"For me, Dr. Péter Gloviczki is the embodiment of dedication, integrity, tireless work, commitment to medicine and humanity, who, despite his fame and rank, has maintained his modesty and always emphasizes the importance of teamwork. We look up to him as a role model, and these are the values that guide us at our university. His person could also be a symbol of Semmelweis University!", the rector pointed out, underlining that the current award is a worthy recognition of an unparalleled career that sets an example for all Semmelweis Citizens.
Established in 2009, the Semmelweis Budapest Award is Semmelweis University's most prestigious international scientific recognition. The award is given to scientists who have achieved internationally recognized results, who are at the forefront of biomedical research, and whose achievements are worthy of the university's namesake and who make a significant contribution to the discovery of new ways of understanding living science for the benefit of humanity, said Dr. Péter Ferdinandy, Vice-Rector for Strategy and Development, the host of the event.
Dr. Péter Gloviczki, who is also member of the Board of Trustees of the National Foundation for Health and Medical Education, is the recipient of the 2020 award, but due to the epidemic, he only received the award from rector Dr. Béla Merkely at the opening ceremony of the academic year 2021/2022 on September 1. He gave his scientific lecture on "The Art and Science of Venous Surgery" at the Semmelweis Salon on the day after.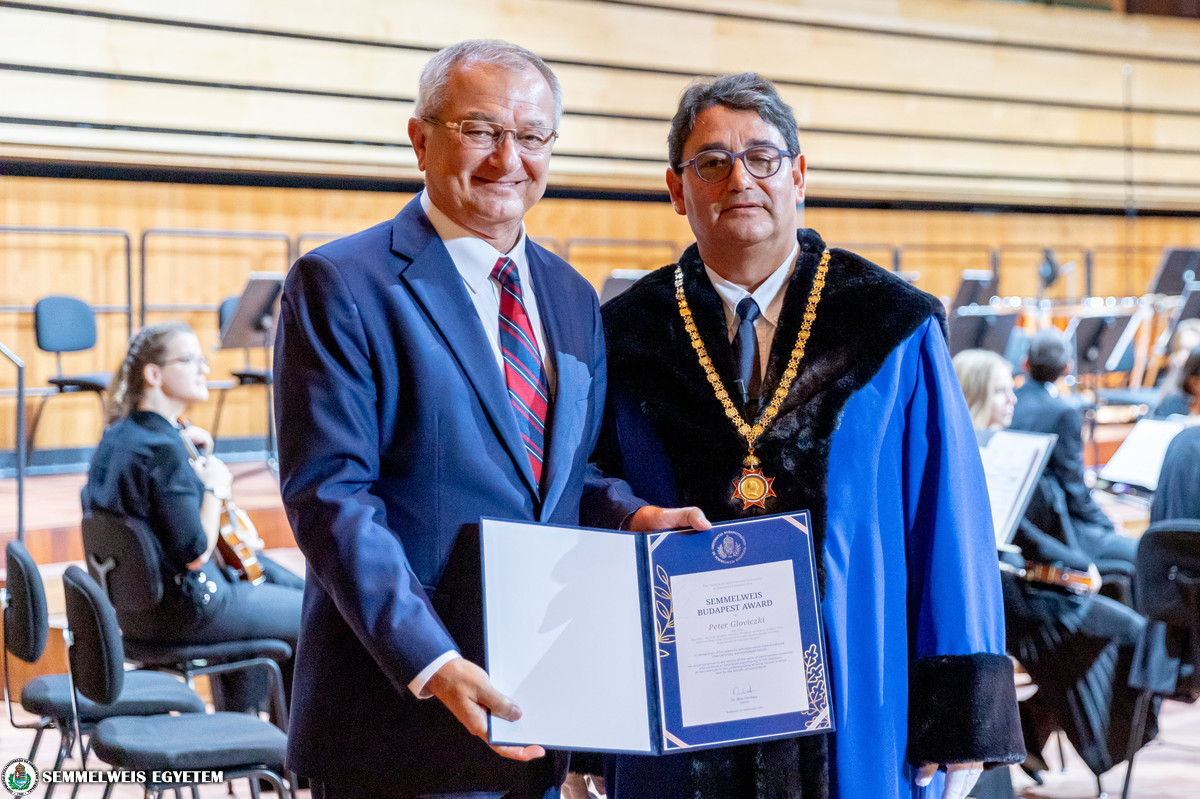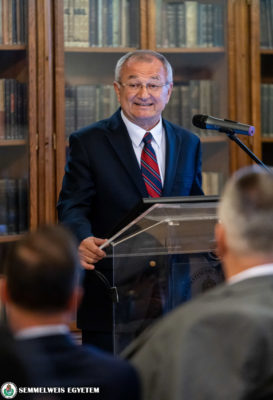 At the beginning of his lecture, Dr. Péter Gloviczki said that he was proud to have graduated from Semmelweis University almost 50 years ago, and expressed his gratitude to his professors – especially to Dr. Anna Kádár and Dr. Lajos Soltész – and to his colleagues at the Városmajor Clinic, who gave him a lifelong love for vascular surgery. He spoke about the history and operations of the 150-year-old Mayo Clinic, where he spent nearly 40 years. The Clinic is not only a leading medical institution in the US, but also in the world, which always places the needs of the patient first. He spoke about his specialty, vascular surgery, which includes not only arterial problems but also problems of the veins and the lymphatic system. He said that although he had treated patients in all three areas, one of his main tasks at the Mayo Clinic was to develop venous surgery. "I was delighted to accept this assignment as veins have always been close to my heart," he noted. He explained that acute and chronic venous diseases are very prevalent worldwide, with high morbidity and mortality rates, placing a heavy burden on society. Deep vein thrombosis and pulmonary embolism, for example, are also potentially fatal complications of COVID-19, he pointed out.
In the next part of his presentation, he talked in more detail about  venous surgery, highlighting the scientific and practical aspects of the field. He described translational research, the "bench to bedside" approach as an important element and listed his activities in this field, mentioning his research on deep vein thrombosis, varicose veins and perforating veins, among others. He also conducted clinical research on venous ulcers, for example, and the evaluation of the results of his work has led to the formulation of practical guidelines and several textbooks still in use today (e.g. Handbook of Venous and Lymphatic Disorders).
Regarding the practical side of venous surgery, he talked about the different procedures, such as open venous surgery, endoscopic and endovascular venous interventions. He noted that Charles Mayo, the founder of Mayo Clinic, had already used open surgical procedures for example to treat varicose veins, and the clinic continued to develop the techniques in later decades. "But the real breakthrough came with endovascular procedures, which have revolutionized surgery in this field over the last two to three decades," he pointed out. He mentioned the treatment of varicose veins with radio frequency or laser ablation as examples, noting that there are still cases (e.g. venous aneurysms, obstructions, tumors) where open surgery is justified. In conclusion, he stressed that venous interventions are an effective and durable way of treating venous disease and recommended that the science and art of venous surgery be taught and practiced in all vascular surgery centers. The lecture is available for download in pptx format (size:193 MB).
Magic has also played an important role in the life of Dr. Péter Gloviczki. At the age of 14, he was the winning magician in a Hungarian talent show, and in 1973 he won a silver medal at the World Magician Championships in Paris. Despite his success, he never gave up his childhood dream of becoming a doctor, but magic remained an important part of his life. The event at the Salon included a short film of the 1973 Paris World Magician Championships and the presentation of Gloviczki's biography, titled "Crystal Ball and Scalpel".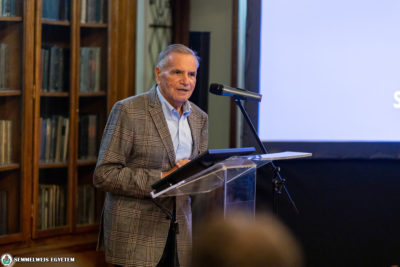 András Kő, the author of the book, recalled that Dr. József Sándor, a professor at Semmelweis University, drew his attention to Dr. Péter Gloviczki years ago, who he first made an interview with for a daily newspaper, and later, thanks to the support of the university and Dr. Béla Merkely, the book was published by Semmelweis Publishing House. The author also gave an insight into how the first interview for the publication was conducted on Skype, and then the conversations continued in person in the United States at the invitation of Dr. Péter Gloviczki, in order for the author and the main character of the book to be able to meet on a daily basis. "I was given a glimpse into a unique world by Dr. Péter Gloviczki, which I thank him for, and I thank fate for allowing me to be a part of it," said András Kő.
Dr. Péter Gloviczki emphasized that he was very happy that the book was written, which truly reflects his spirit. He emphasized that teamwork had been very important to him throughout his life, and the "team" closest to him has been his family. He introduced his wife Monika Gloviczki, who was present at the event and who, he considers his best friend, colleague and fellow writer, as well as his three nephews, Dr. Balázs Gloviczki, Tamás Gloviczky and Gábor Gloviczki. Dr. Péter Gloviczki said that the title of the book, "Crystal Ball and Scalpel", reflects his entire life's work, and the subtitle (From the Ér [meaning both stream and blood vessel in Hungarian] to the Ocean) is both symbol and a fact.
"It refers to a passage from a poem about human will and commitment, which I think is a good description of my career. But it is also a fact that shows my life's journey from birth to the present, since I was born in a street in a rural town, which is crossed by the Ér stream," he said.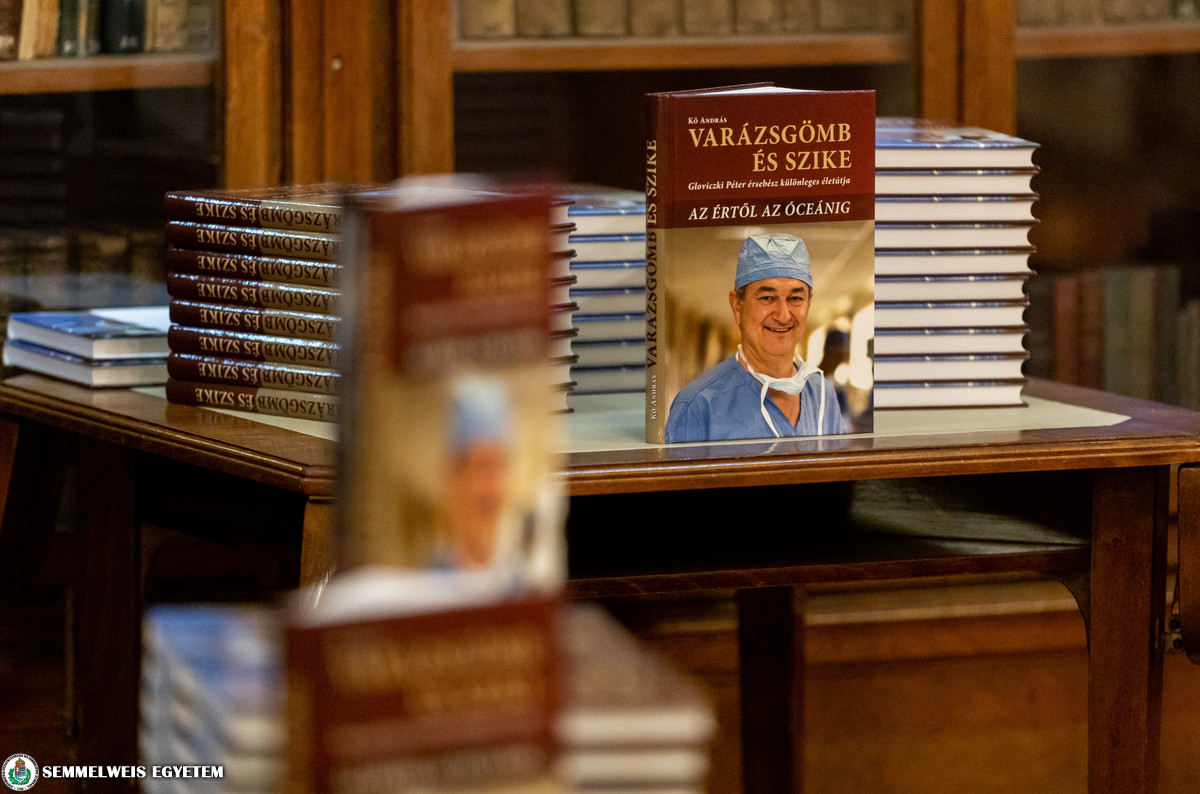 The event also featured a short video produced by FOX television in Minneapolis, which showed the life of Dr. Péter Gloviczki, how he rose from success as a magician to become one of the world's leading vascular surgeons, while continuing to perform for local communities, including nursing homes.
Tamás Deme, Pálma Dobozi
Translation: Tamás Deme
Photo: Attila Kovács – Semmelweis University