Rector dr. Béla Merkely and chancellor dr. Lívia Pavlik presented the "Semmelweis Heroes" awards to staff members of the central departments of Semmelweis University at the event held at Nagyvárad Tér Theoretical Building. More than 400 Semmelweis staff members of 35 central departments have been granted with the prestigious award. The full list of award winners is available here. 
Over the last year and a half the staff members of Semmelweis University have proved that by standing together they are capable of achieving outstanding results – emphasized dr. Béla Merkely in his speech. The rector also added that the system of patient care had to be entirely reorganized to rise to the challenges posed by the coronavirus and to successfully treat the increasing number of infected patients. Besides doctors and medical professionals, this criticial period also required outstanding professional work and assistance from other colleagues working in different fields.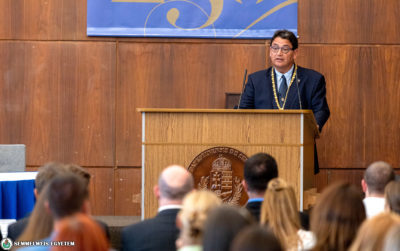 There have been significant changes made in sourcement methods and in data transmission tasks. We established a new system for access control and visitors. The novel COVID-19 caused a major public health burden, which was all equally distributed within our healthcare institutions, while ensuring compliance with hygiene procedures and with social distancing measures. In view of the coronavirus spreading, school and kindergardens were closed down, so we provided an in-house day-care function for the children of Semmelweis workers. Semmelweis University has become a real focus of attention, as it played an important role of informing the public about recent coronavirus related information. Semmelweis University was also a pioneer in PCR testing, vaccines and coronavirus-related innovations. We had to ensure the continuity of the education, organising all education related matters under these extraordinary circumstances was also a major challenge for all of us. "The efforts and the hard work of the supporting central departments contributed to the proper functioning of the university's patient care under exceptional circumstances. Hereby I would like to express my gratitude to all of you" – said rector dr. Merkely. The award winners include professionals working in different areas at various departments of Semmelweis University. However they all have one thing in common: they have done an amazing job making constant effort to put the most difficult part of the coronavirus period behind us.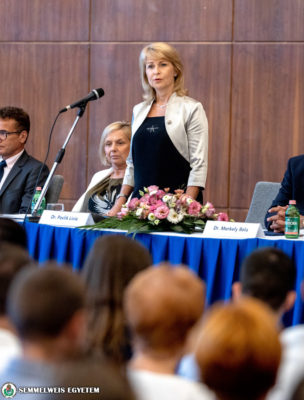 "This has been a war-like period for all of us and we had to stand our ground in the previous three battles, relying on the patient care professionals behind the front line. We could not have made it so far without the medical personnel of the second row, putting themselves in the path of this virus, and we can not forget those working in the hinterland" –emphasized dr. Lívia Pavlik, indicating that there has never been more of a need for healthcare professionals than during this exceptional pandemic period. Dr. Lívia Pavlik also mentioned that the consequences of the coronavirus has led to many family tragedies and everyone suffered great losses. Semmelweis citizens offered medical assistance to save lives and minimize risks. "You should be proud of this performance and I hope that we will be able to collaborate communicate in the long term just as we did during the epidemic" – emphasized dr. Lívia Pavlik.
The "Semmelweis Heroes" award, which includes a certificate and a memorial plaquette made of porcelain was established by dr. Béla Merkely, dr. Lívai Pavlik and dr. Attila Szabó (vice-rector for clinical affairs, president of the Semmelweis Clinical Center). The award recognizes the efforts of all medical professionals and students, who have been actively supporting or participating in coronavirus related patient care and diagnosis. The medical professionals of the Szent Rókus Clinical Block were presented the awards at a previous event.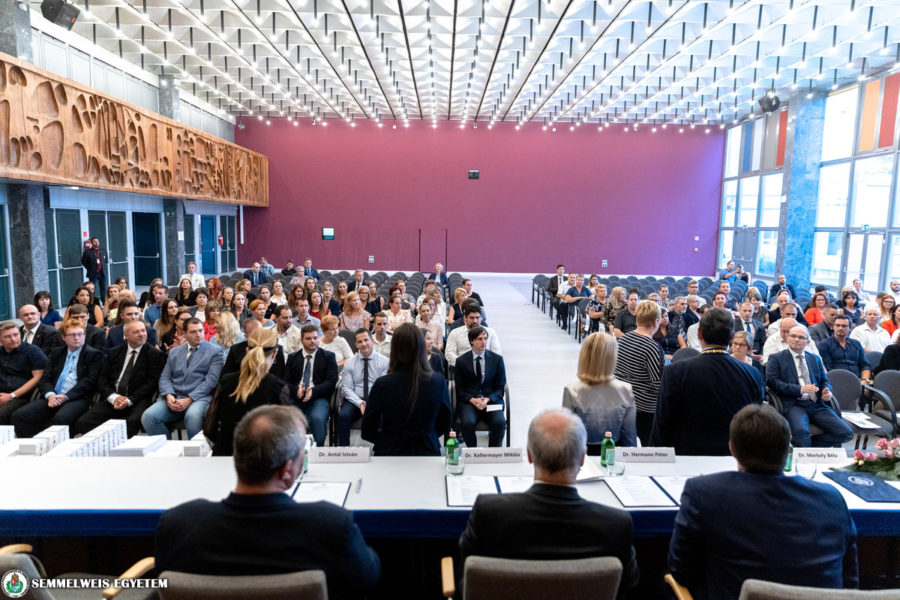 Pálma Dobozi
Photo: Attila Kovács – Semmelweis University, Zoltán Tuba, Valter Berecz
Translation: Norbert Lukács