Students of Hungarian medical schools, including Semmelweis University, received a certificate for their outstanding efforts supporting Hungarian Families in the fight against the coronavirus epidemic. The certificate was handed over to Bálint Tripolszky, President of Semmelweis University Students' Union.
The Award for Hungarian Families, which is a recognition of the Hungarian Women's Interest Association was awarded for the fifth time, of which the recipients are the staff members of the Department of Infectious Diseases as well as the Department of Anesthesiology and Intensive Care of the South Pest Central Hospital this year. At the award ceremony held at Budapest-Gazdagrét Holy Angels Parish, the students' unions representing the students of the universities involved in the control of the coronavirus epidemic – Semmelweis University, the University of Debrecen, the University of Pécs and the University of Szeged – received a certificate of appreciation. On behalf of Semmelweis University, Bálint Tripolszky, President of Semmelweis University Students' Union received the certificate from Dr. Judit Varga, Minister of Justice.
The merit goes not only to me, but to the thousands of my fellow students who, in addition to their studies over the past year, have provided voluntary support or participated in the fight against the epidemic in the framework of a secondment. I would like to offer this certificate to them and to all the citizens of Semmelweis University for their extraordinary efforts. Although the past period has been full of challenges, it is important to note that awards and certificates of appreciation are provided exclusively after being successful in something. Therefore, this certificate is a recognition that Semmelweis University has been successful in the fight against the epidemic in the past year and a half and I am proud to belong to this community"
 – said the President of Semmelweis University Students' Union. He also emphasized that during the epidemic they also had the opportunity to learn the power of cooperation and solidarity with each other.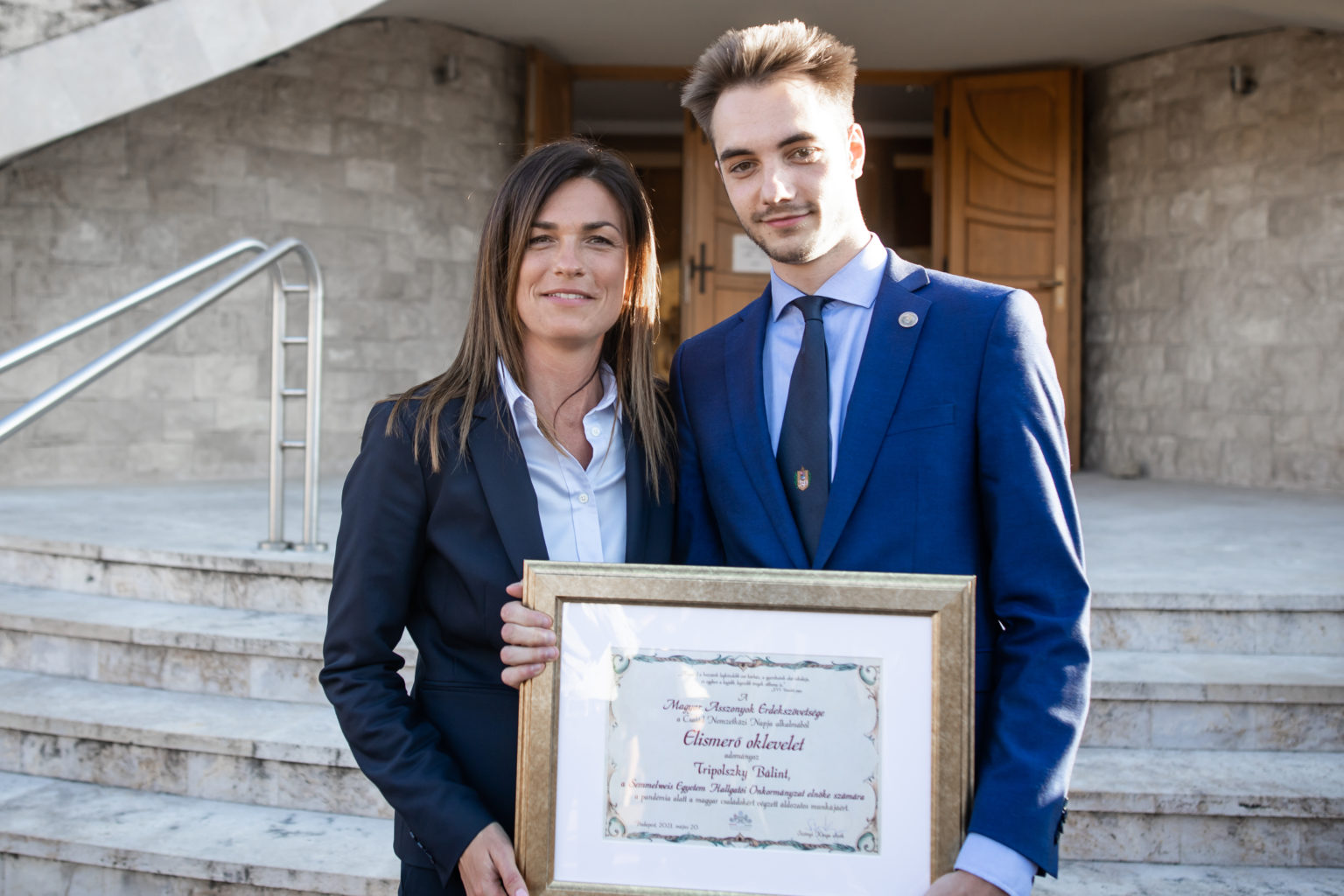 Since the beginning of the pandemic, nearly four thousand Semmelweis University students have participated in epidemic control in addition to their studies, initially assisting with screenings at the university and then at the screenings organized by the National Ambulance Service as well as working alongside the patient beds or performing screenings as part of secondments coordinated by the government office. The students also played an important role in the vaccination work.
Ádám Szabó
Photo: Bálint Barta, Semmelweis University Students' Union
Translation: Katalin Illés-Romhányi