The European University for Well-Being (EUniWell), which has come together in response to the initiative of the European University Association, has reached a new milestone. The leaders of partner universities held an online meeting in March and the students and co-workers will introduce their winning Seed Funding projects at the "EuniWell: Hello Hungary!" online conference on 15 April. The event gives excellent opportunity for international education experts and university leaders to reflect upon the current questions of higher education.
The leaders of the partner universities held an online meeting on 24 March about establishing a common ground for European Higher Education. The participants agreed that the priority task of the consortium is promoting personal and social well-being, especially in the current epidemiological situation. They also defined the development of an international and multidisciplinary educational and research platform as a common goal which enables developing innovative solutions. To make this a reality, they have been working on building a diverse, proactive and inclusive community which may open new perspectives for educational, scientific and cross-institution collaborations through sustainable projects.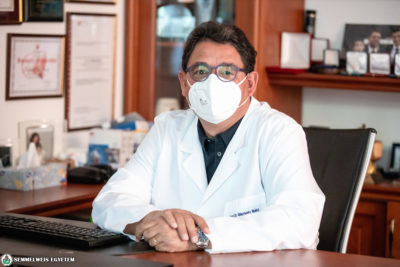 In his speech Rector Dr. Béla Merkely praised the efforts of EUniWell in ensuring equal opportunities for university citizens through projects based on equal partnerships. EuniWell has been funding its own, regular Seed Funding call, which follows similar principles. It provides educational and research projects with funds to promote the well-being of university citizens and society.
Dr. Miklós Kellermayer, dean of the Faculty of Medicine and project leader of the EUniWell working group at Semmelweis University added: In the previous two EUniWell Seed Funding Calls five projects have been selected for funding. These will be carried out in cooperation with Semmelweis University students. The students of Semmelweis University will take a leading role in one of the previously mentioned projects.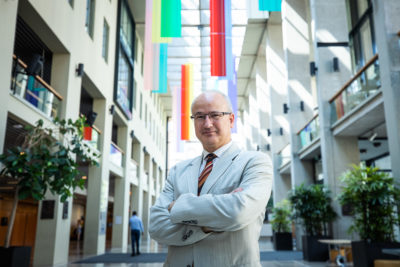 The EUniWell: Hello Hungary online conference on 15th April will introduce the award winning projects and allow international educational experts and leaders of universities to share their thoughts on the future of higher education in a roundtable discussion.
The conference will be opened by guest of honour dr. László Palkovics, Minister for Innovation and Technology, who has been invited by Rector dr. Béla Merkely.
The conference will address the following topics: What are the expectations of Hungarian Higher Education within the European University Association?, What role do European University Alliances play in shaping the future of European Higher Education?, Can a higher education system based on shared values achieve the same success as traditional universities?

The host of the conference and the moderator of the roundtable discussion will be Dr. Miklós Kellermayer.
Semmelweis University will hold the EUniWell: Hello Hungary! online conference on 15 April 2021, between 16.00 – 18.00 CET.  The event is open to everyone interested. You can join the conference via the following link (no registration needed):  https://semmelweis.zoom.us/j/95606538412
The official conference program can be accessed and downloaded here.
Eszter Turopoli – Directorate of International Relations
Photo: Attila Kovács – Semmelweis University (earliewr photos); EUniWell
Translation: Norbert Lukács