Many people struggle with pulmonary complications even weeks after coronavirus infection. At the Department of Pulmonology, these patients are assisted in their recovery by providing them with post-COVID care. The care is available only by referral and appointment. Patients can be referred to the department by a pulmonologist or from the university's COVID departments after leaving the hospital.
The Department of Pulmonology has been involved in the fight against the epidemic since the appearance of the coronavirus in Hungary. In addition to acute COVID care, there is a strong emphasis on after-care, and since February post-COVID care has also been provided to those who had previously been treated at a university COVID department (with coronavirus-related illness) or their pulmonologist recommends clinical care.
"COVID-19 causes severe pneumonia in some patients, with severe abnormalities detectable by CT scan. They are called back for medical follow-up after their hospitalization, but in many cases, serious complications persist even 6 to 8 weeks after the infection. Therefore, it has become clear that the long term effects of COVID need to be addressed at a separate patient care unit", Dr. Veronika Müller, Director of the Department of Pulmonology said.
It is also known in international scientific literature that interstitial lung diseases, known collectively as pulmonary fibrosis, can persist for months after the infection. Affected patients mainly complain of difficult breathing and, in many cases, sleep disturbances.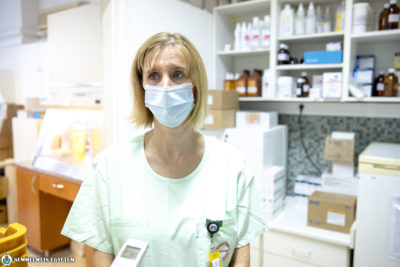 According to Dr. Veronika Müller, post-COVID care involving the lungs may be needed if the complaints persist for more than 6-8 weeks after the infection or in case the infection has caused very severe, extensive pneumonia. Affected patients may be referred to the department by a pulmonologist or assigned from the university's COVID departments after leaving the hospital. Since the start of post-COVID care, about 8 patients are treated here every week.
"The department's examination procedure includes several questionnaires about symptoms during and since COVID, as well as a complex respiratory function test and, if necessary, a cardiopulmonary exercise test. The new CT device, which has recently been handed over and is operated by the Medical Imaging Centre, is a huge help to the Department of Pulmonology in the field of imaging", the director highlighted.
Dr. Veronika Müller considers rehabilitation of utmost importance in the treatment of COVID patients: emphasis should not only be on curing the patients but also on restoring their fitness. The university's respiratory exercises can also be of great help.
You can view these exercises here:
Ádám Szabó
Photo: Attila Kovács – Semmelweis University
Translation: Katalin Illés-Romhányi