Dr. George Berci (Bérci György), an honorary doctor of Semmelweis University, whose works are milestones in the history of surgery, celebrated his 100th birthday. His innovative activities in the field of modern surgical procedures such as minimally invasive surgery and laparoscopic technique are of paramount importance. Dr. Béla Merkely, Rector wished the professor of surgery well in a greeting letter, emphasizing that his oeuvre was integrated into the curriculum of medical education. Read the laudation of the professor by Dr. József Sándor, Scientific Advisor of the Department of Surgical Research and Techniques on the occasion of his 100th birthday.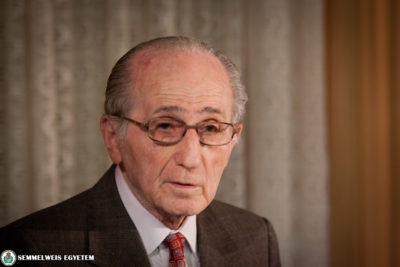 An extremely adventurous, trying career, filled with the enchantment of the world of music, politically persecuted by the extreme right and then the extreme left, which lead to the escape from his homeland, Hungary to become a pioneer in the world of modern surgery, the creator of new procedures and equipment. It is just a short summary of of the 100 years of Dr. George Berci's life.
He has lived in four countries: Hungary, Austria, Australia and the United States, where he currently lives. His name is intertwined with the emergence of laparoscopic surgery. Hundreds of publications, twelve books, 35 patents, a series of educational videos demonstrate his activities. After being forced to emigrate, he returned to Hungary several times, helping to make new procedures known in Hungary as well. The Semmelweis University Surgical Training Center in Herceghalom is named after him. In the United States it is a tradition at universities to name a department after a famous individual: this is how the " Department of Minimally Invasive Surgery in Honor of George Berci" was established in Los Angeles. He was inaugurated as an Honorary Member of the Hungarian Society of Surgeons, and in 2011 he received Jacobson Innovation Award, the highest recognition of the American College of Surgeons.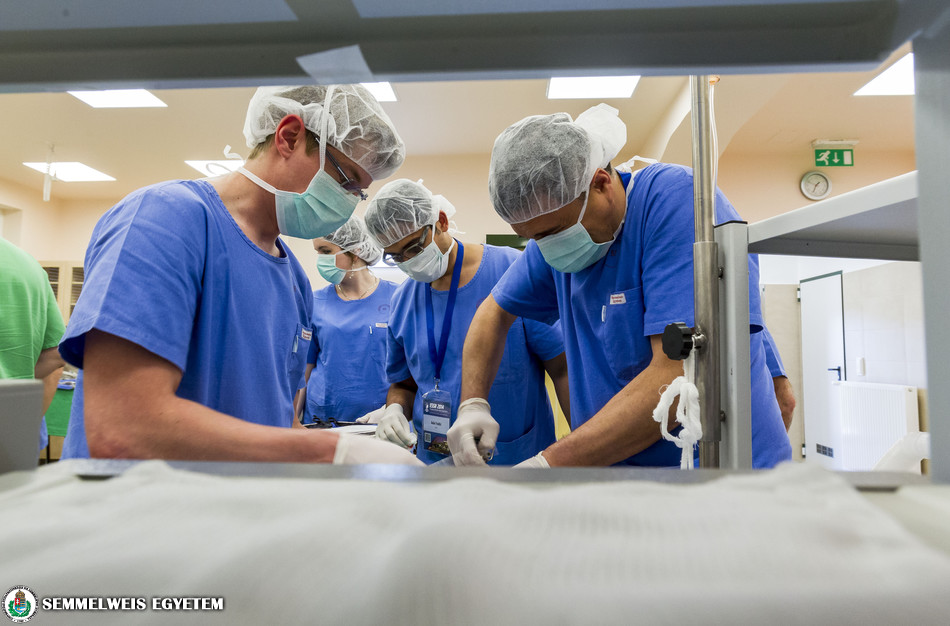 Dr. Béla Merkely greeted Dr. George Berci in a letter, in which he highlighted: the professor's oeuvre was incorporated into the curriculum of medical education.
"The George Berci Surgical Practice and Research Laboratory of the Department of Surgical Research and Tecniques plays an important role in both practical education and scientific research of surgery, where we have been teaching the compulsory subject "surgical research and techniques" in Hungarian, English and German in graduate training for almost ten years. In the framework of postgraduate training, we hold surgical skill training courses for those committed to manual professions", the Rector said in his greeting letter.
In 2012, in recognition of his work, Semmelweis University awarded him with the title of "Doctor Honoris Causa". However, Dr. George Berci is not only an outstanding surgeon, but an infinitely humble, good-humored, helpful individual – he cannot walk down the aisle in a congress without a few kind words to attendees from all over the world. Currently even during the pandemic and at the age of 100, he is working with impressive activity in Los Angeles: his new book is to be published in a few days and, he is organizing the possible transfer of a new surgical system to Hungary, which will help surgeons may perform surgeries more accurately.
On Dr. George Berci's birthday, his friends, colleagues, and students celebrated him at an international online meeting in Los Angeles. Greeting letters were sent to him by Dr. Béla Merkely, Rector and by Dr. Andrea Ferencz, Director of the Department of Surgical Research and Techniques.
On his birthday, we wish him to continue his work in good health, and to visit Hungary as soon as possible, as his experience and wisdom are much needed here.
Dr. József Sándor, Professor, Department of Surgical Research and Techniques