The Department of Anesthesiology and Intensive Therapy has been treating COVID patients with the most severe condition requiring intensive care since 14 April, 2020. We asked Dr. János Gál, Director and Melinda Mezőcsáti, Head Nurse about their experiences as part of our article series presenting the units involved in COVID patient care.
"The care of coronavirus patients
requires complex intensive therapy and teamwork"
Dr. János Gál, Director, Department of Anesthesiology and Intensive Therapy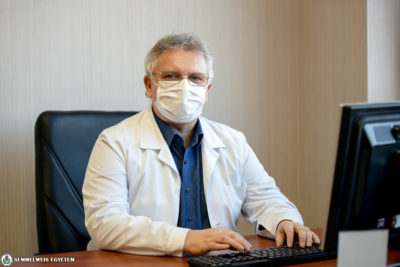 How long has your unit been involved in the treatment of COVID patients? Do you remember the first case? 
Our first patient, a 39-year-old woman was brought to the department of intensive care on 14 April, 2020 with a confirmed COVID infection and we had to start mechanical ventilation right away. Shortly afterwards, a 19-year-old girl in a serious condition was brought to our department, whose case was engraved in all of us because of her young age. We also had to use mechanical ventilation, but luckily, she left the clinic healthy. 
What is the role of your unit in the care of COVID patients?
COVID patients requiring intensive care are treated in the central intensive care unit of the clinic, in the Korányi Central Patient Care Building. Patients come to us primarily from two directions: on the one hand, from the Emergency Department, and on the other hand we provide the intensive care background for coronavirus patients at other departments of the university as well: in case a patient's condition becomes unstable, our department takes them over immediately. In general, about 10% of patients with coronavirus admitted to hospital are taken to the intensive care unit. They spend an average of 2 to 6 weeks there, which is a rather long time and we have to provide an extremely complex intensive therapy, as COVID-19 can have serious complications. This requires complex nursing and medical work, but from an intensive therapeutic aspect, we have to proceed in a very similar way to any other patient with a serious condition. I see the fundamental difference in the fact that work is more stressful mentally and physically than usually in this extraordinary and persistent epidemiological situation. 
How did you have to reorganize work? 
Organization and cooperation with several organizational units were required. At the peak of the epidemic, besides COVID patient care, general intensive care was provided in collaboration with partner clinics. In addition, our human resources have been supplemented, including sixth year medical students and nurses. I must emphasize that everyone who joined our team at the Department of Anesthesiology and Intensive Therapy took part in the work to a very high standard.
Working at the department, what difference do you see between the first and the current, second wave of the epidemic? 
During the spring wave of the epidemic, 40 patients were admitted with a suspected coronavirus infection, which was confirmed in 15 cases. In contrast, since 8 August, 2020, 213 of our 320 COVID-suspected patients have been diagnosed with the infection. At the peak of the epidemic, there were 48 patients in the intensive care unit at the same time. Currently we have 15-18 patients, we are experiencing a declining trend at the time of the interview. An important difference is that new drugs have appeared and the concept of ventilation has also changed. During the first wave, global practice aimed at providing mechanical ventilation by intubation to as many patients as possible, similar to the procedure used for other viral diseases. However, this has changed based on professional experiences related to COVID. Currently, the goal is to perform non-invasive ventilation without intubation as long as possible, but to do so, we need to monitor the patients' condition even more closely so that we can intervene immediately if intubation is unavoidable.
What are the most important lessons and experiences that will be useful in the future? 
It is that in a situation of stress, people are able to really get to know each other; we at intensive care are constantly exposed to stress, but now we had the opportunity to get to know everyone else in this regard with whom we are working closely. Furthermore, we also experienced how important the psychological background is for both employees and relatives. We have introduced that relatives, who visit patients with the most severe condition or end-stage coronavirus patients are assisted by a psychologist. In such cases, relatives must be provided with an opportunity to see the patients even during a period of ban on visiting health care institutions. Patient care usually requires team work anyway, but this is especially true for intensive care and also for the treatment of COVID patients. The other day, we were able to release a patient healthy who had previously been on mechanical ventilation for 38 days. This is the  uccess of mutual efforts: the role of nurses is particularly valued in COVID care; without their sacrificial work this result would not have been possible. I am very proud of my team, as the Department of Anesthesiology and Intensive Therapy has shown how cohesive its community is and colleagues are shoulder to shoulder in helping each other even at the front line. The current situation always requires immediate decisions, and we have been able to work very well with the university management as well.
"It is not primarily the care that is special, but the circumstances"
 Melinda Mezőcsáti, Head Nurse, Department of Anesthesiology and Intensive Therapy
In terms of professional and nursing responsibilities, what is the biggest change that the COVID situation has brought?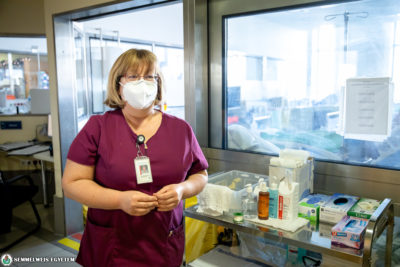 Professional work is basically the same, yet we have to proceed differently in a lot of things. We needed to reorganize the schedule of patient care starting from how the shift handover starts in the morning. Before the pandemic we have passed the information to each other by the patient bed. Now, due to the protective clothing, we only go into the patient ward in certain cases, and protective equipment would make communication difficult there anyway. We also had to open a new position to make our work more efficient: it is a colleague who is not in the ward, but outside at the ward door and helps to put on the protective equipment, checks if everything is there that is needed for entering the ward, supports the preparation of documentation and provides support in any way to the colleagues who are in the ward.  
To what extent do these patients require a different type of care in terms of nursing? 
Basically, from a professional point of view, they do not require special intensive care, but we have to do our work in changed circumstances. What makes a difference is teamwork, the increased collaboration, and the need to pay extra attention to certain things, such as the proper use of protective gear. Prone positioning is commonly applied for patients with coronavirus, but we have already had previous experiences with this method before. 
How does the protective equipment change processes and the way you connect  with patients? 
It requires a lot of organization how many times we go to see a patient, since we are only allowed to enter the ward wearing protective equipment, we cannot just "run in" the ward like that. Putting on the protective equipment is becoming faster and faster: in the beginning it used to take 10 minutes after learning the proper use, now it is done in 3-4 minutes. Communication with patients and with each other is also made difficult by the fact that almost everyone is dressed in the same way, which is why we started writing our names on the clothes. We placed a great emphasis on teaching the use of protective equipment from the very beginning, and I was in charge of the education of the health care workers. It is important for everyone to know that patient care is absolutely safe in case we follow all the rules, and the university has provided everything possible for this from the very first minute.
What are the most important lessons and experiences that will be useful in the future?
Despite the difficult situation, the entire staff of our clinic were brought together by this epidemic. The relationship between colleagues working in anesthesiology, in intensive care, physiotherapists and nurses had been good before as well, however, now that everyone had to work in COVID patient care – after a proper training and under supervision -, a fantastic collaboration has developed. It is very important for all of us to work together more than ever in this heightened situation; we are more dependent on each other, which is why the trust in each other's work has been strengthened in everyone.  
Pálma Dobozi
Photo: Attila Kovács – Semmelweis University
Translation: Katalin Illés-Romhányi