The public square located next to Semmelweis University's Outer Clinical Block will from now on bear the name of Vilma Hugonnai, the first Hungarian woman to become a doctor, who fought all her life to have women recognized as a part of scientific life.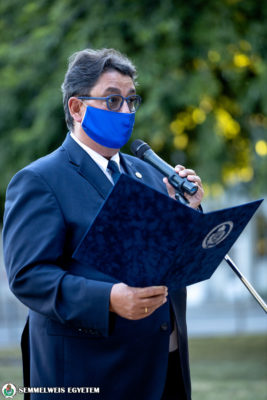 "It is always risky being the first; it requires faith, humility and commitment. Vilma Hugonnai, the first Hungarian woman to become a medical doctor, received her degree in Zürich, which she later defended at the legal predecessor of today's Semmelweis University, so that she would be able to practice her profession in her home country," noted Dr. Béla Merkely, rector of Semmelweis University, at the ceremony inaugurating the new name of the square. He added that Hugonnai's achievement paved the way for later women doctors at Semmelweis University, such as Sarolta Steinberger, Margit Genersich, Irén Barát and Margit Gozony. The rector pointed out that today, two-thirds of university students and more than 70% of its workers are women, who will benefit greatly from the Family-Friendly University Program launched this September, which aims to help all workers balance their private and work lives. In addition, the university has been honoring young women medical teachers and researchers with the Vilma Hugonnai Award since 2010. Rector Merkely noted that Hugonnai now joins the line-up of other notable people at the university who have public spaces named after them, such as János Balassa, Mihály Lenhossék and Sándor Korányi.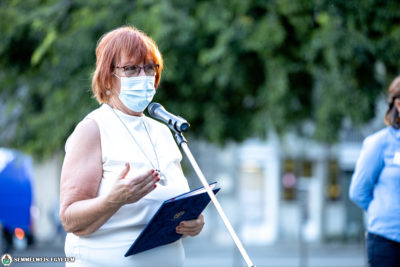 Lászlóné Radványi András, the great-grandniece of Vilma Hugonnai was also present at the ceremony, who noted that her great-grandfather Kálmán Hugonnai (1843-1918) was the older brother of Vilma. She noted that the Hugonnai name continued through the generations until her mother, who was also named Vilma Hugonnai and always remembered  the story of he father's aunt with affection. Recalling Vilma Hugonnai's life story, she noted that the first Hungarian woman medical doctor received her medical degree at the age of 32, but her diploma was not accepted in Hungary for a long time, only when she was 50 years old. A government minister at the time told her to take a midwife course and practice that profession, as it was inconceivable for a woman to receive a medical diploma. Hugonnai had a difficult life, but always stood up for the protection of children and women, and even published a book, which the family still keeps in their library, Lászlóné Radványi András said.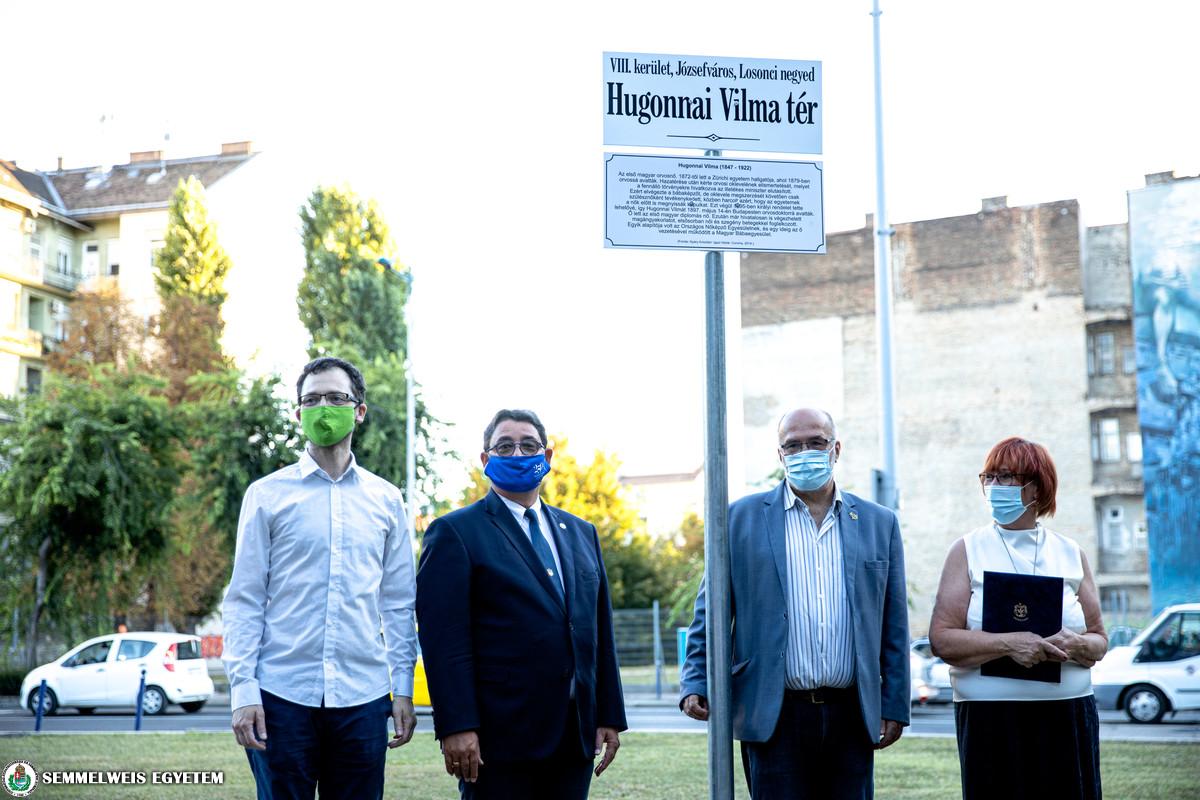 András Pikó, mayor of the 8th district of Budapest where the square is located, remembered Hugonnai by recalling her most famous quote: "My sword is science; my shield is work." He also noted that the first doctor he ever had was a woman, which is thanks to the achievement of Hugonnai. Dr. Gábor Erőss, the district's deputy mayor, pointed out that there are only very few public spaces in Budapest, and around the world, are named after women, and emphasized that there is still a great need today for women to follow the example of people like Hugonnai, who fought for the equal rights of women.
Ádám Szabó
Translation: Tamás Deme
Photo: Attila Kovács – Semmelweis University