One of the fundamental goals of the reform of undergraduate training is that we train physicians who have a high degree of knowledge, and are able to think and make decisions on their own, says Dr. Miklós Kellermayer, the new dean of the Faculty of Medicine (ÁOK), who took part in the curriculum reform that will start from September as a rector's commissioner over the past more than six months. Dr. Kellermayer considers a student-centric attitude, the development of systems that support students and community-building all to be extremely important. The most important mission of teachers is to become role models for their students and help form the attitudes of the next generation in this way, he says.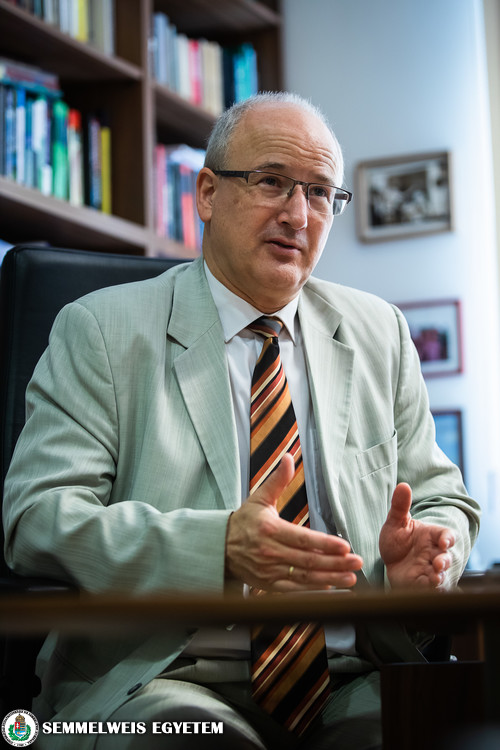 The full and efficient implementation of the curriculum reform is the most important objective of Dr. Miklós Kellermayer, who has been named the new dean of the Faculty of Medicine as of July 1. He recalled that he was charged with working out the structure of the new curriculum as a rector's commissioner immediately after the faculty council supported his application for dean in October 2018, by rector Dr. Béla Merkely, who also took on a direct role in the process. The new dean believes courage was needed to make a change, and to implement this comprehensive program announced by the rector. At the same time, although the structure has changed, the curriculum has not been completely upended, as we are building on our traditions, he stressed. He considers the most important achievement to be that they succeeded in precisely defining the goals in the efficient and clear-cut new curriculum, for example that undergraduate training should be reformed in a way that physicians are trained who have a high degree of knowledge, and are able to think and make decisions on their own. "Making decisions requires courage; this is a question of attitude, one that we can form and transmit by setting a personal example," he emphasized. "For us teachers, and later for students as well, the most important mission should be to become role models," he said. Forming attitudes also requires that education in small groups play a key role in the clinical module, so that students can see how we make decisions, he added. In the new, cleaner structure, the courses in the theoretical, the pre-clinical and the clinical modules lead seamlessly into each other, without any internal redundancies. Dr. Kellermayer also said that since January, he has visited every institute and department. Primarily as a future dean, but also as a rector's commissioner, it was important to him to talk to the communities at the faculty about their problems and common objectives.
Regarding the new curriculum, he also pointed out that a system of pure teaching blocks will be implemented from September in the clinical module: students will spend an entire day at each training facility, where with active, focused participation, they will live and breath together with the activity of the department. He added that in the free days allowed during the week, students will be able to pursue their other activities, such as demonstrator work of TDK research. The dean believes strengthening the demonstrator system is important, as on the one hand it provides a basis for students becoming good teachers later on, while on the other hand it also helps relieve the increasing burdens on current teachers. Overall, the new curriculum – which will be introduced in Hungarian training in September for years 1, 3, 4 and 6 – is very student-friendly, but it also guarantees that students will receive a high-value education that prepares them for their profession, the dean declared, noting that being student-centric is very important to him in general as well. He noted that two of his children have already graduated as doctors, one is a medical researcher and the other is a PhD student, while the youngest will be starting second year at ÁOK. Thus, he had an opportunity through them to look at the difficulties faced by medical students and how the training tests them. Dr. Kellermayer feels it is important to help students overcome their difficulties, both in an intellectual and a psychological sense.
Among some of the key tasks he plans to focus on, he mentioned the development of student support systems, such as creating a transparent Studies and Examinations Policy that helps both students and lecturers, as well making developments to the planning of academic schedules and electronic systems. The latter is important to him personally as well, and he would like to see modern IT tools implemented in developments of education methodology as well, such as apps and computer simulation programs. Education methodology is a key concern of his, as "we have to teach very efficiently at a time of continuous changes." He is a strong supporter of further developing skill-based education, as well as placing more emphasis on the internal incentive system that is already in place at the faculty, and the system of student feedback. With regard to the latter, he noted that it is very important that students also voice their honest opinions about the curriculum reform.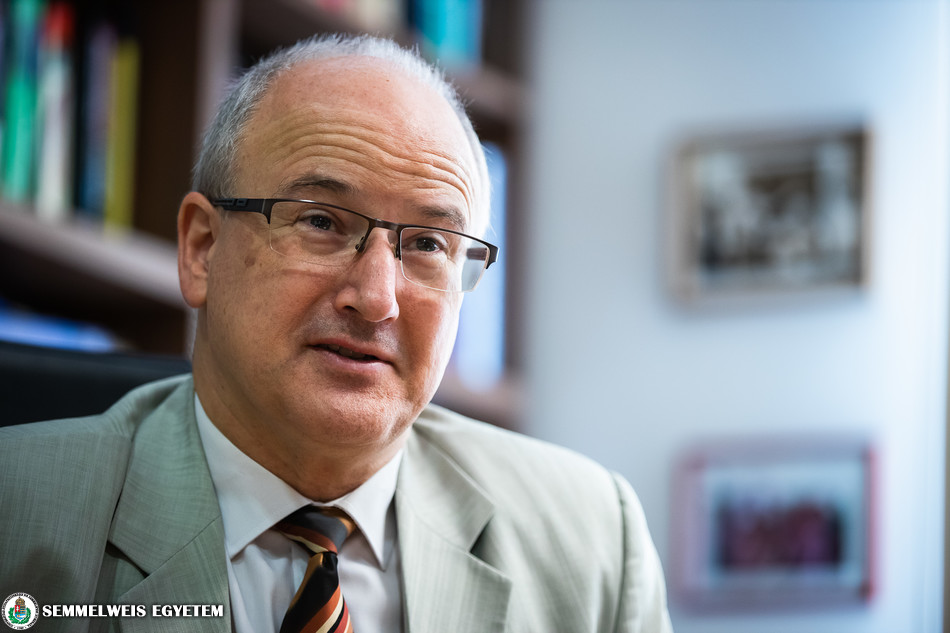 He believes it is indispensable that meeting points be established between Hungarian and international students, even within the training system. Therefore, he says community-building programs are of key importance, as is that there be a dialogue with the student body. He noted that his door is always open, and he will regularly hold consulting hours and plans to hold dean's forums as well. He also mentioned the importance of being family friendly, and that if a student decides to start a family while studying at the university, the university's structure should not be an obstacle to this, and the student should receive assistance even in the form of a personalized schedule.
He talked about how scientific research plays a very important role in his life, and that he plans to continue his own research even alongside his new duties. In addition, as dean – even though the area is overseen on the university level by the vice-rector – he will do everything in his power and use all the tools at his disposal to help support the development of scientific research and innovation. It is important that mechanisms be implemented that go beyond the scope at individual departments, such as joint facilities and collaborations. He believes that keeping in contact with Hungarian and international medical training communities is crucial, as is a lively and productive dialogue.
In response to our question, Dr. Miklós Kellermayer said that he submitted an application for the position of dean after being approached by the university's rector and a scientific community of teachers within the university comprised primarily of clinicians, who share the same values and strive to demonstrate positive energies.
Pálma Dobozi
Translation: Tamás Deme
Photo: Zoltán Tuba