Dr. Orsolya Pacsay-Tomassich, Minister of State for International Affairs at the Ministry of Human Capacities and Dr. Marcel Pop, Director of International Relations at Semmelweis University toured Boston, Massachusetts with the goal of meeting with Hungarian-American Associations with mutual interests – spreading information about the Hungarian higher education system, emphasizing the various possibilities offered for Hungarian-American and American students to study in Hungary, as well as collaboration opportunities in fields of research, innovation and healthcare. The tour included a special evening of presentations at the Hungarian Science Club in Boston, as well as various meetings with current and potential partners.
The event titled Study in Hungary was organised with the help of Dr. Margit Szabari and Dr. Ágnes Virga of the Hungarian Science Club in joint cooperation with the Hungarian Medical Association of America (HMAA). The aim of the event was to bring Hungarian higher education opportunities closer to American professional and student audiences.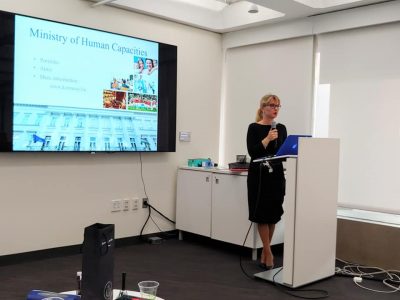 Dr. Orsolya Pacsay-Tomassich gave an introduction about the current education system in Hungary, and about different programmes that support mobility to Hungary, specifically the state-funded Stipendium Hungaricum Scholarship Programme. The presentation covered various other scholarship opportunities, exchange programmes for American-Hungarian and American Citizens who are interested in studying in Hungary, as well as mobility program opportunities available outside of the educational sphere.
Beyond the general introduction of Semmelweis University celebrating its 250th anniversary, Dr. Marcel Pop, director of International Relations at Semmelweis University, provided information about international collaboration opportunities in the areas of education, research and innovation, and health care.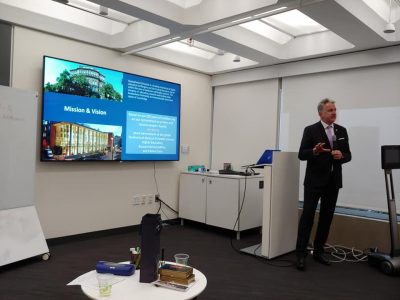 Based on the questions and vibrant discussion following the presentations, it was clear that there is a high valuation and demand for the international education programmes offered in Hungary. Additionally, it became evident that information on education and social funding opportunities offered by the state is quite scarce in the United States, and these tours help to spread this important information to interested individuals.
There is great interest internationally in biomedical, research and innovation, and continuing education programmes offered in Hungary, namely at Semmelweis University. The full-time, part-time, and speciality programmes are great opportunities academically and professionally for US students and researchers alike. The goal is to develop these opportunities into a fruitful, bilateral relationship with US higher education and research institutions. Dr. Pop said that Semmelweis University currently has only a small number of US students enrolled and would like to continuously increase the number in upcoming years.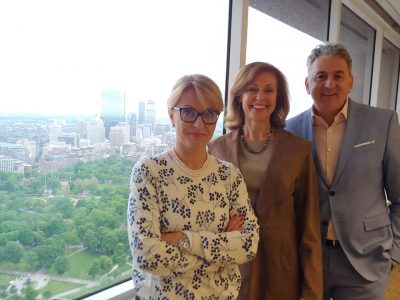 During their stay, Dr. Pacsay-Tomassich and Dr. Pop also had a successful meeting with Dr. Gyöngyi Szabó, professor and Vice Chair for research of medicine at University of Massachusetts (UMASS) Medical School, incoming Faculty Dean for Academic Programs at Harvard Medical School and Chief Academic Officer at Beth Israel Deaconness Medical Center, a patient care, teaching and research affiliate of Harvard Medical School. Based on a strong foundation of joint collaboration with Semmelweis University, Dr. Szabó emphasized that she is welcoming PhD students in her lab to gain experience and take part in ongoing research projects. Semmelweis University plans to continue the successful partnership in the fields of education and research with both UMASS Medical School and Harvard Medical School.
Finishing the tour, Dr. Pacsay-Tomassich and Dr. Pop attended the member meeting of the HMAA New England Chapter. The HMAA is a strong partner of Semmelweis University, and has played an active role in fostering bilateral exchange programmes between the United States and Hungary for the last 50 years. The meeting, led by Dr. Sándor Matolcsy, confirmed the serious interest of US students with Hungarian roots towards the various available scholarship and fellowship programmes in Hungary, and the collective goal to continue to support a mutual, bilateral partnership between the two countries.
The overall success and high level of interest in the content presented by Dr. Pacsay-Tomassich and Dr. Pop has led to discussions for similar tours to be organized in the future. These tours are a valuable tool for spreading information regarding education programmes and scholarship opportunities in Hungary.
Zita Dékán and Faye Gillespie
Photo: Ágnes Virga