Almost 160 abstracts were presented at this year's PhD Scientific Days. The PhD students at Semmelweis University presented their research results in six oral and seven poster presentation sections during the two-day program. The opening lecture was held by Dr. Miklós Kellermayer, Director of the Department of Biophysics and Radiation Biology.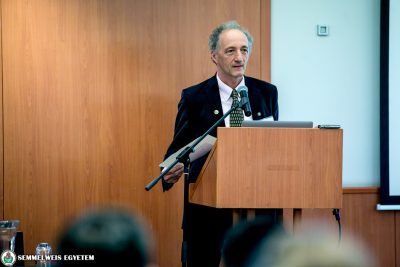 Dr. József Tímár, President of the Doctoral Council, said in his opening speech that this year about 160 abstract papers had been submitted by PhD students, which corresponds to the volume of previous years, and the research results were very interesting and of high quality. The PhD Scientific Days are an important part of postgraduate training as they help students prepare for presentations; the real test of the researchers is not the lab work but international visibility, for which publications and lectures at conferences are a great opportunity – József Tímár pointed out. He announced that in the 2019/20 academic year, which is also the university's 250th anniversary year, there will be a national program that students from three partner universities will also be able to attend. The President of the Doctoral Council emphasized that oral and poster presentations were equally valuable, and that they award like prizes in each section. All submitted abstracts are available on the event website.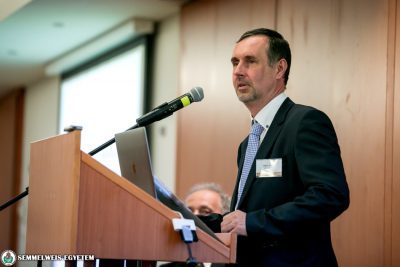 "Teachers open the door, but we have to enter it," said Dr. Attila Szabó, Vice-Rector for Clinical Affairs, in his opening speech. He added that when PhD students present their scientific work, they first present their own results, but at the same time they introduce the team they are working in. They also represent the teachers who have opened the door to a world that will hopefully impress and accompany them throughout their lives. One of the most important elements of life is curiosity. People are constantly looking for "truth", and childlike curiosity has driven many scientists ahead – Dr. Attila Szabó said. The Vice-Rector urged the students to remain curious, to stay on top of science, to be persistent, and to present their results to others. He also drew attention to the fact that during the PhD Scientific Days it is possible to get to know other areas of research and to establish professional relationships: the age of lone heroes has come to an end; we must now work together in teams – he said.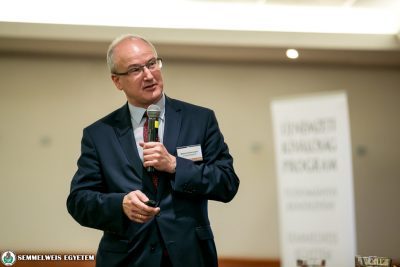 The scientific opening lecture of the forum was held by Dr. Miklós Kellermayer, Professor, Director of the Department of Biophysics and Radiation Biology, and the elected Dean of the Faculty of Medicine. He introduced the audience to the complexities of the nanoscale world, showing the importance and benefits of manipulating nanoscale biomolecular systems one by one. 
Living cells and molecules do not all behave in the same way, and only by looking at them individually can we shed light on their unique dynamics, and the peculiarities of their structures; for example, it is possible to detect random processes such as the unique "blink" of fluorescent molecules, which would remain hidden when examining a larger sample, said Dr. Miklós Kellermayer. The unique test method also helps to understand, for example, the process of protein folding and the mechanical behavior of molecules, he added. 
In the second half of his lecture, Dr. Miklós Kellermayer presented the methods that allow him to conduct such studies. One of these is the photochemical manipulation when so-called "multiphoton microscopy" is used. A multiphoton microscope focuses a laser beam on a point that causes fluorescence and, like a fluorescent dye, can create a picture of a molecule. With this method, molecular tattooing can also be performed, that is, the effect of certain drugs on individual cells can be limited or, for example, cell development can be manipulated, said Dr. Miklós Kellermayer. Another method is atomic force microscopy, which is the use of a very high resolution scanning probe microscope that can also be used to map molecular imaging or the topography of a sample. A third method is manipulation with light using optical tweezers, for which Arthur Ashkin received the most recent Nobel Prize in Physics. This Nobel Prize-winning technology can capture a particular molecule and bring it under closer inspection, or, for example, tie a knot in a DNA strand.
In regards to the usefulness of the methods for medical researchers, Dr. Miklós Kellermayer said that it is possible to examine the effect of DNA epigenetic modification on its mechanical behavior. At the same time, he pointed out that although great steps have already been taken in the mapping of the nanoscale world, there is still plenty left to discover.
This year's invited speakers were András Zoltán Balogh, Director of Innovation, Dr. Sarolta Kárpáti, university professor of the Department of Dermatology, Dermatooncology, and Venerology, Dr. István Antal, Director of the Department of Pharmaceutics, and Dr. József Tímár, President of the Doctoral Council.
Tamás Deme, Eszter Keresztes
Photography: Semmelweis University – Attila Kovács
Translation: Faye Gillespie