A Memorandum of Understanding has been signed by Semmelweis University and Central South University. The delegation of the Chinese institution visited the university on 14 September.
The delegation of the Chinese university was received by Dr. Béla Merkely, Rector, Dr. Zoltán Zsolt Nagy, Dean of the Faculty of Health Sciences, Dr. Marcel Pop, Director of International Relations, Dr. Judit Vadlövő, Project Coordinator of the Directorate of International Relations, and Dr. Yu Funian, lecturer at the Faculty of Health Sciences.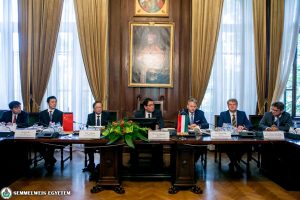 At the beginning of the meeting, Dr. Béla Merkely highlighted that the meeting is an important stage of the series of events that signal the Chinese and Hungarian governments' intentions to further strengthen relations between the two countries. As the Chinese "One Belt, One Road", the Hungarian Government's Eastern Opening policy of the Hungarian government also strongly supports educational, research and developmental relations – he recalled. The rector also pointed out that Semmelweis is currently ranked among the top 500 universities in international rankings, but the goal is to become one of the 100 best in the world over the next ten years, to which the development of Hungarian-Chinese academic relations also contributes.
The Chancellor of Central South University, Professor Yi Hong, presented their university and pointed out that medical science and engineering are the most important areas of their training. He said that they would like to participate in student exchange programmes and joint research cooperations with Semmelweis University. Besides Yi Hong , Central South University was also represented by Li Jie, Dean of the Graduate School, Bai Yi, Director of the Office of International Cooperation and Exchanges, Dr. Huang Jufang, Secretary of the School of Basic Medicine, Zou Beiji, Dean of the School of Information Science and Engineering, and Li Xinhua, Director of the Office of Foreign Students Affairs. The Chinese delegation was accompanied by the two leaders of the Skála Group in Hungary, Cao He Ping and Nie Wen, who contributed to the organization of the visit.
At the meeting, Dr. Béla Merkely presented Semmelweis University and its international relations, and Dean Zoltán Zsolt Nagy indicated the openness of the Faculty of Health Sciences to a student and teacher exchange program in nursing and midwifery training as well as physiotherapy.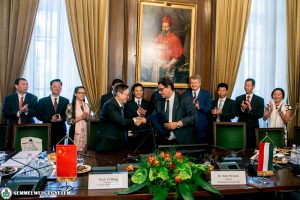 Both sides agreed to discuss further details of the cooperation in the framework of a personal visit at a later date. The meeting was concluded with the signing of a Memorandum of Understanding between the two universities.
Subsequently, the delegation was received by Dr. Miklós Kellermayer, Director of the Department of Biophysics and Radiation Biology, at the Basic Medical Science Centre, where he presented the laser clip, nuclear power microscope and in vivo imaging laboratories that are part of the Békésy György Biophysical Research Centre operating under the professional supervision of the department.
Judit Vadlövő, Directorate of International Relations
Photo: Attila Kovács, Semmelweis University
Translation: Diána Módos