Those who are interested in Semmelweis University can take a virtual tour in five rooms of the Central Administrative Building: the Rector's Salon, the Senate Hall, the Semmelweis Salon, the Hall and the stairwell leading to the first floor.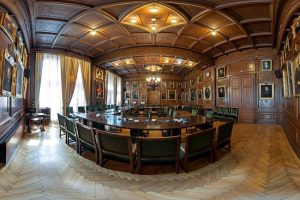 Based on the idea of Rector Ágoston Szél, premises which are not public or can only be viewed at certain events are now visitable with the help of the 360-degree spherical panoramas. The Senate Hall can be found in the building inaugurated in September 1884, where teachers of the Faculty of Medicine held meetings and events. When the room was opened, the faculty had already had a history of more than 100 years. This past is also displayed on the externals, thus the portraits of the famous teachers of the faculty, Maria Theresa, the founder of the faculty, and Péter Pázmány, the founder of the university, are placed on the walls. In the framework of the virtual tour, visitors can read about the lives of the renowned persons in the paintings, including the rectors of the university and the members of physicist dynasties.
The tour begins in the hallway of the Central Administrative Building, which was transformed from the former interior lightyard into the present covered atrium during the building reconstruction in 2008. At the same time, the former library became the venue of cultural and scientific as well as protocol events under the name of Semmelweis Salon. Along with the stairwell, these sites are also viewable with the help of the program.
For guidance in the virtual tour, help is provided in the bottom bar of the screen and by the arrow keys. You can control the program with both the mouse and the keypad arrows. The tour, which can be viewed both on desktop computer and mobile phone, can be accessed from the university's central website here. Technical support in creating the virtual tour was provided by Semmelweis University Central Archives and the Directorate of Communication and Event Management.
Eszter Keresztes, Zenina Sági
Translation: Diána Módos