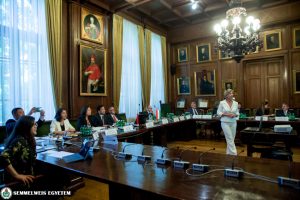 The Division of International Cooperation Health Human Resources Development Center, National Health and Family Planning Commission, P.R. China (HHRDC) has recently contacted the Hungarian Rectors' Conference (HRC) in order to initiate discussions related to collaborative opportunities in health care education. The members of HHRDC were welcomed by the representatives of HRC at the Senate Room of Semmelweis University, the discussion was led and moderated by Dr. Katalin Nagy, President of the International Relations Committee of HRC.
"HHRDC was established in 1998 and its major purpose is to develop the services of human resources for the sake of health and family planning. The current number of employees of HHRDC is 205, and we are in collaboration with 20 countries. Among others, we are having a cooperation with Debrecen University, and we are seeking further collaborative opportunities. HHRDC could recommend Chinese institutions for future collaborations in several fields.", expressed Mr. Zhang Xuegao, Director-General.
According to Dr. Marcel Pop, member of the International Relations Committee of HRC, this period is extremely favourable for the development of the Chinese-Hungarian relations and he suggested the signing of a Memorandum of Understanding between HRC and HHRDC. Dr. Katalin Nagy briefly introduced the Stipendium Hungaricum programme, in the framework of which Chinese students can study in Hungary. Both parties agreed that they will soon identify the exact form of communication to be able to start the cooperation. Rao Rose, Chairman of the Board, Nanjing Shuangri Education & Technology Co. Ltd/I Study Education Group, emphasized that Hungarian education has a great reputation in China. Every year half a million of Chinese students go to study abroad, especially in the field of health care, which could offer an appropriate opportunity for future collaborations.
Eszter Keresztes
Source: Judit Vadlövő, Directorate of International Relations
Translation: Katalin Illés-Romhányi