The delegation of Shanghai University of Traditional Chinese Medicine (Shanghai TCM) and the representatives of Semmelweis University had a meeting on the potential directions of academic and research cooperation in the areas of Traditional Chinese Medicine and integrative medicine.
The Chinese delegation was received in Semmelweis University's Senate Hall by Dr. Károly Szász, Chancellor, Dr. Romána Zelkó, Dean of the Faculty of Pharmaceutical Sciences, Dr. Zoltán Zsolt Nagy, Dean of the Faculty of Health Sciences, Dr. Szabolcs Béni, Director of the Department of Pharmacognosy, Dr. Marcel Pop, Director of the Directorate of International Relations and Dr. Judit Vadlövő, project coordinator of the Directorate of International Relations.
Dr. Károly Szász informed the delegation about the Hungarian government's intentions of promoting its Eastern Opening strategy and the good and long-standing Chinese-Hungarian economic relations.
"In the past few years there have been several events, meetings and conferences between China and Hungary, which have given rise to further opportunities for cooperation. The latest of such events was the meeting of the health ministers of China and Central-Eastern Europe in Budapest.", Dr. Károly Szász said.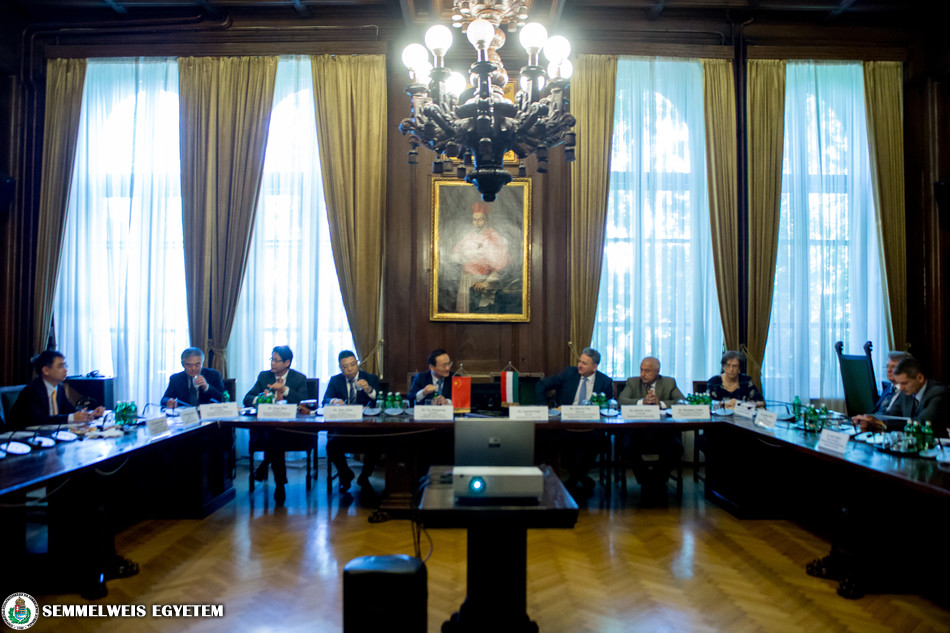 Based on the suggestion of the head of the Chinese delegation, Dr. Xu Jianguang, President of Shanghai TCM, the bilateral agreement signed in 2016 gives an excellent foundation for the realisation of the actual cooperation between the two universities, which could start with the launch of staff and student exchange programmes.
"Shanghai TCM has founded Centres for Traditional Chinese Medicine in several countries, for example in Malta and now we are planning to establish one in the United States and in Hungary.", Dr. Xu Jianguang said.
Dr. Zoltán Zsolt Nagy mentioned Semmelweis University's 6-year-long experience with its course in Traditional Chinese Medicine, which enables graduates to officially practise in Hungary in the field of phytotherapy, movement therapy, acupuncture and moxa therapy.
"The foundation stone of the new wing of the Faculty of Health Sciences has also been laid. The building of the new branch of the Faculty is going to be realised by governmental financing and the university's savings. We are open and pleased to receive professional and/or financial support from all Chinese partners who are interested in the realisation of the project.", Dr. Zoltán Zsolt Nagy said.
Both parties agreed on the importance of cooperation in the field of phytotherapy. Dr. Szabolcs Béni spoke about the appearance of more and more Chinese herbs in the European markets (mainly in food supplements), which require stricter market surveillance.
"I hope that herbal medicine research will be one of the priority areas of the new Centre. It would also be a beneficial for Pharmacy students to have Traditional Chinese Medicine among the elective courses and to have the opportunity to do their summer practice in Chinese research institutions.", Dr. Szabolcs Béni said.
Source: Judit Vadlövő, Directorate of International Relations
Translation: Ágnes Raubinek