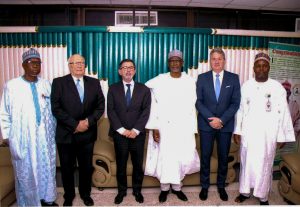 Dr. Ágoston Szél, Rector of Semmelweis University, and Dr. Marcel Pop, Director of International Relations have recently had official discussions with the representatives of three Nigerian higher-education institutions as well as with the Nigerian Minister for Education. The visit was organized by the Hungarian Embassy in Nigeria, and its purpose was to get familiar with the local biomedical university training programmes and to identify potential partners and mutual areas of collaboration.
The delegation of Semmelweis University had a meeting with the leadership of Ahmadu Bello University located in Zaria, the University of Lagos and Kano University of Science and Technology. According to the Nigerian partners there are several potential areas of collaboration, such as staff exchange (teachers, physicians) between Semmelweis University and Nigerian higher-education institutions, mutual research projects, PhD programme in Hungary in the framework of Stipendium Hungaricum, student exchange programmes and the launching of Erasmus+ programmes with Nigerian partners.
One of the conclusions of the visit is that tropical medicine could be the field with the help of which Nigerian biomedical training could contribute to the further development of Hungarian medical training and continuing training. According to Dr. Gábor Ternák, Ambassador of Hungary in Nigeria, it would be highly important if tropical medicine could appear in education and research in the Hungarian medical universities.
The delegation of Semmelweis University evaluated the visit at the University of Lagos extremely successful, as the Nigerian higher-education institution showed a great interest towards the know-how represented by Semmelweis University. The leadership of the University of Lagos intends to send clinical professionals, teachers and students to Hungary to participate in part-time and continuing medical educational programmes. The two institutions also intend to compare the curricular elements of their training in tropical medicine: in case it is needed, certain elements could be transferred into the Hungarian programme.
During the discussions with Adamu Adamu, Minister for Education in Nigeria, the representatives of the ministry reinforced the Nigerian higher-education's need for a PhD programme. They also informed the delegation members that there are several projects and sources available for the universities aiming at an international collaboration related to research and academics (eg. WHO, World Bank).
The recent visit is not without precedents. Semmelweis University has been in collaboration with Ahmadu Bello University (ABU) since 2014, which was initiated by Dr. Gábor Ternák, Ambassador of Hungary in Nigeria. Ambassador Ternák is also a visiting professor at ABU, he teaches courses free of charge to Nigerian medical students. Since 2014 the partner institution has established a 3-week-long continuing professional training programme in tropical medicine for physicians, which has been accredited by the Faculty of Medicine of Semmelweis University.
Pálma Dobozi
Source: Directorate of International Relations
Translated by: Katalin Romhányi