At the invitation of Dr. Michael Collins, Chancellor of the University of Massachusetts Medical School (UMASS) located in Worcester, Dr. Ágoston Szél, Rector of Semmelweis University and Dr. Marcel Pop, Director of International Relations visited the American higher-education institution in May in order to extend the Memorandum of Understanding between the two universities. The delegation had discussions with the leadership at Rutgers University School of Nursing Camden as well, where Dr. Pop delivered the commencement speech of the Commencement Ceremony 2017.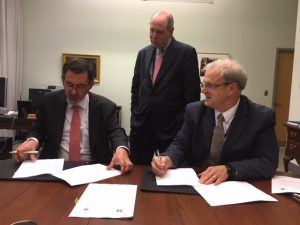 Semmelweis University signed a Memorandum of Understanding (MoU) with UMASS for the length of 5 years in 2011 for the first time. During this latest visit the representatives of the two universities signed the extension of this already existing MoU. In the framework of the visit the Hungarian delegation had several discussions with the academic leaders of UMASS for the sake of the identification of further academic and research collaborative opportunities. One of the major topics of the meetings was to discuss questions related to the Erasmus+ programme, such as the more efficient use of opportunities offered by the programme, the extension of the cooperation to the area of health sciences as well as the opportunities of the American partner institution to contribute to the financing of the programme. The delegation had a discussion with Dr. Ágnes Virga, President of the Hungarian Society of Massachusetts, who offered to examine what sort of alternative support opportunities the foundation could provide to the Hungarian students.
The representatives of Semmelweis University also visited Rutgers University in New Jersey, with which our institution has had a collaboration for more than 10 years. In the previous years this relationship was reinforced and extended primarily with the contribution of the Faculty of Health Sciences, and recently with the help of the Erasmus+ programme. Dr. Marie O'Toole, Senior Associate Dean, Professor and a recognized American researcher was provided with the Doctor Honoris Causa Award of Semmelweis University in 2013.
On the occasion of the visit the delegation had a meeting with Chancellor Phoebe Haddon, Dean Joanne Robinson and with Dr. Marie O'Toole, during which the representatives of the universities discussed the opportunities for the more efficient use of the Erasmus+ programme, its continuation and the opportunities for the practical implementation of the already existing project plans (mutual PhD education, mutual summer programmes, etc.).
During the visit Dr. Marcel Pop, Director of International Relations had the honour to hold the commencement speech at the Commencement Ceremony 2017 of Rutgers University School of Nursing Camden.
DP
Source: Directorate of International Relations
Photo: University of Massachusetts Medical School
Translation: Katalin Romhányi