A Memorandum of Understanding was signed between the First Affiliated Hospital, School of Medicine affiliated to Zhejiang University (FAHZU) and Semmelweis University. According to rankings FAHZU is ranked as third in China.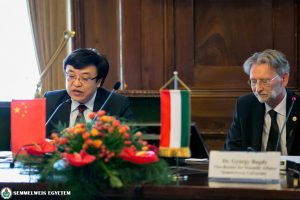 Following the visit of Vice-Rector for Clinical Affairs, Dr. Béla Merkely in April 2017 in China, the delegation of the First Affiliated Hospital, School of Medicine affiliated to Zhejiang University (FAHZU) and the representatives of Zhejiang Province visited Semmelweis University in May.
The Chinese delegation led by Mr. Fong Fei, Deputy-Governor of Zhejiang Province, was welcomed at the Senate Room of Semmelweis University by Dr. Károly Szász Chancellor, Dr. György Bagdy Vice-Rector for Scientific Affairs, Dr. László Hunyady Dean of the Faculty of Medicine and Dr. Zoltán Zsolt Nagy Dean of the Faculty of Health Sciences.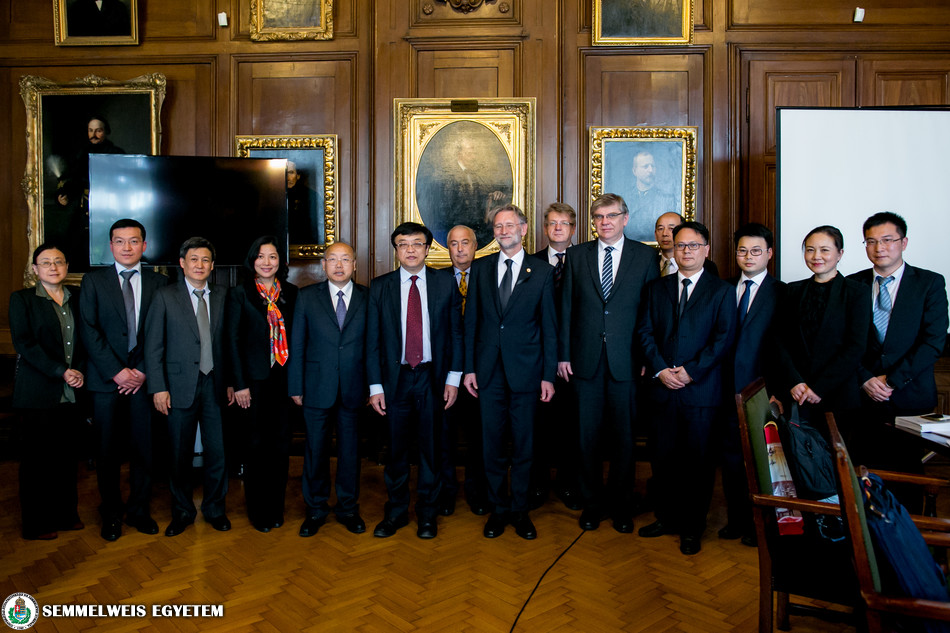 During the meeting Deputy-Governor Feng Fei introduced Zhejiang Province, the area of which is identical to that of Hungary and it has 55 million inhabitants. According to the deputy-governor the province has a strong economy and it is characteristic of strong innovative skills, especially related to natural medicine and the research of new material. Investing in health care has a great relevance for the province, about which the representatives of the delegation also held discussions with the Ministry of Human Capacities in Hungary. The deputy-governor highlighted that they have to face the ageing of society, since more than 200 million Chinese people are above the age of 60. It is especially important for them to provide a health care system of excellent quality, of which the "Healthy China 2030" strategy is a good example. Its three main pillars are prevention, the reinforcement of health consciousness and a continuous reform.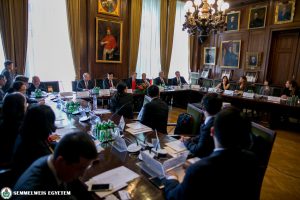 Following the introduction of Zhejiang Province by Deputy-Governor Feng Fei, Dr. Zheng Min, Vice-President of the First Affiliated Hospital, School of Medicine affiliated to Zhejiang University (FAHZU) held a presentation about the institution. Afterwards Dr. Judit Vadlövő from the Directorate of International Relations introduced Semmelweis University. Vice-Rector Bagdy talked about the university's Chinese relations, and together with Vice-President Zheng Min he signed a Memorandum of Understanding.
After the signing of the Memorandum of Understanding, Deputy-Governor Fong Fei emphasized that the current number of Chinese students studying at Semmelweis University, which is 21, should be increased in the future. He offered an opportunity for 5 Semmelweis medical students to study in Zhejiang Province for an entire academic year, and the expenses of their studies would be covered by the Chinese partner. Vice-Rector Bagdy expressed his appreciation regarding the offer, and he emphasized that in order to discuss the details, further negotiations are required between the two universities.
Following the discussions at the Senate Room, the Chinese delegation visited the Heart and Vascular Centre of Semmelweis University.
DP
Source: Directorate of International Relations
Photo: Attila Kovács  – Semmelweis University
Translation: Katalin Romhányi