"Vasile Goldis" Western University in Arad (UVVG) has been in collaboration with Semmelweis University for 10 years. Dr. Ágoston Szél Rector and awardee of the Doctor Honoris Causa Award of "Vasile Goldis" Western University in Arad, Dr. Károly Szász Chancellor and Dr. Marcel Pop Director of International Relations visited the sites of UVVG in Satu Mare and Baia Mare between March 16-18, 2017. Several topics were discussed during the meetings such as launching prevention programmes, organizing a scientific symposium as well as a collaboration in applying for grants.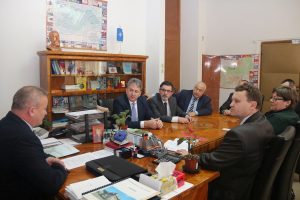 The aim of the 2.5-day-visit was to get to know the sites of "Vasile Goldis" Western University in Satu Mare and Baia Mare. The leaders of Semmelweis University and UVVG were welcomed by the mayors and prefecture heads in both towns.
Students, teachers, leaders of local health care institutions and industrial partners of UVVG participated at the professional forum held at Satu Mare. The representatives of the two universities had a discussion about the establishment of projects related to prevention in health care. Furthermore, there were discussions about collaboration opportunities related to technology transfer, especially in the area of orthopaedics; the establishment of medical training programmes with the cooperation of the professionals of both universities as well as the organization of mutual scientific symposiums with the involvement of local health care specialists. The participants of the forum also discussed the opportunity of implementing transborder cooperation projects with the help of mutual grant applications.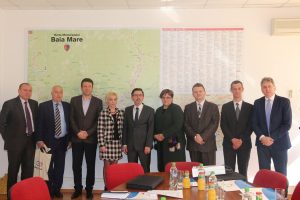 On the basis of the discussions during the professional forum held in Baia Mare it turned out that there is a great inquiry about BSc and MSc nursing programmes in the region, especially because of the recent changes in the labour law and in the system of payment. Currently there is a nursing programme in Baia Mare, which operates in the framework of the National Qualifications Register programmes, thus the required infrastructure (theoretical, clinical background) and experience are given. The optometry and dental technician programmes attract a large number of people, therefore the opportunity of starting an off-campus programme was raised. Since the regional hospital carried out developments in the field of cardiology, they would like to extend the raw of clinics with a department of cardiac surgery, thus they intend to send young professionals to Budapest for a short term experience exchange. Besides, the participants of the forum agreed on organizing training programmes for health care professionals with the involvement of both universities as well as establishing a cooperation related to mutual scientific publications.
The leaders of the two universities also discussed the opportunity of organizing a scientific symposium in Baia Mare, primarily for professionals from Satu Mare and Baia Mare. The leadership of the town of Baia Mare is highly supportive of the collaboration between Semmelweis University and "Vasile Goldis" Western University in Arad.
Eszter Keresztes
Source: Directorate of International Relations
Translated by: Katalin Romhányi