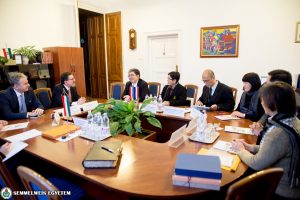 Semmelweis University has signed a Memorandum of Understanding with Naresuan University on January 9, 2017. The Thai institution is mostly interested in a possible cooperation in the area of dentistry and optometry. As far as dentistry is concerned, Naresuan University expressed its interest in mutually identified research topics as well.
The six members of the delegation led by Vice-President Dr. Manupat Lohitnavy were welcomed by Dr. Ágoston Szél, Rector, Dr. Dániel Bereczky, Vice-Dean of the Faculty of Medicine, and Dr. Marcel Pop, Director of International Relations. Following the discussion at the Rector's Office, a Memorandum of Understanding was signed between the two institutions, and the representatives of the universities had a discussion related to the mutually identified areas of collaboration.
According to Vice-President Lohitnavy the most possible fields for cooperation opportunities between the two institutions currently are dentistry and optometry. Naresuan University would plan a collaboration regarding staff and student exchange, research and curriculum development. The Thai delegation expressed their intentions to initiate a collaboration with the Faculty of Medicine as well in the framework of student exchange and research.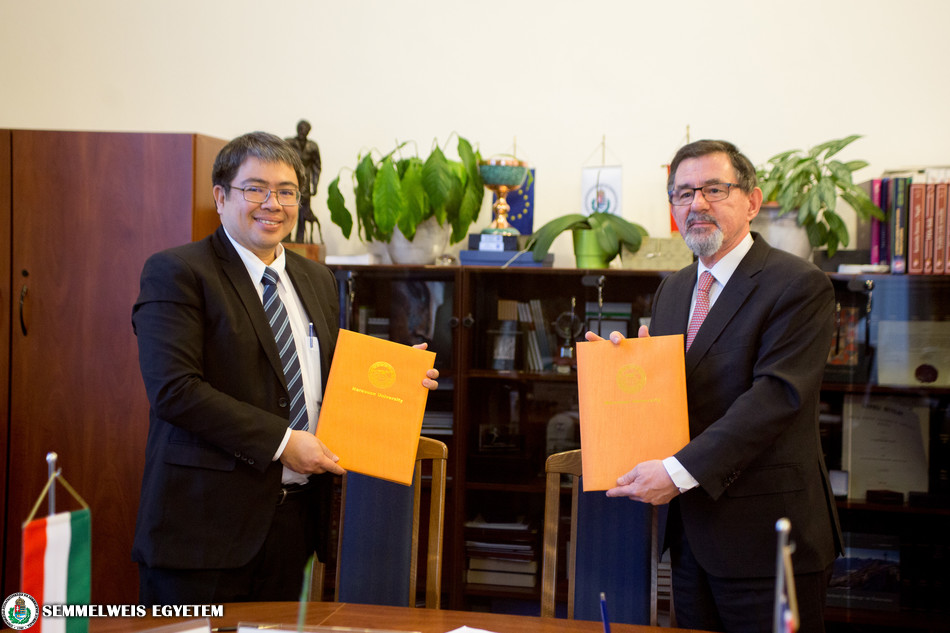 Following the discussion at the Rector's Office and the signing of the Memorandum of Understanding the delegation was welcomed by Dr. Gábor Gerber, Dean of the Faculty of Dentistry, who introduced the faculty and the structure of education to the delegation. The representatives of Naresuan University were especially interested in the training of specialists, PhD education as well as research topics, and they indicated their intention to send professionals to participate in short-term programmes and the PhD programme at Semmelweis University. They also intend to start a cooperation with the Faculty of Dentistry in mutually identified research areas such as geriatric dentistry and stem cell research.
The members of Naresuan University visited the faculty of Health Sciences, where they were welcomed by Dr. István Vingender, Vice-Dean, Dr. Gabriella Dörnyei Bednárikné, Vice-Dean, Dr. Péter Kanizsai, Head of Department of Oxyology and Emergency Care, Dr. Illés Kovács, Head of Department of Clinical Ophthalmology and Kata Réz, Master teacher. Since Naresuan Univesity is mostly interested in starting a collaboration in the field of optometry with the Faculty of Health Sciences, Dr. Illés Kovács introduced the Department of Clinical Opthalmology and the optometry labs to the guests, after which the delegation visited the Department of Ophtalmology as well and introduced the clinic.
Source: Katalin Romhányi, Directorate of International Relations
Photo: Attila Kovács, Semmelweis University
Translated by: Katalin Romhányi