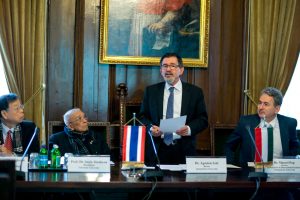 The delegation of Naresuan University from Thailand has visited Semmelweis University in order to identify the mutual areas of collaboration of the two institutions, to learn more about possible research cooperations as well as about possible staff- and student exchange programmes. The delegation consisted of 16 members led by President Dr. Sujin Jinahyon, who was welcomed by Dr. Ágoston Szél, Rector, Dr. Béla Merkely, Vice-Rector for Clinical Affairs, Dr. Marcel Pop, International Relations Director and on behalf of the Faculty of Medicine by Dr. Attila Mócsai, Director of the Foreign Students' Secretariat.
During the meeting Dr. Marcel Pop introduced Semmelweis University's educational and research activities, its international relations, bilateral agreements, the opportunities offered by Erasmus+, and Semmelweis University's membership in various international organizations. Dr. Pop highlighted that 30 % of our students come to us from abroad, and even if the number of Asian students is high, yet currently there are no Thai students studying at Semmelweis University.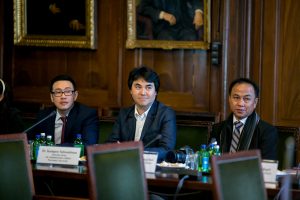 The Thai delegation presented a video about Naresuan University. Naresuan University is ranked as the 9th best university in Thailand, and the 251st best university in Asia according to QS University Rankings Asia 2015. On the basis of the presentation the participants of the meeting have learnt that the three main clusters of the Thai institution are Health Science, Science &Technology and Social Sciences.
Regarding the identification of the mutual areas of collaboration Rector Szél emphasized that common areas of interest might be found between the Faculty of Social Sciences at Naresuan University and the Faculty of Health and Public Administration at Semmelweis University. The Thai delegation among other things inquired about how Semmelweis University can contribute to the Hungarian Health Care system. Rector Szél highlighted the importance of prevention in order to increase the life expectancy in Hungary. He also added that Semmelweis University tries to work out measures to solve the problems in health care and to improve the health care system.
Dr. Béla Merkely, Vice-Rector for Clinical Affairs informed the participants that life expectancy in Hungary is definitely lower than it is in Thailand and he made note of the leading diseases with the highest mortality rate.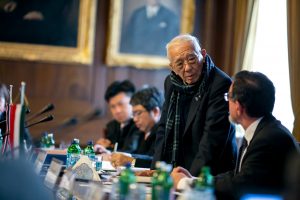 Dr. Ágoston Szél and Dr. Marcel Pop informed the Thai delegation that they will visit Chulalongkorn University and also attend the International Association of Universities (IAU) conference to be held in Bangkok in November. Dr. Sujin Jinahyon intends to receive the Hungarian delegation at Naresuan University, too, in order to continue the already started discussions. As the President expressed, with this visit a bridge has been constructed between Naresuan University and Semmelweis University and they would like to further deepen and reinforce this relationship in the future.
Katalin Romhányi, Directorate of International Relations
Photo: Attila Kovács, Semmelweis University
Translated by: Katalin Romhányi