With more than 2,500 first-year students starting their studies at the five faculties of Semmelweis University, the institution's 246th academic year was opened. The freshmen, including nearly 650 foreign students from 50 different countries were greeted by the ceremonial speech of Dr. Ágoston Szél, Rector.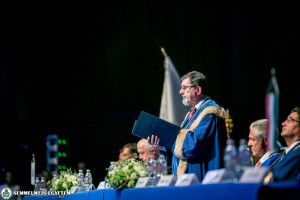 Dr. Ágoston Szél, referring to the Biblical parable of talents said that first-year students received talents from their parents enabling them to start their studies at Semmelweis University, however from now on it is up to them how they manage their opportunities and whether they are able to invest their talents. "Talents are not given to us for safekeeping, storing and returning them in one piece, but to fight and use our talents and abilities.", he said. He explained that university years could only be successful if talents are appreciated and nurtured. He pointed out that this message was not only meant for students but for university leaders as well. He believes that results can only be made if there is a never ending endeavour to maintain and further develop the quality of education, research and patient care. However, goodwill is not enough, as investments pay off only decades later, just like the introduction of the foreign language study programmes 31 years ago, which now accounts for 10% of the university's budget.
Dr. Ágoston Szél believes that today's leaders are faced with the same challenges, as they need to take risks and invest in innovative initiatives which could require a lot of capital at the beginning, but will pay off in the long run. "Budgetary policy based on austerity measures might not produce losses and could provide a balanced economic and financial environment, however without an innovative mindset we are stuck in one place while others who had the courage to trade their talents are achieving significant results." He also pointed out that no matter how excellent talents we are entrusted with, we can only achieve profits and create new values by investing and using them, even by taking risks. "We need to invest in the future and the best investment a country can make is the education of the young generation", Dr. Ágoston Szél concluded his speech with a quote from Professor György Oláh, Nobel Prize and Semmelweis awardee.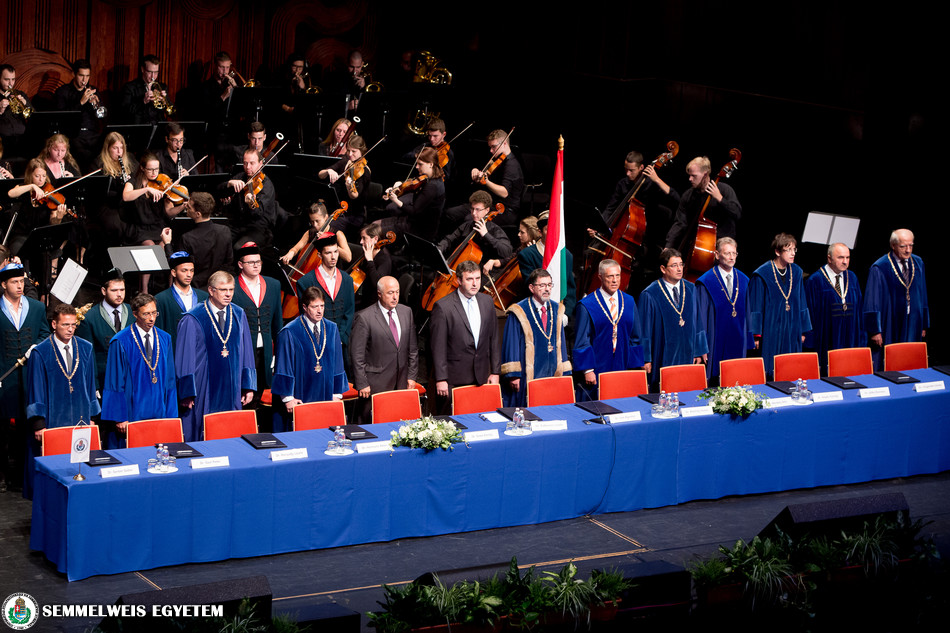 Dr. László Palkovics, Minister of State for Higher Education said that a lot of work and mutual efforts can realize a stable and sustainable system of higher education, which meets the demands of the labour market and social expectations, takes the students' interest into consideration and is financed by both government and community funds. He added that their aim is to realize the region's most competitive higher education in Hungary. He spoke about the measures that have already been implemented, including the introduction of the Chancellery which enables a predictable and responsible financial management of higher institutions. In this respect Semmelweis University is an outstanding example, as it has managed to create a balanced financial policy and excellent circumstances for planned and predictable growth.
In her speech Dr. Andrea Somogyi, former president of the Students' Union at the Faculty of Dentistry underlined the fact that university years are determined not only by independency and responsibility but by cooperation as well. She suggested that students should not consider the coming years as a chain of autumn and spring terms speckled with exams, but a period which gives them the opportunity to make everlasting friendships.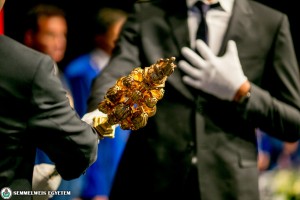 Students enrolled in the English language programme were greeted by Dr. Márk Kollai, Director of the Foreign Students' Secretariat, who mentioned that freshmen from 50 different countries arrived to start their first year of studies at Semmelweis University. Since the introduction of the English language programme nearly 2000 degrees have been issued. He also mentioned that the first-year students have chosen a unique vocation which involves significant challenges.
Students enrolled in the German language programme were greeted by Dr. Attila Mócsai. He said that the new students are to become university citizens cooperating with their teachers in reaching a mutual goal. He also mentioned the outstanding activity foreign students have engaged in to help migrants recently.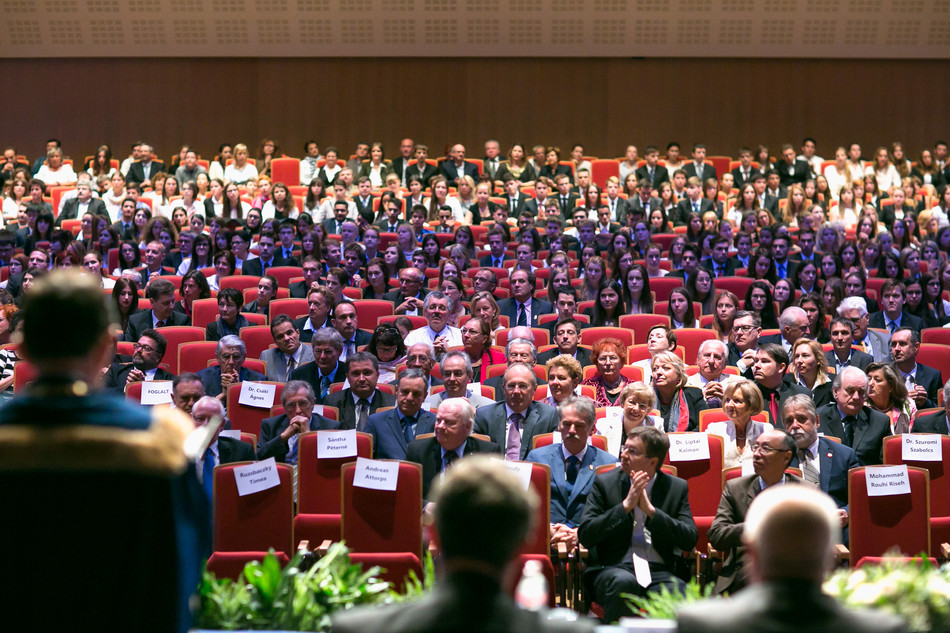 After the speeches the students took the solemn oath in three languages.
Dr. Ágoston Szél conferred the Outstanding Teacher Awards and announced the students who won Hungarian state scholarship, finally Dr. Ferenc Bánhidy, Vice-Rector for General Affairs and Szilárd Szigeti, Vice-President of the Semmelweis University Students' Union conferred the Pro Juventute Universitatis awards.
As the closing act of the ceremony the Medic Orchestra played the Academic Festival Overture by Brahms.
Szilvia Tóth-Szabó
Pálma Dobozi
Photo: Attila Kovács – Semmelweis University, Zoltán Tuba
Translated by: Ágnes Raubinek