Semmelweis University pays dedicated attention to the recognition of talent, their support and scientific education. Organised talent support programmes are realised in colleges for advanced studies and within the framework of the talent support programmes.

The primary goal of the  Students' Scientific Association is to provide an opportunity for every student to get involved in research and to gain experience at Hungarian and international conferences.
Address: Nagyvárad tér Theoretical Building, ground floor 4. , 4 Nagyvárad tér, Budapest 1089
E-mail: semmelweis.tdk@gmail.com
Opening Hours: Monday-Thursday 9:30-13:30
---

The Kerpel-Fronius Talent Support Programme was set up by the Senate of the university in 2007 to find and continuously support exceptionally talented incoming, current and graduated students.  The programme is run by the Talent Support Council with the help of the faculties' representatives.
The university offers a "Talent bonus" for gifted students, whose courses that exceed the free-of-charge limit of 360+36 credits are financed by the university.
 The Jellinek Harry Scholarship is run by the Kerpel-Fronius programme which provides the opportunity for 6 students a year to study at the universities in Heidelberg and Freiburg. The Semmelweis Foundation sponsors 7 students per year for their outstanding scientific, cultural and public activities.
Address: Nagyvárad tér Theoretical Building, F4 office, 4 Nagyvárad tér, Budapest 1089
Telephone/Fax: 459-1500/56352 ext.
E-mail: tehetsegpont.se@gmail.com
---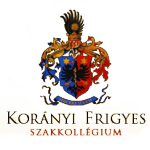 The Frigyes Korányi College for Advanced Studies was founded in 1985 with the intention of offering its own courses and standards and providing a high level of education on an advanced level for students of medicine, dentistry and pharmacy, who are also socially responsible, therefore are ready to make a difference.
Every year the college organises the Scientific Forum of Frigyes Korányi, which emphasizes the multidisciplinary approach to science. As a proof of its professional and public dedication and its compliance with the guidelines of the Advanced Colleges Charta, it was accredited for 3 years by the Accreditation Committee of Advanced Colleges in December 2011.
As volunteers, the members of the college community actively take part in the organisation of university events, such as the Researchers' Night, which aim to bring science closer to people.
Address: 59/b Hársfa utca, Budapest 1074
Telephone: 459-1500 (ext. 53900) or 321-0277
Student association: Tel.: +36-20-825-9631
E-mail: habil.harsfa@gmail.com