The 25th and the 26th Hungarian lung transplantations were carried out almost at the same time. Both patients are recovering in stable conditions at the intensive care unit. The cooperation of the National Institute of Oncology (NIO) and Semmelweis University has made lung transplantations possible in Hungary since December 2015.
The 25th recipient of a new lung was a 59-year-old female patient on March 24th, who had hereditary bronchiectasis. Soon after a 58-year-old male patient went under lung transplantation at the NIO, who had suffered a respiratory burn 20 years ago and the condition of his lungs gradually deteriorated.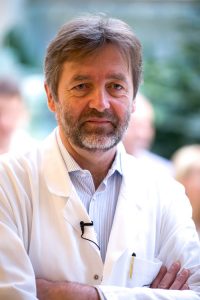 Dr. György Lang, acting director of Semmelweis University's Departmental Group of Thoracic Surgery operating at the National Institute of Oncology, said that the first procedure was started in the daytime, and almost immediately the second patient was brought in, thus the two operations were being carried out simultaneously. Both patients had chronic bronchiectasis and the two procedures required a high level of organisation, attention and commitment from the team.
"We had always wanted to create a well-run lung transplantation programme, which we managed to start a little more than a year ago. As the programme is still in its initial phase, there are more donor lungs in Hungary than patients on the waiting list. Furthermore, it is still not widely known that lung transplantation could be the last chance for people in critical conditions. In order to cast light on the importance of lung transplantation we are trying to raise awareness by organising trainings, courses, symposiums and workshops.", Dr. György Lang said.
Hungary is a leader in lung transplantation in the Central-Eastern European region, as patients from neighbouring countries are treated here. Before the launch of the programme Hungarian patients were operated in Vienna, which is the regional centre. The long-term objective is to start similar programmes in the neighbouring countries, like the start of a lung transplantation programme in Slovenia by the end of 2017.
The Hungarian department works in close collaboration with the centre in Vienna. The team are planning to prepare for paediatric lung transplantation and the operation of patients suffering from pulmonary hypertonia.
"These procedures require a specialised knowledge and training and we would like to ensure that such patients could be operated in Hungary. On the long run we would like to start a simultaneous heart-lung transplant programme.", Dr. György Lang said.
Source: MTI
Photo: Attila Kovács, Semmelweis University
Translation: Ágnes Raubinek