The 2018 Semmelweis Symposium, entitled The new challenges of personalized medicine: from prenatal tests to targeted tumour therapy, will be held on 8-9 November at the Basic Medical Science Centre. The main organizer of this year's programme is the 1st Department of Internal Medicine. Dr. Péter Lakatos, professor and president of the symposium, said: the molecular biology enabling personalized medicine has gone through incredible development over the past decade, which opens up new perspectives for healing numerous diseases.
'The whole event will have a bit of a science-fiction atmosphere, with the difference being that the new procedures presented here do not really belong to the world of science fiction either because they are already being implemented or are about to be introduced', said Dr. Péter Lakatos. The latest diagnostic and therapeutic procedures in endocrinology, oncology, haematology, prenatal genetics and rare diseases will be presented at the event.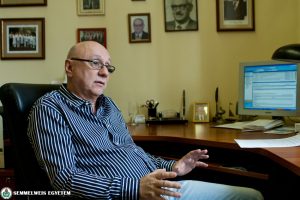 Lectures will include, among other things, the treatment of diabetes with stem cells, new methods available for early detection of endocrine tumours, and how genetics help diagnose ever-increasing thyroid cancer. There will also be lectures on the most up-to-date facilities available for the treatment of colorectal cancer, breast cancer and solid tumours. There are incredible new possibilities for customized oncology treatments using genetics – emphasized Dr. Péter Lakatos.
Topics will include the so-called "liquid biopsy", a simple and painless blood-taking method which Dr. Péter Lakatos says will revolutionize the discipline. The essence of this method is that, with the help of free (i.e. non-cellular) tumour DNA in the blood, it is possible to find out whether the tumour has recurred and what the best treatment is for the patient. This technique also provides an opportunity for examining foetal diseases from the mother's blood. Today we can get information about approximately 40 diseases using foetal DNA from maternal blood – said Dr. Péter Lakatos.
Thanks to the new techniques, haematology has gone through enormous evolution as well. The genetic modification of blood cells extracted from the patient can now also be used to treat forms of leukaemia and lymphoma which have so far been incurable. The diagnosis of rare diseases has also changed significantly: it is faster, more precise, cheaper, and today even missing enzymes can be replaced.
In all of these topics, a total of 33 English language lectures will be held during the two days, featuring a number of renowned Hungarian and foreign experts. Dr. Juan Carlos Galofré from Spain will present the new diagnostics of thyroid glands, Dr. Torsten Haferlach from Munich will give a lecture on the place of the new generation DNA sequencing in haematological diagnostics, as one of the world's leading experts in this field. Dr. Marie-Christine Birling, a renowned expert on genetic engineering from France, will also participate in the symposium. The detailed programme and further information can be found on the event's website. Participation in the symposium is free of charge this year, but it is necessary to register on the website. Dr. Péter Lakatos recommends participation to both basic researchers and clinicians, because important information will be provided for specialists in internal medicine, oncologists, haematologists, gynaecologists, paediatricians and endocrinologists.
Pálma Dobozi
Translation: Diána Módos