The 47th European Muscle Conference (EMC), which is the most important annual conference of the European Society for Muscle Research, was held at the Basic Medical Science Centre of Semmelweis University in Budapest.
The event was opened by Dr. Miklós Kellermayer, professor and director of the Department of Biophysics and Radiation Biology, organizer and host of the conference. In his greeting speech, he said that the European Muscle Conference, besides presenting the latest results of muscle research, focuses on a new area each year. This year it was motor protein pharmacology. Dr. Kellermayer mentioned that a total of 260 people from 28 different countries registered for the conference and for the preceding satellite event, the Muscle Biophysics Summer School. He emphasized that this year the field of muscle research celebrates two important anniversaries: titin was discovered 40 years ago and actin 75 years ago; the latter in Hungary, in the laboratory of Albert Szent-Györgyi during World War II.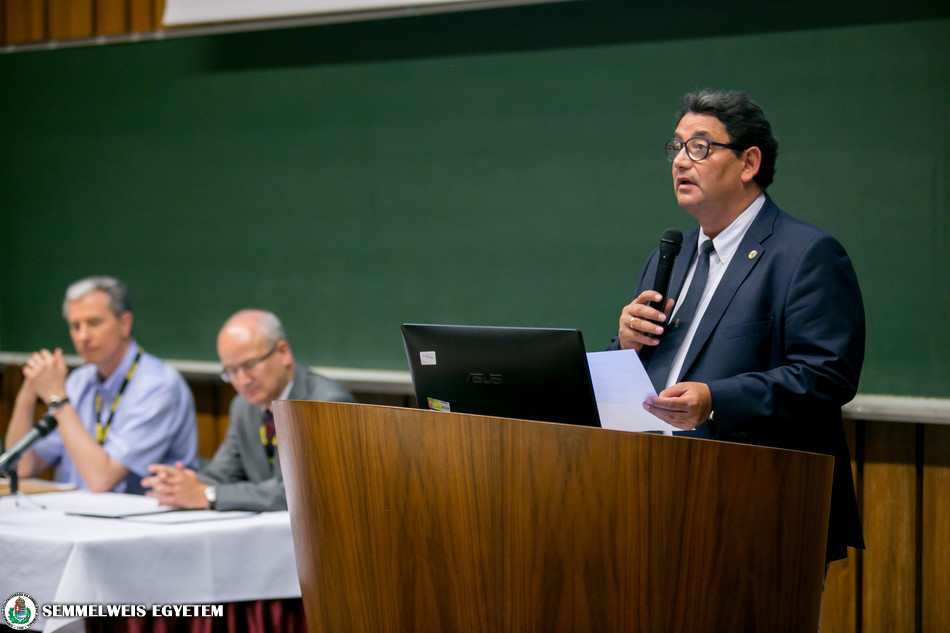 Afterwards, Dr. Béla Merkely, university rector, greeted the participants of the conference. He was pleased to welcome the audience in a room named after Albert Szent-Györgyi, since the foundations of modern muscle research, muscle biochemistry and muscle biophysics were laid in his laboratories. He also recalled that Szent-Györgyi was the founder and first director of the Department of Biochemistry of Semmelweis University, followed by F. Brúnó Straub, the discoverer of actin. Since the institution, which celebrates its 250th anniversary next year, is so closely tied to the key players and discoveries of muscle research, he considered it especially delightful and appropriate that Semmelweis University could host this year's European Muscle Conference.
The 47th European Muscle Conference, held between 30 August and 3 September, was preceded by the Muscle Biophysics Summer School, also organized at the Basic Medical Science Centre. At the conference there were lectures in 12 different sections related to muscle function as well as four instrumental workshops sponsored by companies.
The conference is held in a different European country every year. Hungary has been the organizer for the second time; the United Kingdom will host the event next year. The number of the members of the European Society for Muscle Research changes dynamically depending on the annual conference registrations, but it constantly exceeds two thousand. Although a European society and conference, it is traditionally attended by a large number of researchers from overseas.
Tamás Deme
Photo: Attila Kovács – Semmelweis University
Translation: Diána Módos