A six-week Geriatrics Intensive course was organized within the framework of the Erasmus+ Blended Intensive Program (BIP), in which the Geriatrics Department Group of the Department of Internal Medicine and Oncology of the Semmelweis University participated as a co-organizer.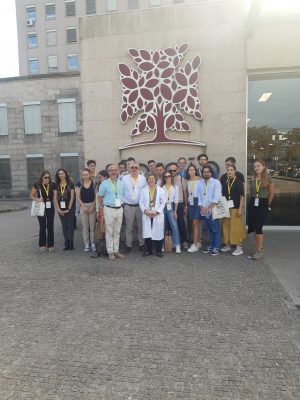 In the first five weeks, the students and instructors of the course attended online lectures covering the most important topics of geriatrics, and with the mentoring of the lecturers, they also held a presentation on one key area of ​​geriatrics. Semmelweis University students presented on diabetes mellitus, endometrial carcinoma, left ventricular hypertrophy, prostate hyperplasia and vitamin D deficiency. The students spent the sixth week of the course at the University of Porto, where they gave elaborate presentations in 30 minutes. A total of 25 people from four big cities took part in the program: Budapest, Porto, Trento and Târgu Mureș. Hungary was represented by five sixth-year medical students and three lecturers from the university.
According to the organizers, the intensive course in Porto raised awareness of the importance of geriatrics, and it also aimed at strengthening medical students' commitment to the care of elderly patients.
The Blended Intensive Program (BIP) is a new mobility program of Erasmus+ introduced in 2021, within the framework of which European higher education institutions receive support for organizing short, intensive courses with two other European higher education institutions. During each BIP program, scholarship holders participate in short-term physical mobility abroad combined with a mandatory virtual element, which enables collaborative online learning exchanges and teamwork.
BIP provides an excellent opportunity for those students who cannot participate in longer mobility programs during their studies to experience the international dimension of education. The Directorate of International Relations and the International Mobility Office provided assistance in the successful administrative management of the mobility.
Photo and source: Dr. Miklós Tóth, Geriatrics Department Group of the Department of Internal Medicine and Oncology
Translation: Mária Sánta