Midwifery students of Semmelweis University won the second edition of the Dr. Vilma Hugonnai Professional Memorial Competition. The contest for midwifery students was attended by future professionals from four training centers across the country, who demonstrated their skills through theoretical and practical exercises in the obstetrics demonstration and simulation rooms of the Department of Clinical Studies in Obstetrics and Gynecology of the Faculty of Health Sciences at Semmelweis University. The winning team members shared their experiences and personal motives with Semmelweis News.
At the second Dr. Vilma Hugonnai Professional Memorial Competition, held in honor of the 176th anniversary of the birth of first Hungarian woman medical doctor Dr. Vilma Hugonnai, the fourth-year midwifery students of Semmelweis University Faculty of Health Sciences (ETK) – Dorka Kálmán, Tamara Stábel, Zoé Stvorecz and Kamilla Nagy – performed outstandingly, winning the competition, and defeating the teams of the universities of Debrecen, Pécs and Győr. Dorka Kálmán revealed that during the four-round competition, they had to answer questions on medical history, perform a palpation test on their training manikins, solve situational and communication tasks and interpret archaic obstetric terms.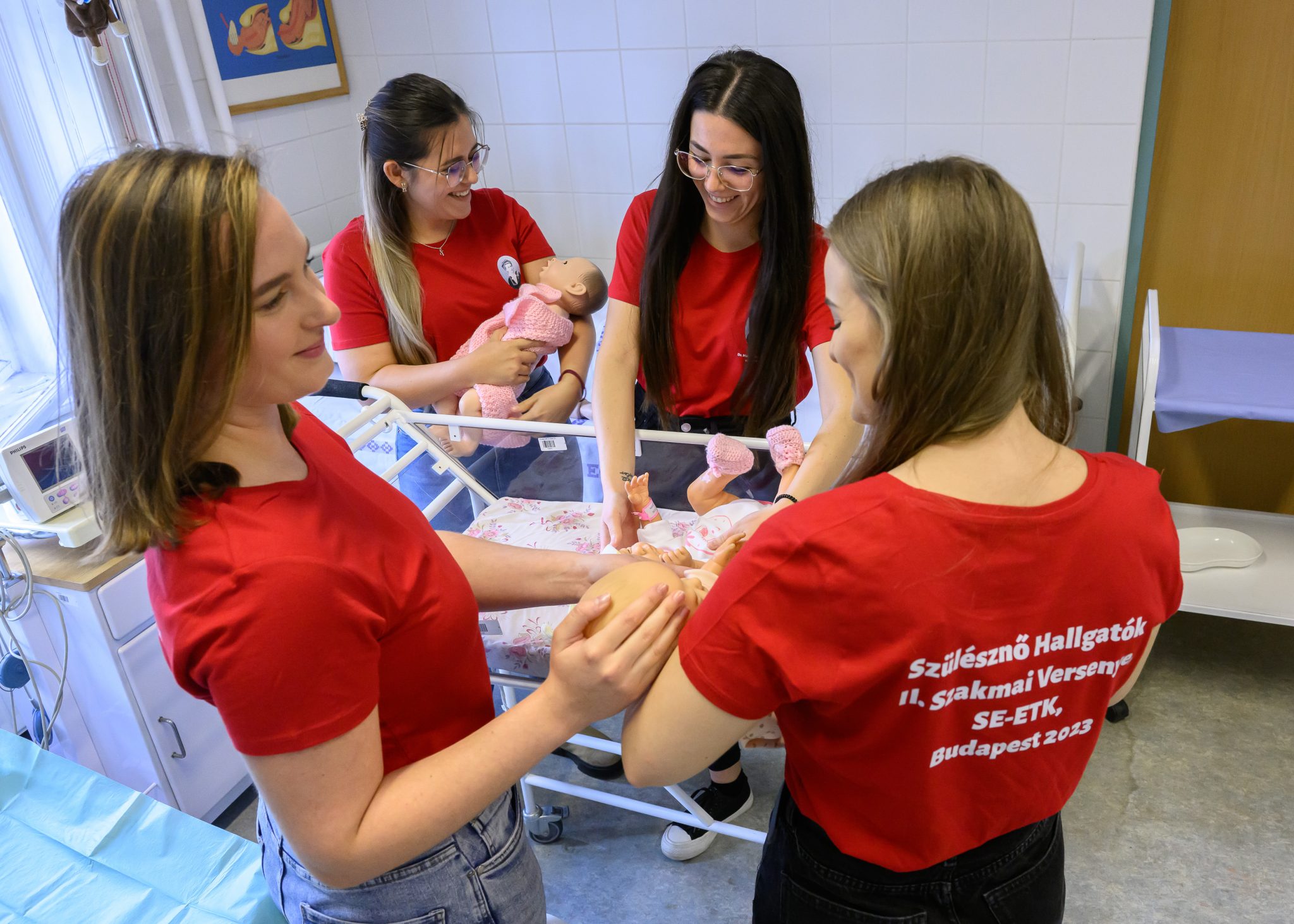 "Since the beginning of September, we have been preparing intensively for the competition," explains Kamilla Nagy, stressing that they have read a number of books and articles in newspapers. "We divided up the tasks among each other, deciding who should read what and which topics to focus on," she recalls. "In the afternoons and evenings, we consulted with our teacher, Assistant Professor Dr. Ibolya Krémer Lipien, on Zoom. Head of the Department Professor Dr. János Rigó also took part in the preparation, both of whom we can thank a lot," adds Kamilla Nagy.
All four agreed that the contest was an excellent opportunity for them to gain experience, learn and develop a lot, to demonstrate their knowledge and skills, as well as to learn to work in a team, which is key in this profession. They also stressed that, although each of them had a broad base of knowledge, they needed the power of collective thinking to win. "It was an honor to represent Semmelweis University, I am very proud of my team," emphasized Zoé Stvorecz, stressing that this competition brought them closer together, as the team members had only known each other by sight before, but they have developed a true friendship by now.
As Dr. Ibolya Krémer Lipien pointed out, one of the central themes of the competition was the history of midwifery, presenting a challenge with its extensive past. "We didn't know in advance what tasks we would encounter at certain stages of the competition, so we had to cover a very wide range," she said. "I'm proud of my students for performing so well, even the simulation task couldn't pose any problem for them. The four years of theoretical training and the very high number of practice hours paid off," she added.
Students also talked about their personal motives for choosing their career. Kamilla Nagy has known since the age of 16 that she wanted to be a midwife, inspired by a labor and delivery video. "As soon as I started delving into midwifery, I knew it was my calling, which only grew stronger during my training. It's a very uplifting feeling to be present at the birth of a baby and thus of a family," she shares.  Her goal at the internship and in her subsequent work is to support women and provide a positive birth experience.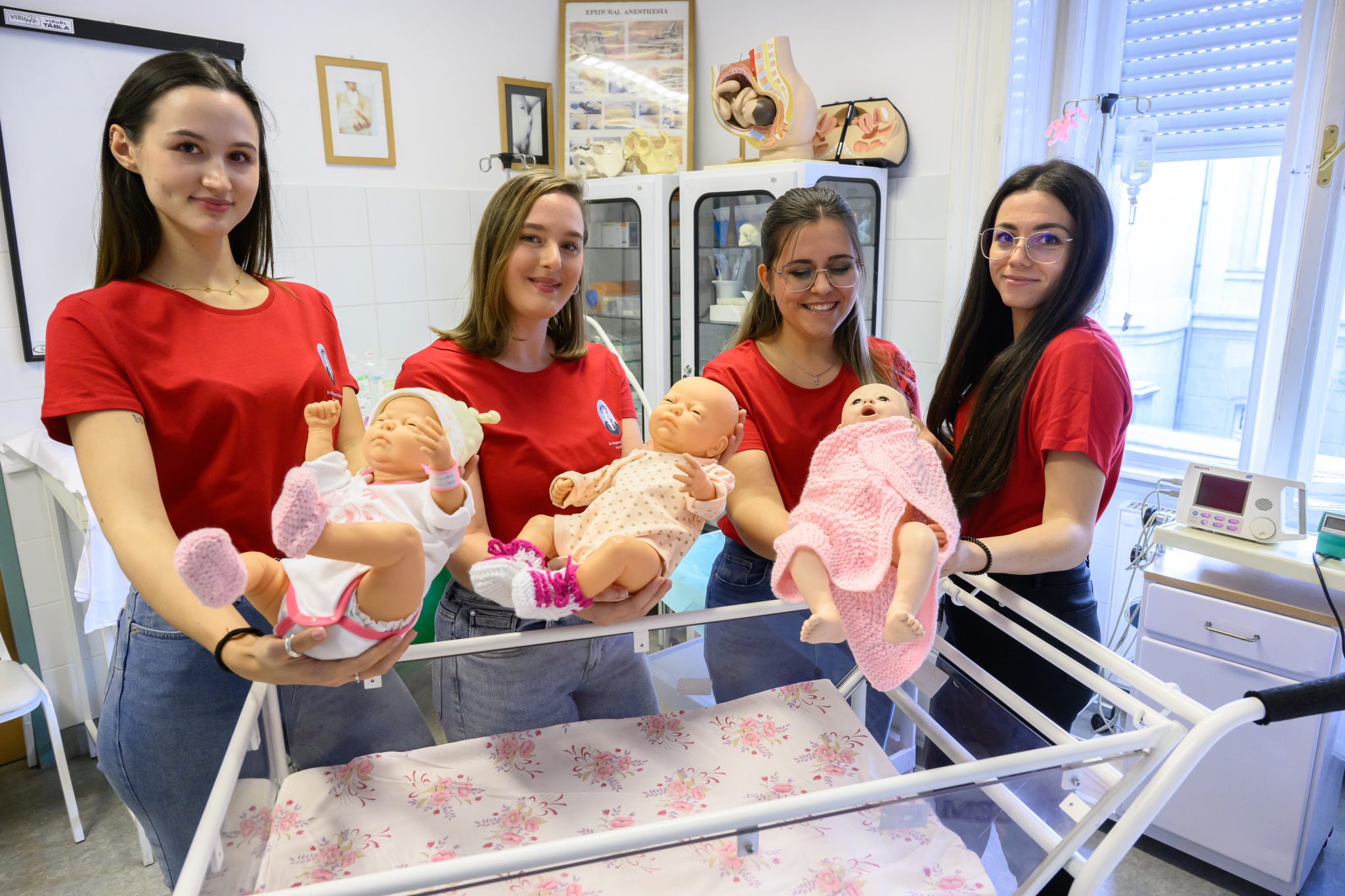 Everyone on Tamara Stábel's mother's side of the family worked in the health sector, so it was no question that she wanted to follow the same path. She was often ill as a child, so she always thought of the hospital as a kind of second home. "I grew up on the series 'ER', it was my bedtime story," she says, laughing. Her main goal in her work is to ensure that the mothers who give birth at her hospital have a positive and joyful experience.
Dorka Kálmán always knew that she wanted to work in health care, but it was only in her senior year of high school that she decided on her career path. She also considered a profession in nursing, but finally committed to midwifery at ETK Open Day. She recalls the first birth she attended as a defining experience: "It was the moment when I realized that I had made the right choice. Childbirth is an experience of a lifetime for women, and I would like to support them in experiencing it as positively as possible," she emphasized.
Zoé Stvorecz was originally planning to study for a teacher's degree in history and Hungarian language and literature, but in her senior year of high school she discovered midwifery by chance and was immediately drawn to it. The first delivery she witnessed became a touching experience and lasting memory for her too. It was during her internship that she realized how much she loved working with newborn babies, so now she plans to continue her studies in this field after graduation.
The national competition was opened by Professor Dr. János Rigó, Head of the Department; Dr. Attila Szabó, Vice-Rector for Clinical Affairs; Dr. Klára Gadó, Vice-Dean for General Affairs at ETK; Dr. Zoltán Balogh, Vice-Dean of ETK and President of the Hungarian Chamber of Health Care Professionals; Marianna Várfalvi, President of the Hungarian Professional Association of Health Visitors; and Dr. Ágnes Hornung, State Secretary for Families at the Ministry of Culture and Innovation.
Bernadett Bódi
Translation: Judit Szabados-Dőtsch
Photo: Attila Kovács – Semmelweis University, Gábor Bodó – Ministry of Culture and Innovation